Iranian Diplomat: Final Agreement Unlikely Outcome Of Current Talks
A framework agreement is now seen as the most likely scenario from talks on Iran's nuclear program being held in Vienna.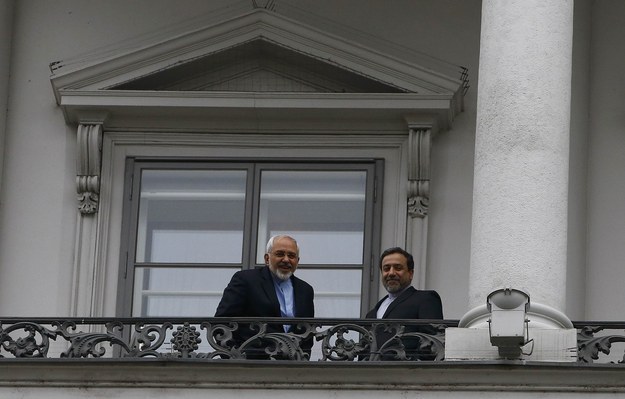 VIENNA — An Iranian diplomat said on Sunday that the negotiations over Iran's nuclear program are not currently focusing on an extension of the talks, but instead on a "general" political agreement — which would essentially lead to an extension of the talks.
Speculation on Sunday over the negotiations being held in Vienna in advance of a Monday deadline has focused on the possibility of an extension, after Iranian news service ISNA quoted a member of the negotiating team saying that a final deal by the deadline is "impossible" and that, "The issue of extension of the talks is an option on the table and we will start discussing it if no deal is reached by Sunday night."
On Sunday, an Iranian diplomat who briefed reporters in a media tent outside the hotel where the talks are taking place said that "nobody is discussing an extension, or prolonging the negotiations."
"Everybody is now focused on trying to achieve a possible agreement, which I suppose given the shortage of time will be a general agreement, a framework agreement," the diplomat said. "This is what everybody's discussing now."
He did acknowledge that an extension is "not on the table now but that might be a possibility."
The diplomat said that the biggest sticking point still on the table is the "scale of enrichment" of uranium that Iran would be allowed under the terms of the potential agreement.
The most likely scenario could be a preliminary agreement that outlines a potential deal but is not the final deal itself.
"It's the scenario that everybody is most interested in rather than extension or prolonging the talks," the diplomat said of a framework agreement.
"That could mean that we are not done completely but at least we have a way forward," the diplomat said.
The Iranian delegation is "in good spirits," the diplomat said.
U.S. Secretary of State John Kerry has stayed in Vienna after planning to leave on Friday and has been holding rounds of meetings with his counterparts in the P5+1 and on the Iranian side. The U.S. team has not been sharing details of possible results the same way the Iranian side has.
Six world powers have been negotiating a final deal to curtail Iran's nuclear program since reaching an interim agreement last November in Geneva. The world powers, referred to as the P5+1, and Iran failed to reach a final agreement at the previous deadline in July and extended the deadline to Nov. 24.