Iran Digs In As Nuclear Talks Grind Past Deadline
"It's time for our negotiating partners to seize the moment," Iranian Foreign Minister Mohammad Javad Zarif said.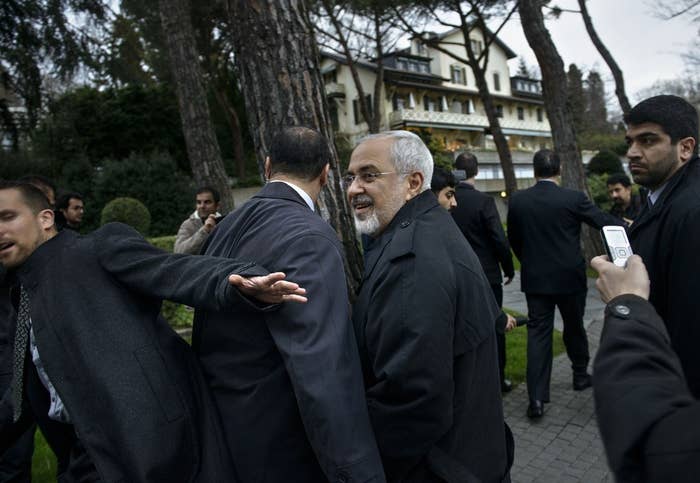 LAUSANNE, Switzerland — Iranian Foreign Minister Mohammad Javad Zarif on Wednesday put the onus on the six world powers negotiating with Iran over its nuclear problem, telling reporters that now is an "opportunity that may not be repeated" as the talks have continued past a preliminary deadline with no agreement.
"I for one have been ready and am ready with my delegation to move forward tonight, or tomorrow, or whenever is appropriate," Zarif said outside Lausanne's Beau Rivage hotel, where the talks are taking place.
"We've always said that an agreement and pressure will not go together," Zarif said. "They're mutually exclusive. So our friends need to decide whether they want to be with Iran based on respect or whether they want to continue based on pressure. They have tested the other one, now it's high time to test this one."
"Iran has exhibited that political will, Iran has shown its willingness to engage with dignity, and it's time for our negotiating partners to seize the moment and use this opportunity which may not be repeated," Zarif said.
The negotiations over Iran's nuclear program, which were extended in November, have ground past the March 31 deadline for a framework agreement. The U.S. said on Tuesday that Iran and the P5+1 countries had made enough progress to warrant missing the deadline. German Foreign Minister Frank-Walter Steinmeier told reporters on Wednesday that he was staying overnight and expected the talks to continue into Thursday. There have been signs that this round of talks will end not with a fully fleshed-out framework but with a statement showing progress and appended documents with details.
When a reporter said Zarif didn't seem to be smiling as much as usual, he said, "I'm all smiles."
After speaking with reporters, Zarif went into the hotel to meet with Secretary of State John Kerry. The meeting lasted 10 minutes.