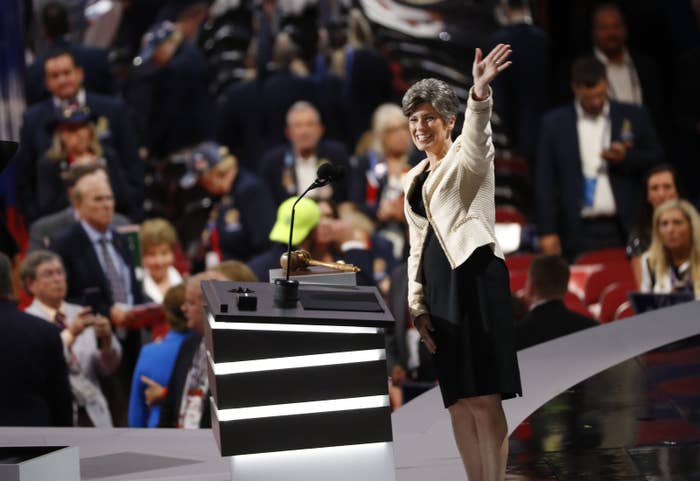 CLEVELAND — Some prominent Iowa Republicans said they were disappointed and frustrated after a headliner speech from Sen. Joni Ernst, a rising star in the party, was pushed back out of prime time on Monday night, leaving her speaking to a half empty convention arena.
Ernst's speech was meant to be a big breakout moment for the freshman senator, but instead it attracted far less notice than her supporters hoped for, taking place late in the night after both Melania Trump and retired Lt. Gen. Mike Flynn. The incident is yet another fault line in a convention that has been marked by division among Republicans.
"I don't get angry very often but I was disappointed," Gov. Terry Branstad told reporters at a luncheon for the Iowa delegation on Tuesday.
Branstad — like other Iowa Republicans on Tuesday — was unhappy particularly with Flynn, who gave a rambling speech before Ernst that went on too long, cutting into Ernst's time. "I thought the person who spoke before her went on too long, was too repetitive, and that was too bad," Branstad said.
"I think everybody could see the governor's frustration and I have a similar frustration because I'm a great big Joni Ernst fan, and it was an opportunity for the nation to see her and get to know her in a way they haven't had a chance before, so that was a significant disappointment," Rep. Steve King told reporters.
"I don't know what went on with Gen. Flynn, what he was thinking," King said. "I can't imagine that was all off the teleprompter, because it was going to be choreographed more tightly than that. I think he might have gotten wrapped up in the moment and the crowd reaction to his speech, he just had more to say and he kept going."
"Of course I'm disappointed, but there's nothing you can do about it," Sen. Chuck Grassley told BuzzFeed News. "That's like crying over spilled milk. It wasn't her fault and nobody planned it that way — she was supposed to be up at 10:36 and somebody else spoke too long."
Asked if she was disappointed at her speech getting pushed back, Ernst said, "I was not disappointed in the fact that the Iowa delegation stayed with me through the entire evening, they stood during the entire speech and I was proud to have them with me."
"So we'll continue to see parts of that speech pushed out through the media over the next week or so, and again I'm just glad that Iowa hung in there with me," Ernst told reporters. "I had a number of messages this morning from family and friends that had watched it on CNN and others, so I'm glad that my message was heard."
Flynn spoke after Melania Trump on Monday night, giving a repetitive speech that went overtime as Flynn repeatedly tried to start "USA!" chants and attendees began to stream out of the arena. By the time Ernst took the stage, the arena was noticeably empty.