Inside Maine's Convention Revolt
The unseated Maine delegates didn't get what they wanted, and the whole delegation walked out. Romney and Paul brass united in their irritation: They're "acting like three-year-old children."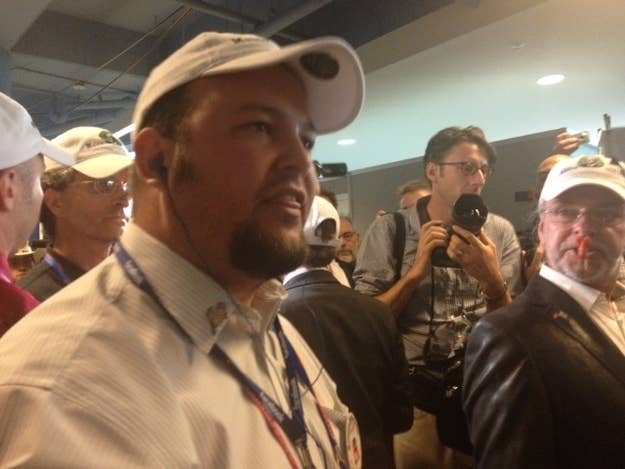 TAMPA, Fla. — The Maine delegation at the Republican National Convention walked out in protest today after failing to get 10 disputed delegates seated, a dramatic scene that threw a serious wrench into the tight script the Romney campaign had planned — and which spoiled months of work the Paul campaign put into training its delegates with the express goal of preventing them from causing a scene at the convention.
After instigating a shouting match on the floor — the unseated Maine delegates gathered in their section as people chanted "Seat them now!" — the group left their section and took the show out to the hallway, where they were mobbed by reporters and onlookers.
"This is what the administration's gonna do to our veterans, are our veterans going to get this kind of treatment under Mitt Romney?" shouted unseated delegate Matt McDonald. "I hope to God not."
Most of the delegates and would-be delegates wore matching white hats, and many had clothespins with tiny lobsters on them attached to their noses ("Something smells in Tampa!").
"This is a farce!" shouted Pete Harring, an older man with a grey ponytail and a thick Maine accent.
The delegates started "Remember the Maine!" and "Shame on Romney!" chants, which Romney supporters countered with a "Romney" chant in the hallway. Local police kept a watchful eye.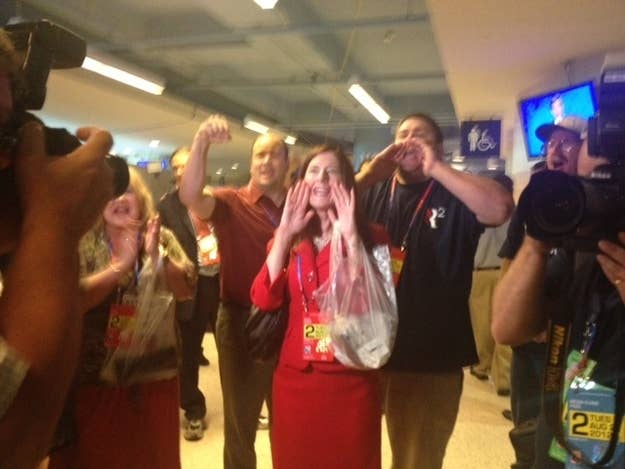 After a minute or two, the seated Paul delegates of Maine walked off the floor and joined their colleagues. One, Bryan Daugherty, was in tears. They were received by a mix of hostility — one older man kept trying to corner them, shouting "Romney-Ryan Romney-Ryan" — and satisfaction. "You did good," a man covered in "End the Fed" and "Don't Tread On Me" buttons said, patting the crying delegate on the back.
Eric Brakey, former state director for the Paul campaign in Maine, told reporters that he would focus on state and local races instead of the presidential race, and wouldn't comment when asked if he would vote Romney over Obama.
Before making their exit, the delegates huddled together to put their hands together like a sports team before the start of a game.
"Maine! We're going to walk out of here arm in arm," Daugherty yelled through his tears.
Then they filed outside and started another impromptu press conference, attacking the Romney campaign and the entire Republican establishment.
"We tried deal after deal," Mark Willis, the national committeeman from Maine, told reporters. "Now we can go home to Maine with our dignity and our respect."
Brent Tweed, the delegation chair, told reporters that "I think I objected pretty loudly but they just pretended they didn't hear it. It's ironic that they threw us out for following the rules."
In other words, this was exactly what both the Romney and Paul campaigns dreaded, a setback to a mutual understanding that a Republican victory in November, and a generous extended hand toward Paul and his young supporters, would best serve both sides.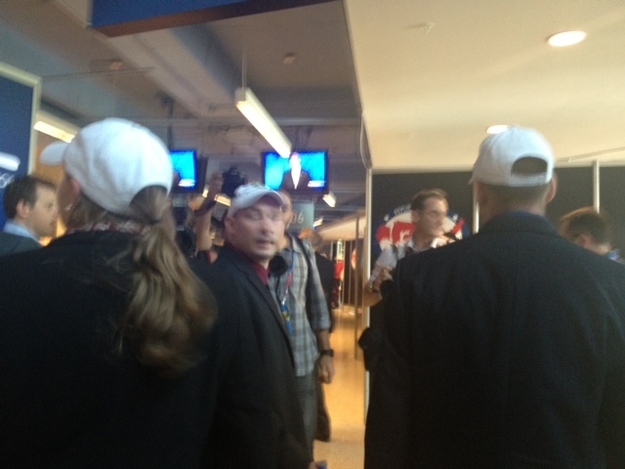 "It's a shame this had to happen, because things were going well so far," said one Paul advisor. "We saw it coming, though."
The advisor thought that more than the Maine issue, the rules change that was brought to a compromise today would leave a "bad taste in conservatives' mouths."
The Maine delegates "are acting like three-year-old children," said another strategist. "Dr. Paul asked them to be respectful."
"The person whose legacy it harms the most is Ron Paul's," the strategist said, calling the tussle over delegates "unfortunate" and "detrimental."
As for the delegates themselves, we won't have them to kick around much longer. According to unseated delegate John Jones, the Paul Maine delegates don't plan to be a part of the convention anymore.