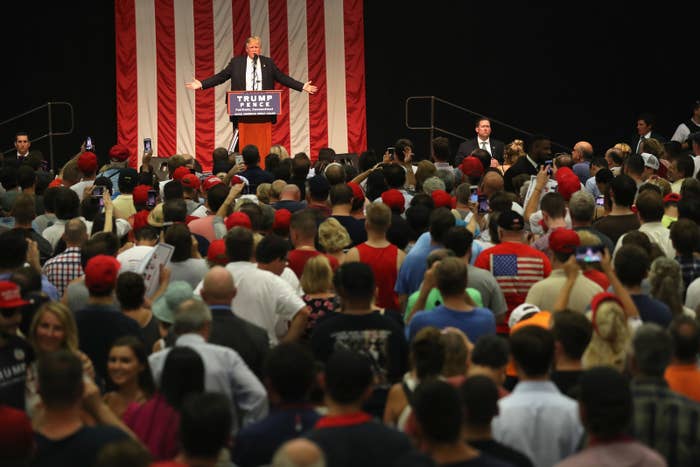 WASHINGTON — With fewer than three months before Election Day, in the states that matter most, Donald Trump's campaign is still barely operating field offices and running no television ads in key states.
On the ground, some are confused as to who is calling the shots — his campaign or Republican state and national organizations that have picked up the slack. In North Carolina, it's not entirely clear where the campaign is headquartered. In Ohio and Pennsylvania, volunteers have opened makeshift field offices.
Some are advising that the Republican National Committee, which is running its planned robust field operation, cut off money to the Trump campaign and focus on other races — something that an RNC staffer acknowledged to BuzzFeed News could be a possibility.
There's been no public shift in the RNC's stance toward Trump; chairman Reince Priebus made a surprise appearance with him at a Pennsylvania rally last week. But Trump's drag on down-ballot candidates has not gone unnoticed. "I think that there is a possibility that could happen," the staffer told BuzzFeed News of a potential move to cut off Trump. "I think over the last seven to 10 days or one to two weeks, there's been a great deal of frustration at the top of the ticket."
The staffer said that such a shift would be "quiet" and not announced publicly. And it would not necessarily be evident in the ground game: "When you're going door to door, the investment to ask one more question about the national ticket doesn't change your resources. Where you would see it would be in paid efforts and TV and all that kind of stuff."
According to Politico, RNC strategist Sean Spicer made the case for a move to focus on down-ballot races and cut off Trump by October in an off-the-record meeting with reporters last week, to which Politico and BuzzFeed News were not invited. Spicer did not return a request for comment on Sunday morning. The Trump campaign also did not return a request for comment.

Besides the controversies, a core complaint with Trump is that his campaign is doing little to organize and mobilize voters, or assist the RNC's efforts. Sources say the campaign is also beset by poor communication between different levels of the organization, and there's confusion over who is calling the shots in various state organizations.
"They have had a lot of trouble integrating original Trump staff with new folks," said one Republican operative familiar with the campaign. "And they have regional directors whose authority level is very unclear over states in their region."
"I think there has been a level of the Trump campaign trying to come in and act like they are the big boys on the block as opposed to a partnership," said one RNC staffer.
In key swing states like Florida, the campaign has been operating a bare-bones operation, with one office in Sarasota and four staff. The RNC currently has 75 staffers on the ground in Florida, as well as 1,400 volunteers and fellows in charge of local organizing.
"From the RNC's perspective, if you're looking at those states, we've been on the ground in those states since 2013," said RNC spokesman Rick Gorka. "There was an early investment in the ground game to fix what went wrong [in 2012]."
Karen Giorno, the campaign's chief Florida strategist, said that the operation will be expanding soon, and that the campaign is adding up to 25 more offices and is in the process of hiring 14 more full-time staff. The campaign is opening an office near the site of the Pulse shooting in Orlando, Bloomberg reported.
But Giorno sees less need for a traditional approach to the ground game because of Trump's near-universal name recognition and the large attendance at his rallies, and she sounded confident about her approach when interviewed outside Trump's Kissimmee rally last week. "I'm not big on bricks and mortar and office spaces because as you can see we have a very unique kind of campaign," Giorno said. Giorno says she's still relying on the large attendance at Trump's rallies to reach voters. And she cited the campaign's social media outreach, saying her team has a 100% response rate to social media queries from voters.
"This is the best type of outreach you can possibly have," Giorno said of the rallies. "He's touching over 40,000 people in two days."
"I think we win this handily," Giorno said. "I would be hard pressed to say that the Clinton campaign is doing anything to move the dial."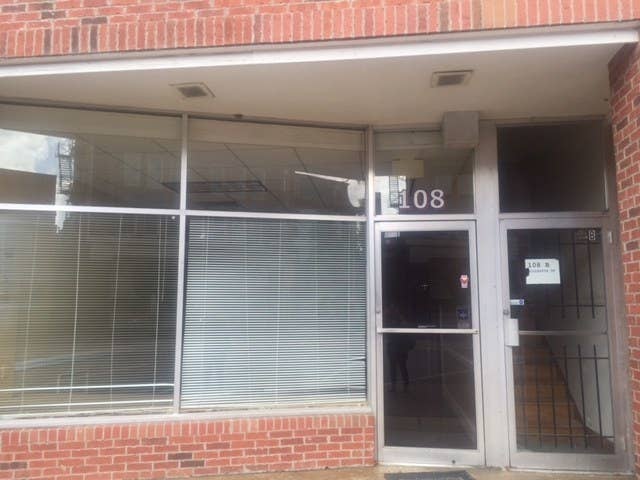 In North Carolina, which Mitt Romney won in 2012 and where the most recent NBC poll showed Trump nine points behind, it's unclear where exactly the campaign is based. The office in Fayetteville that had been used for the primary, where Trump held a rally last week, appeared to be shut down when a reporter visited it last week, and an office in Raleigh that had been used during the primary was being used by the local GOP but didn't appear to be serving as a headquarters.
"The Trump campaign is in the process of moving," said Dallas Woodhouse, executive director of the North Carolina Republican Party. "They do sometimes work out of my building but it is hit or miss."
"In North Carolina, we have almost 50 paid staffers and more than 200 neighborhood team leaders across the state (in addition to the existing county and local party organizations and hundreds of volunteers across the state) — a number that grows everyday as our team members recruit and train more volunteers," Woodhouse said. "Our team members function like paid organizers and field staff, as they commit to training, benchmarks, and hours of commitment each week to elect Mr. Trump and our Republican nominees in November."
"Donald Trump started the general election with a head start on the ground because of the operation the RNC and the NCGOP has built," Woodhouse said.
One key North Carolina Republican activist had a much less rosy view of the situation.
"It is less than to be desired," the activist said. "I think the RNC is doing a really good job from a field program. They are taking a huge role. He's also keeping it pretty lean. We're going to see if this theory works."
"You can't just come to a rally once a week and go on CNN, that's crazy," the activist said.
A source of major concern to Republicans at this point is the campaign's failure to run any ads. "I am far more worried about the lack of TV," the North Carolina activist said.
Another Republican operative called the lack of advertising "very worrisome. At a certain point the fundamentals matter."
Giorno, the Florida state director, said she expected ad spending from the campaign to start after this month. The Clinton campaign and the main super PAC supporting Clinton have already spent millions advertising in the state.
"We're letting our powder dry till people come back from vacation," Giorno said. "We're going to spend as much as it requires."
In Pennsylvania — a state whose Rust Belt areas should be a natural fit for Trump and where the RNC has 80 paid staffers — the approach has been scattershot, and volunteers are taking matters into their own hands.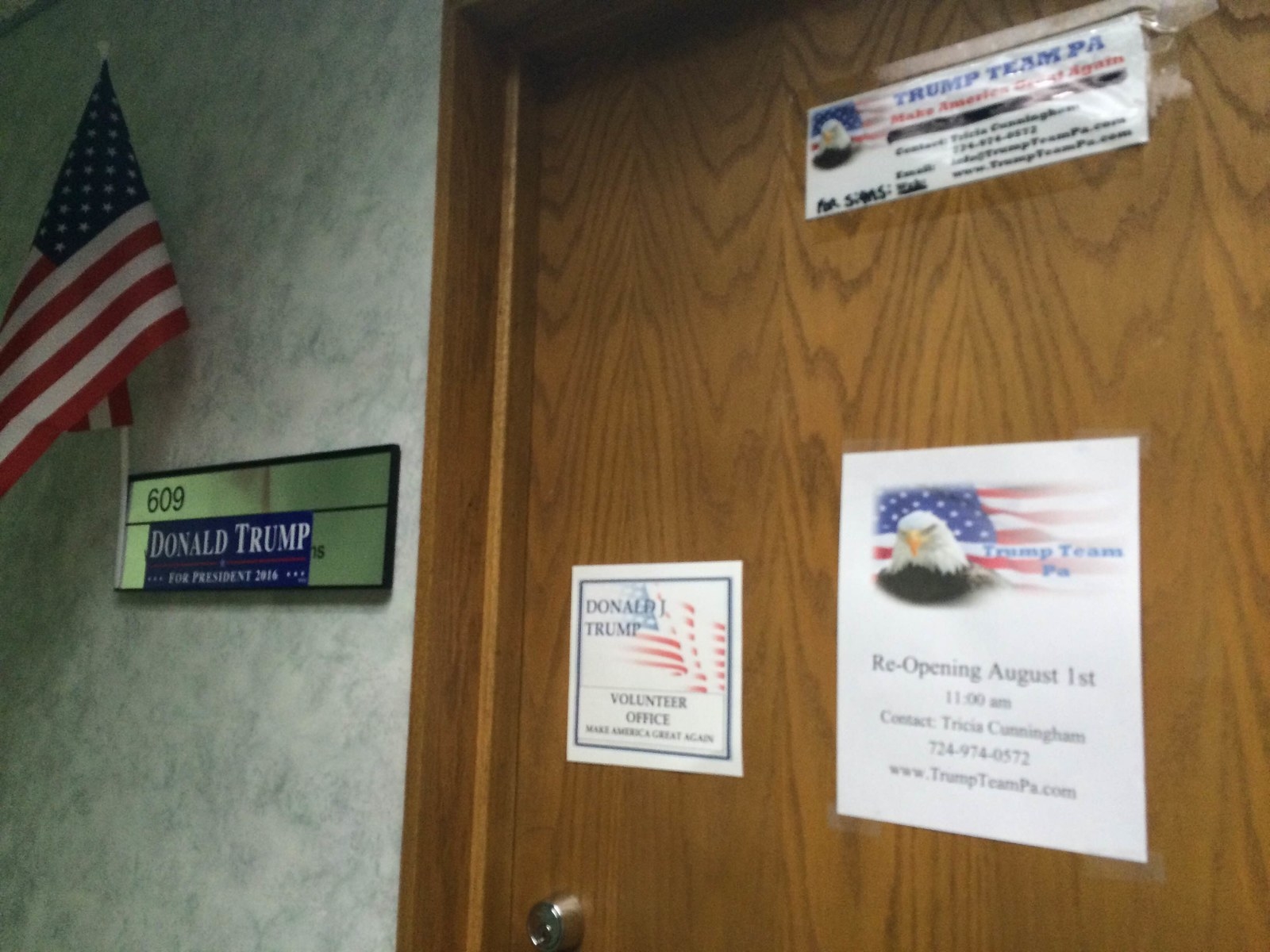 Trump's campaign website still lists an office in Western Pennsylvania — located in Monroeville, outside of Pittsburgh. Although a sign on the door said it had re-opened Aug. 8, it was was locked in the afternoon when a BuzzFeed News reporter stopped by.
A contact listed on the office door, Tricia Cunningham (whose voicemail tells callers to "have a Trumptastic day!"), later explained that the office was no longer an official Trump campaign office. The campaign shut down its Pennsylvania offices after the primary, but she decided to take over the lease and organize her own field office, which is located on the sixth floor of a big office building with a gold exchange on the ground level and a number of doctors offices and salons spread out on different floors.
"It was originally set up by the campaign," she said. "When I found out other offices were shuttering, we collectively said this can't happen… I'm now the glue between the GOP and the Trump campaign."
"The volunteers that are doing this are doing this for the love of the country and the candidate. Our model is being replicated across the state and nationally," she said of other volunteers setting up their own operations in areas where the campaign doesn't have offices.
Cunningham, a "life and weight loss coach, speaker and author," said she's been going to county fairs and other gatherings to register voters. She also organized a skydiving event for Trump volunteers called "Take a Leap of Faith — Jump for Trump." The volunteers jumped out of a plane above a large field with Trump's name spray painted into it.
In Southwestern Ohio, Trump supporters have again taken matters into their own hands, converting a house into an office because of the lack of organization in the area from the campaign. The house, which is decked out in Trump signs and patriotic bunting, is now operating as a satellite office for the Butler County Republican Party. An organizer at the house declined to talk to a BuzzFeed News reporter and directed questions to the state party, which did not respond to requests for comment.

The "Ohio for Trump" Facebook page is full of comments from Trump supporters asking for more campaign offices and yard signs. "No offense but we need Ohio to be overwhelmingly trump and by taking so long to open a campaign headquarters does not help our cause," one of the supporters wrote. The campaign is beginning to hire staff in Ohio, but it still only has one field staffer in Southwest Ohio compared to the 250 Clinton has across the state, the Cincinnati Enquirer recently reported.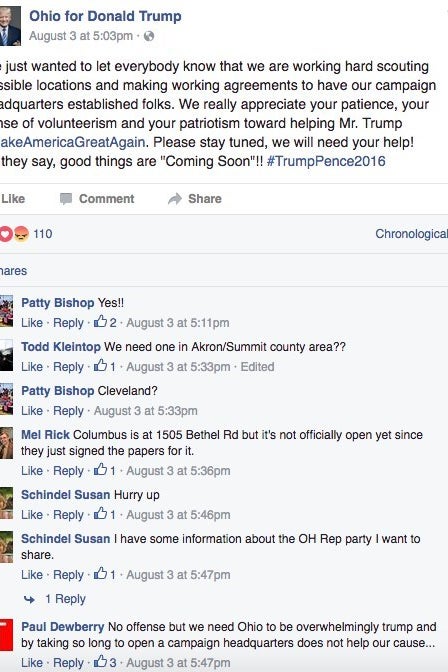 Even in New Hampshire, where Trump won handily in the primary and where his former campaign manager Corey Lewandowski has longstanding connections, the campaign's presence isn't what it could be.
"They are finally beginning to hire some people," said former Mitt Romney and John Sununu aide Ryan Williams. "They have one office that I'm aware of. It's a largely invisible campaign and you're beginning to see some signs of activity but it's the type of activity you would see at the beginning of the cycle. They are light years behind the Clinton campaign in New Hampshire. The New Hampshire Trump effort is a ragtag bunch of staffers... but they're warm bodies and that's better than having nobody."