Illinois Congressmen Distance Themselves From Mugabe Lobbyists
Representatives Danny Davis and Bobby Rush are believed to have been targeted by two men charged with illegally lobbying for the longtime president of Zimbabwe.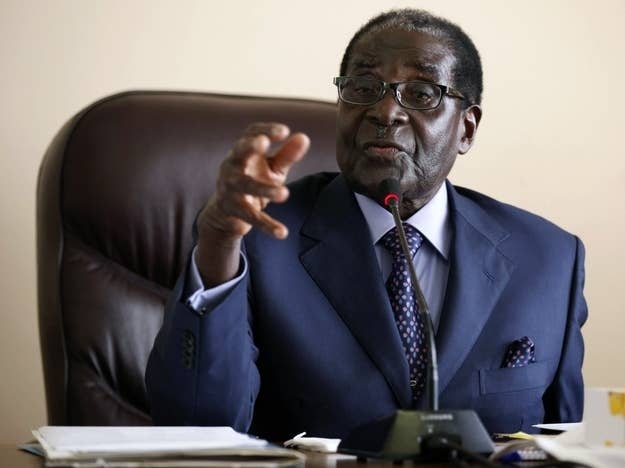 WASHINGTON — Congressman Danny Davis is seeking legal counsel after being implicated in a lobbying scheme involving two Chicago men charged with illegally lobbying U.S. lawmakers on behalf of the regime of President Robert Mugabe in Zimbabwe.
Representatives Danny Davis and Bobby Rush, both Democrats from the Chicago area, are believed to have been targeted by Prince Asiel Ben Israel and C. Gregory Turner as part of an illegal $3.4 million deal to lobby for Mugabe, whose government has been under U.S. sanctions since 2003. Neither lawmaker is explicitly named in the complaint, though both names have appeared in the Chicago media. The complaint filed in the Northern District of Illinois says that at least one of the two members of Congress planned to travel to Zimbabwe in 2009 to meet Mugabe, and that one of the members wrote two letters to Mugabe that year.
A spokesperson for Davis confirmed that the congressman had been in contact with one of the lobbyists.
"Yes, he has been briefed by Ben Israel in the past," said Ira Cohen, the press secretary for Davis. "I believe it was face to face." Cohen did not remember when the meeting took place.
"Yes, the Congressman is seeking legal counsel," Cohen said. "I think the Congressmen expects that he'll be meeting with federal officials."
Asked to clarify, Cohen said "I don't know who the officials might be, I'm not sure. I would assume it would be someone in law enforcement so it might very well be the FBI."
A spokesperson for Rush's office passed on the following statement from Rush denying that he planned any trip to Zimbabwe and saying that he will not seek legal counsel:
I had been scheduled to travel to Africa as part of an official delegation in 2009. If my itinerary had been shared with anyone connected with Zimbabwe or Zimbabwe officials, I had no knowledge of it. Zimbabwe was not on my itinerary which included the following countries: Ghana, South Africa, Angola, Liberia, and an overnight stay in Morroco. Due to sudden illness I did not travel with the delegation. This is the first I've heard of this. I have not been questioned and I am not a cooperating witness. Also, I have not been notified by the U.S. Department of Justice that I am representative B. I have not retained private counsel and see no need to do so at this time.
Asked if Rush had ever met with Ben Israel or with Turner, press secretary Debra Johnson replied "About what? And the Congressman does not know C. Gregory Turner." Asked if Rush had discussed sanctions on Zimbabwe with either of the two men, Johnson said "In the statement it states that this the first time that the Congressman heard of this."
Rush and Davis co-sponsored a bill in 2010 that would have eased sanctions on Zimbabwe.
"My boss has never opposed sanctions on Zimbabwe," Cohen said.
A third lawmaker whose involvement in the story is suggested in court papers is State Senator Donne Trotter, whose political campaign fund paid Ben Israel $1,000 in 2009, according to the Chicago Sun-Times. He is named as "State Senator A."
Tom Durkin, a lawyer for Trotter, would not comment on the specifics of the complaint.
"Well I can confirm that he's Senator A because of course he's the chairman of the National Black Caucus of State Legislators," Durkin said. "But beyond that I don't have a comment."
The complaint also says that a state senator and a state representative traveled to Zimbabwe in 2008 and met with Mugabe.
Ben Israel, who is a longtime member of the Black Hebrew Israelites, has been arrested and charged in Chicago. Turner is believed to be at large in Israel.
Mugabe won re-election last weekend and his party Zanu-PF again won a large majority in Zimbabwe's Parliament. The US and EU criticized the election as flawed. Mugabe has been in power since 1980.