Human Rights Advocates Warn Obama On Day Of Burmese President's Visit
"We think it's essential that this not be a 'mission accomplished' moment," Jannuzi says.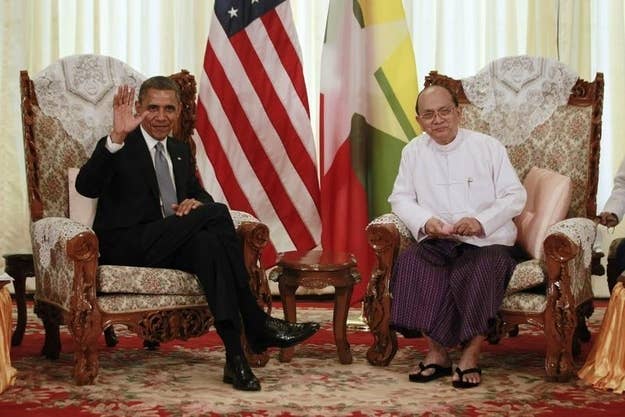 WASHINGTON — Human rights advocates are raising questions about President Obama's visit with President Thein Sein of Burma on Monday, the first visit of a Burmese head of state to the White House in nearly 50 years, because despite the country's moves toward democracy, human rights abuses there haven't abated.
"Amnesty International is not against high-level engagement with the government of Myanmar," said Frank Jannuzi, the head of Amnesty International's Washington office. "But we think it's essential that this not be a 'mission accomplished' moment. There is enormous work to be done in Myanmar to address continuing human rights violations and build the rule of law, transparency, and accountability. We hope both presidents will focus on the work ahead, rather than patting themselves on the backs for a job well done."
Burma — the name preferred by the military junta is Myanmar, and the White House referred to the country as such in its announcement of the visit despite a policy against using the name — has made some democratic reforms recently, including the release of over 400 political prisoners. But the country still represses religious freedom, and military forces reportedly engaged in some of the gruesome violence last year against the Rohingya ethnic group, who are Muslim and have not been granted citizenship in Burma. A Human Rights Watch report from April alleges that "The Burmese government engaged in a campaign of ethnic cleansing against the Rohingya that continues today through the denial of aid and restrictions on movement" and that 125,000 Muslims have been displaced and unable to return home.
But as Burma becomes more democratic and prosperous, its strategic value in the region from a U.S. perspective increases.
"There's a strategic dimension to the Obama admnistration's outreach to Burma," Jannuzi said. "That motivation cannot trump a commitment to human rights. Myanmar will not be much of a friend to the U.S. if it continues to violate the human rights of its own people."
Jannuzi said he had met with the Burmese president at a small dinner hosted by Johns Hopkins' Center for Strategic and International Studies on Sunday night, and that Thein Sein had "seemed receptive and aware of these challenges. The tricky thing for him is in addressing the tough ones — the tough challenges are those around accountability and justice. Many in the armed forces have been responsible for gross human rights violations over a period of decades."
Jannuzi had a warning for those looking to invest in Burma, as well.
"There were lot of businesspeople in the room last night," he said. "Amnesty International has emphasized that it's incumbent upon those who seek economic opportunity in Burma to go in with their eyes wide open and to focus on transparency as a guiding principle for any investment in Burma."
The meeting with Obama has so angered the U.S. Campaign for Burma, an advocacy group based in Washington, that they staged a protest in front of the White House on Monday.
A spokesperson for the group said they had about two dozen protestors and were hoping to attract more. In a press release, the group expressed "dismay" over the visit and accused Obama of ignoring "Thein Sein's role, as head of state, in the abuses against the Rohingya, Muslims, escalating military campaigns against the Kachin, Shan, and Karen, and the government's extensive land seizures to secure lucrative foreign investment deals."
In an op-ed in The New York Times on Monday, José Ramos Horta, the head of the UN peacekeeping office in Guinea-Bissau; Muhammad Yunus, the Bangladeshi Nobel Peace Prize winner; and Benedict Rogers, a human rights advocate and author of a book on Burma, all urge President Obama to press Thein Sein on the many reforms the country has yet to make.
"In his discussions with Thein Sein, President Obama has a long list of issues to raise. If democracy is to take root, he must emphasize an end to ethnic and religious conflict and respect for human rights. These can only be achieved by a concerted and sincere effort by Thein Sein's government," the authors write.
On the same day of the meeting, the State Department has put out its annual religious freedom report, which criticizes Burma for its treatment of religious minorities.
"Religious activities and organizations were subject to restrictions on freedom of expression, association, and assembly," the report wrote. "The government continued to monitor the meetings and activities of some organizations, including religious organizations. Societal abuses and discrimination based on a mix of ethnicity and religious affiliation, belief, or practice occurred."
The messaging contrasts oddly with the White House announcement of the visit from last week, which lightly touched on Burma's problems: "The President looks forward to discussing with President Thein Sein the many remaining challenges to efforts to develop democracy, address communal and ethnic tensions, and bring economic opportunity to the people of his country, and to exploring how the United States can help."