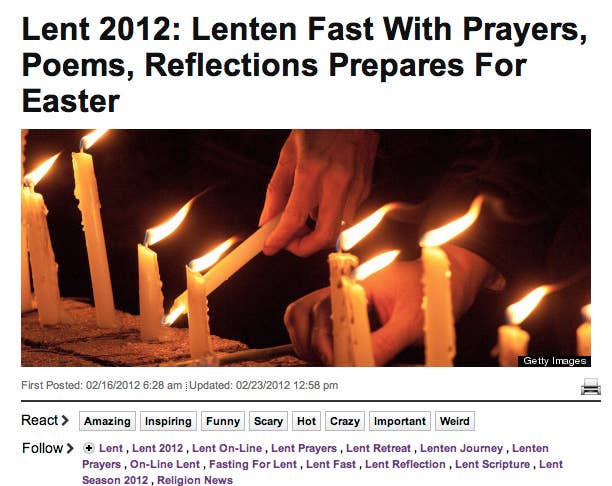 The Huffington Post's Religion page launched a Lent live blog yesterday, the first of its kind. Religion editor Paul Raushenbush told BuzzFeed the live blog will continue for the duration of Lent — a 40-day-long live blog.
Raushenbush, a Protestant minister who's observing Lent despite not being Catholic, explained that readers will stick with it because "I think people observe Lent all the way through. Ash Wednesday was very busy. There's always scripture, always prayers, always images and poems and daily reflections from leading Christian authors."
"We're not going to be at a loss for things to put up," he said. Raushenbush intends to update the blog 10 times a day every day throughout Lent.
Right now, the Lent blog is leading with a quote from Flannery O'Connor and a piece of scripture. Farther down the page, items include "Learning to Suffer? Or Learning to Love?" and "The Pope Will Be Tweeting Lent!" The content also includes user-generated posts and guest posts.
According to Raushenbush, the idea was his, thought it's been embraced by Huffington Post chief Arianna Huffington. And it won't be the last of its kind.
"We'll probably do it for periods of spiritual walks," Raushenbush said. "Ramadan is a perfect example."
As for two of the most famous Lent observers in the country right now — Rick Santorum and Newt Gingrich — the blog doesn't aim to get involved.
"Some of the commenters have gotten into that," Raushenbush said, "but it's not meant to be a political blog. The fact that Newt Gingrich is apparently giving up dessert would immediately get people off track."