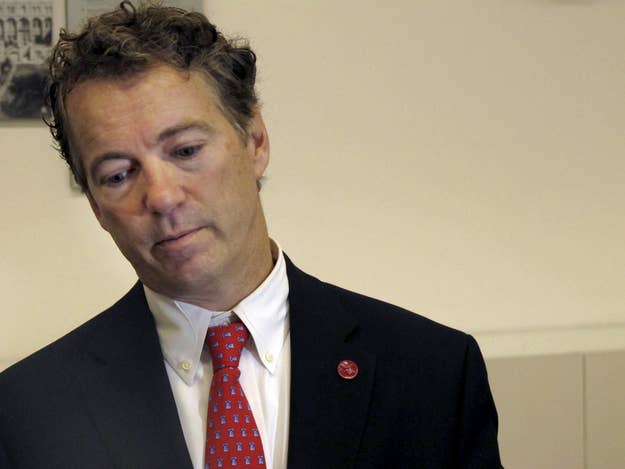 WASHINGTON — Senator Rand Paul's speech at Howard University certainly didn't recruit a lot of new Republicans. But his openness in front of a tough crowd and receptiveness to students' questions earned him their begrudging respect — though some thought his lengthy explanation of civil rights history was "insulting," and the speech was interrupted at one point by protesters.
"I thought that it was really brave of Rand Paul to come to Howard University knowing that the audience would be African-American Democrats who are big supporters of Barack Obama," said Chris Kirkpatrick, a sophomore from Cleveland. "It's taking that first step, coming to Howard to show us what the Republican Party is trying to do in the next coming years."
Kirkpatrick said he votes Democratic, but "it was a good start for me to see what more Republicans have to say."
The speech, which included discussion of school choice and mandatory minimum sentencing laws, went over badly at times, like when Paul got former Senator Edward Brooke's name wrong, and was even interrupted by two protesters holding a sign that said "Howard University does not support white supremacy." Applause was scarce, and there were one or two instances of booing. Questioners in the question-and-answer session pressed Paul on voter I.D. laws and his past stated opposition to the Civil Rights Act, though some showed a kinship with him on other civil liberties issues like drug policy.
Sope Aluko, a sophomore from Maryland, said, "I thought it was really interesting that he was trying to appeal to us."
"Maybe he didn't really tell us anything new," Aluko said, noting that she was "taken aback" when Paul asked the audience if they knew that the NAACP was founded by Republicans (the question was met with a resounding "Yes!").
But Aluko said she liked what Paul had to say about keeping first time drug offenders out of prison.
"I feel a little bit better about him now," said Tasia Hawkins, a freshman from New York. "It was cute that he tried to research and show that he knows black history."
Hawkins is "indifferent" toward Paul, she said, but added that she appreciates that he tried to clarify his stance on the Civil Rights Act.
"It says something, that he was able to come to Howard," Hawkins said. She still doesn't plan to vote Republican any time soon.
One student, political science major Shakei Haynes, said he was convinced enough by Paul's speech that he would consider voting for him. Haynes voted for Obama in the last two presidential elections.
"I think he did a fantastic job relating to us," Haynes said. "I think he brought a message that was very informative."
Other students were more skeptical.
"In all honesty, he just reinforced the opinions I already have of the party in general," said Brandon Patterson, a sophomore economics major from Chicago. Patterson asked a tough question of Paul during the question-and-answer session.
Patterson said Paul did not address how the Republican Party would really include minorities, even though that was the stated goal of the speech, and "that was what I came to hear."
Diamond Flowers, a freshman from Baltimore, accused Paul of being "insulting" when he devoted a large part of his speech to civil rights history — a topic in which Howard students are better-versed than he is.
"I felt like he researched that a day before he came here," Flowers said. "It was like he was assuming that we didn't know about it."
Flowers has no plans to stop voting Democratic.