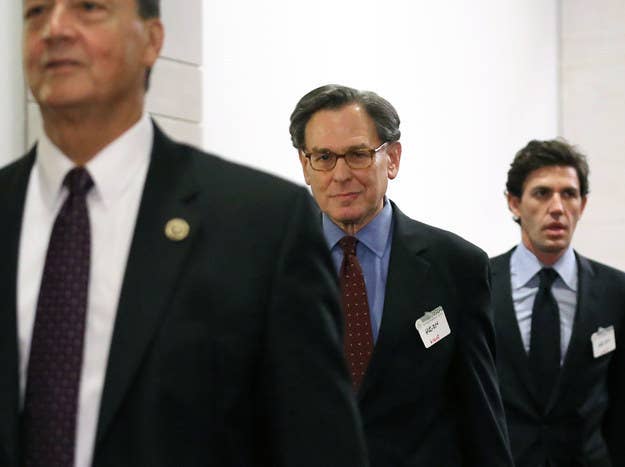 The latest release of emails from Hillary Clinton's personal email account show that longtime confidant Sidney Blumenthal regularly attempted to push the then-Secretary of State to the left on foreign policy.
Clinton didn't always respond to Blumenthal, who not only often sent work by his son Max Blumenthal, a vociferous critic of Israel, but also speeches, analysis, and pieces by others, and himself espoused views to the left of Clinton's public positions on Israel and encouraged her to do the same.
In a memo on March 21, 2010, Blumenthal encouraged Clinton to criticize the American Israel Public Affairs Committee (AIPAC) during her speech at its annual conference and praise the liberal group J Street. In the email, Blumenthal said that Israeli Prime Minister Benjamin Netanyahu is "stage managing" Jewish communal organizations and that AIPAC has become an "organ" of Likud.
"Perhaps most controversial, I would argue something you should do is that, while praising AIPAC, remind it in as subtle but also direct a way as you can that it does not have a monopoly over American Jewish opinion," Blumenthal wrote. "Bibi is stage managing U.S. Jewish organizations (and neocons, and the religious right, and whomever else he can muster) against the administration. AIPAC itself has become an organ of the Israeli right, specifically Likud. By acknowledging J Street you give them legitimacy, credibility and create room within the American Jewish community for debate supportive of the administration's pursuit of the peace process. Just by mentioning J Street in passing, AIPAC becomes a point on the spectrum, not the controller of the spectrum."
Blumenthal then suggested a watered-down version of the point about J Street to include in Clinton's speech itself: "Only through the marketplace of ideas will sound policies to help resolve complicated and seemingly intransigent problems be developed. This administration values everybody's views. They are important. You are important. We welcome views across the spectrum, from AIPAC to J Street. All these views are legitimate and must be heard and considered."
Clinton did not use Blumenthal's suggested language in her remarks to AIPAC.
Earlier that same day, Blumenthal had sent Clinton an analysis by the left-wing Israeli writer and activist Uri Avnery about David Petraeus' 2010 testimony before the Senate Armed Services Committee that named the Israeli-Palestinian conflict as one of the root causes of instability in the Middle East. In the piece, Avnery writes that American Jews "are ready to do anything — just anything — for the government of Israel" but that in order to avoid being accused of putting Israel's security ahead of that of the United States, "it is important for them to repeat endlessly the mantra that the interests of Israel and the U.S. are identical."
"And now comes the most important general of the U.S. Army and says that this is not so," Avnery writes. "The policy of the present Israeli government is endangering the lives of American soldiers in Iraq and Afghanistan."
On Iran, Blumenthal sent Clinton two analyses by Gary Sick, a former Carter administration national security aide and influential figure on the left of the Iran debate. Sick wrote the book October Surprise, which argues that Ronald Reagan purposefully delayed the release of the American hostages in Iran until after the election in order to prevent Jimmy Carter from winning.
Blumenthal sent Clinton the transcripts of two speeches given by former Ambassador to Saudi Arabia Chas Freeman, whose nomination for chair of the National Intelligence Council was scuttled in 2009 because of controversy over his criticisms of Israel and comments he had made about Tibetan unrest that were seen as overly favorable to China. Freeman blamed the "Israel lobby" for the controversy. Blumenthal sent Clinton a February 2010 speech by Freeman on Saudi Arabia, as well as Freeman's 2010 speech in Oslo about the Israeli-Palestinian peace process with the subject line "FYI. Freeman reflects Saudi view and most of State." Then-Director of Policy Planning Anne-Marie Slaughter also sent the Oslo speech to Clinton.
On May 17, 2010, Blumenthal encouraged Clinton to intervene when MIT linguistics scholar and left-wing foreign policy critic Noam Chomsky was prevented from entering the West Bank. "This incident can be profitable if Israel understands it should not be doing this to U.S. or European critics in the future," Blumenthal wrote. Clinton forwarded the email to her assistant and asked her to print three copies.
Blumenthal also regularly sent Clinton work by his son Max, an anti-Zionist writer whose 2013 book Goliath was panned by Nation writer Eric Alterman, himself a critic of Israel, as the "I-Hate-Israel Handbook" and something that "could have been published by the Hamas Book-of-the-Month Club."
Though Clinton does not appear to have always responded to Blumenthal's missives, she was not always merely a passive recipient of them. After Blumenthal sent her the Avnery piece, she responded, "I have to speak to AIPAC tomorrow. How--and should--i use this?"
Blumenthal replied that he was sending her the memo later, then a few hours later Clinton emailed unprompted to ask if he was still sending it. Blumenthal replied that he was, and that he had been "writing and also talking it out with Joe Wilson." And as was evident from the previous email release, as well, Blumenthal also served as a go-between for Clinton and British officials despite his lack of an official role with the U.S. government.