How "President Paul" Pulled It Off In New Hampshire
Paul's Granite State fans are especially devoted. Neck tattoos! "The Newt Gingrich people don't have this kind of balls."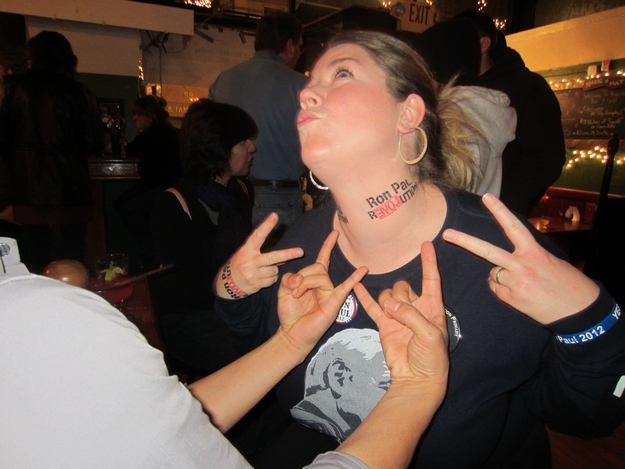 MANCHESTER, N.H. -- Ron Paul scored an easy second-place finish in New Hampshire tonight, beating Jon Huntsman by five percentage points in the polls. He couldn't do it in Iowa, but his army of devoted followers is especially strong in the Live Free or Die state.
Paulites were unavoidable in the week leading up to the primary. They were everywhere in New Hampshire, including at other candidates' events. And, as exit polls showed, they brought an unusual cadre -- younger voters, independents, and Democrats -- to bear in the Republican primary.
"The idea is just to give out information and positive smiles, and we're willing to talk and persuade people, and it's very effective. The Santorum people were eating us up," said Ann Buckman, 27, a devoted Paul supporter.
It's a state where old-fashioned hand-shaking and door-knocking can win or lose votes. "I think New Hampshire voters are open to Ron Paul's ideas in a different kind of way," said supporter Shem Kellogg.
And Paul supporters' outreach tactics were more creative -- and frankly fun -- than those of other candidates' supporters. A Ron Paul pub crawl last Friday attracted a crew of diehard fans carrying Paul balloons with a "Who Is Ron Paul?" slogan and sporting temporary Paul neck tattoos.
"The Newt Gingrich people don't have this kind of balls," Paul fan Lisa Gravel, 41, said en route from one pub to another. As the group staggered down the main drag in Manchester, cars honked, passersby cheered, and an unrelated group of Paul fans appeared across the street.
The night ended with karaoke and an near-brawl with Obama supporters. The next day, the area Paulites spent hours making phone calls, waving signs, and canvassing -- and then went out drinking again at a bar in Salem.
Paul gave an unusual "victory" speech tonight in Manchester, which ran over 20 minutes and ran down a litany of core issues, particularly those concerning monetary policy. He was greeted with chants of "President Paul!" and "Ron Paul revolution / Give us back our Constitution!" chants from a horde of supporters that was noticeably more raucous than those standing with Romney during his speech.
Paul said "I sort of have to chuckle when they describe you and me as being dangerous." Pausing for dramatic effect, he continued: "We are dangerous to the status quo in this country." The crowd cheered, but this might be the high point for now: Paul is polling at eight percent in South Carolina.