How Mike Huckabee Stays Relevant
He's at the center of the Akin mess, and of conservative politics. Arkansas' Ed Koch?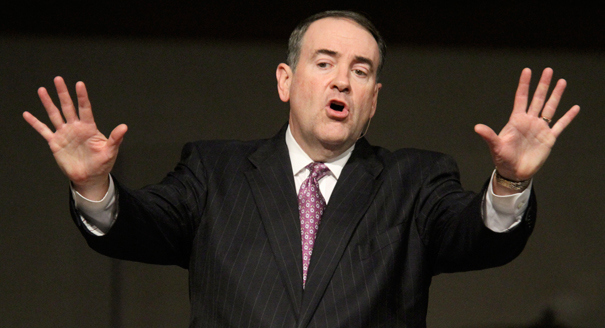 Mike Huckabee got Rep. Todd Akin the Republican nomination for Senate in Missouri, and when Akin found himself in terrible political trouble, he turned again to Huckabee, who offered a sympathetic platform for the conservative to explain a comment on rape and pregnancy.
The Akin mess has brought to light an unexpected truth of Republican politics: A year after he chose television over politics, and months after Senator Rick Santorum seemed to surpass him as the face of the conservative movement, Mike Huckabee is perhaps more powerful than he's ever been.
Huckabee's approach to Akin today is emblematic of the role he's taken on on the right since leaving electoral politics; a kind of avuncular conservative wiseman, all benevolence up-front but wielding real influence behind the scenes, inserting himself into the conversation at the right moment, and skating right over incidents that could reflect poorly on him. Huckabee has a radio show, a TV show, an appearance on a series of children's cartoons that illustrate American history, books, and frequent speaking engagements.
He is, above all, staying relevant, something few ex-politicians — with the notable exceptions of similarly garrulous figures like Ed Koch and Joe Scarborough — have managed. Indeed, even before he emerged as a key player in the Akin drama, Huckabee had already sparked the most important conservative moment of the summer: He was the first to suggest "Chick-Fil-A Appreciation Day," in a July 23 Facebook post.
"It certainly grew far beyond what I had anticipated," Huckabee told BuzzFeed in a telephone interview last week. "There were people waiting in line for hours and hours. It started to look like something very exceptional was going on."
Huckabee said that his secret for keeping a high profile involves getting on every platform he can.
"If people watch what I do on TV they're more likely to listen to me on the radio," he said. "Then they may be more likely to say, 'I'd be interested to see what that guy wrote, interested in coming to see him give a speech.' That leads to campaigns saying, 'come campaign for us.'"
He also emphasizes social media, telling BuzzFeed that "Social media is to communication today what radio was in the 30s and TV in the 50s and 60s."
Radio, though, remains Huckabee's key outlet. A former DJ, he handles it with a native, pastoral touch. Huckabee appeared sympathetic to Akin on his show Monday, telling him "I know it's a very difficult day for you."
Later, while interviewing the president of the Liberty Institute, Huckabee asked "Is this too a part of the way in which people of conviction are sometimes treated?"
But he was careful not to actually defend Akin in the context of Republican heavyweights calling for Akin to drop out of the race. The exit of the Republican Senatorial Campaign Committee and of Crossroads GPS, announced today, makes Akin's decision whether to stay in or get out even more pressing.
"By anybody's standard — including mine and I'm a staunch pro-life person — but the comments were inaccurate," Huckabee said.
But, Huckabee said, "The issue for Todd Akin is, do people accept that he made a mistake in what he said and how he said it?"
Huckabee's friends, meanwhile, have come to recognize his staying power, and to wonder what's next.
Citizens United president David Bossie, a close ally of Huckabee's whose organization produced a pro-life movie with him, told BuzzFeed that "Governor Huckabee is incredibly influential amongst the conservative movement."
"He's the reason Todd Akin won in Missouri," Bossie said (the interview occurred before Akin's comments this past weekend). "He is a very popular and very well liked and respected figure in the Republican Party as a whole and the conservative movement in particular."
Bossie also said he could imagine the former Arkansas governor taking another shot at the White House.
"You never say never," he said. "Newt Gingrich had American Solutions and took part for years in the public policy debate, was a leader in conservative policy, and then turned around and had an infrastructure and organization so he could run for president."
Indeed, Huckabee himself told BuzzFeed he may run for office again.
"I haven't ruled it out," Huckabee said. "Right now I don't have any specific plans for it, I'm not sitting around plotting the return."
"I told some people, my gosh, If I waited 16 years I'd still be younger than John McCain was when he ran so I think there might still be some opportunities in me."