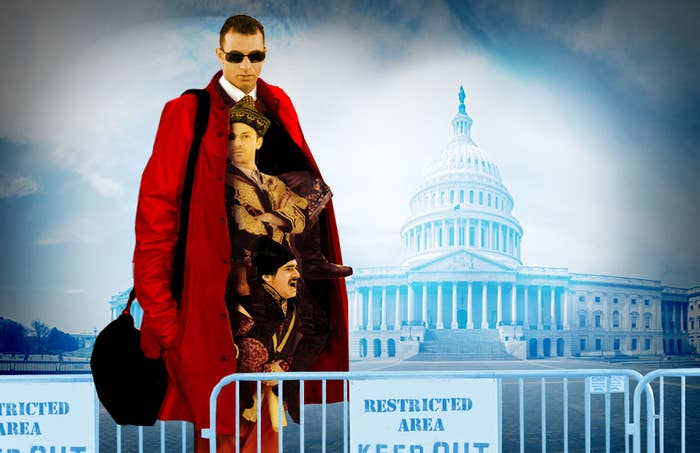 WASHINGTON — The European Centre for a Modern Ukraine, an obscure nonprofit based in Belgium, was founded by a former top official in Ukraine's governing party and appears to be a proxy for the country's pro-Russian government. In 2012, the group hired a pair of high-powered American lobbying firms to advocate on its behalf.
But what those lobbyists, who include Obama-era Democratic superlobbyist Tony Podesta, are actually doing is a mystery. Unlike the Washington firms hired directly by foreign governments, Ukraine's leadership has slipped its American agenda through an increasingly popular loophole in the federal law intended to regulate foreign activity in the United States, allowing it to follow the minimal disclosure practices required of domestic corporate lobbies, not the extensive ones demanded of registered foreign agents. It's a loophole now used by a range of post-communist governments, in particular, with money to burn and no particular love of transparency. And it offers a path to the end of a disclosure regime put in place in 1938, amid American concern over the effects of Nazi propaganda.
The erosion of those requirements began around the fall of the Soviet Union, says Bill Allison, editorial directorial of the Sunlight Foundation, a lobbying watchdog group.
"One of the problems with the Lobbying Disclosure Act of 1995 is it weakened the requirements for foreign entities and gave an awful lot of them the ability to register under the LDA when they should be filing under FARA," he said.
The Foreign Agent Registration Act established extremely detailed disclosure requirements, which have recently shed light on everything from Georgian lobbyists' hors d'ouevres to a stealth Malaysian campaign to plant propaganda articles in American media outlets.
But nobody wants to be a foreign agent. With its sinister ring, draconian enforcement requirements, and dead-serious enforcement by the Department of Justice, the law is a serious deterrent — as it was intended to be — to foreign interference in American politics. Its exposure, as in the Malaysian case, can be embarrassing both for the foreign leaders and for their agents.
And so countries including Azerbaijan and Uzbekistan, as well as Ukraine, appear to have found an alternative, one through which, in some cases, they don't have to comply with any registration requirements at all.
The trick is this: Any entity controlled and funded by a foreign government is formally required to be registered as a foreign principal. But as long as the entity is formally a nongovernmental organization and isn't funded by a government — a chamber of commerce, an advocacy group, or some other entity — the law does not apply.
"For better or for worse, it's legal," said Joseph Sandler, a Democratic lawyer and expert on FARA law.
Those groups register instead under the Lobbying Disclosure Act, whose roots are in anti-corruption crusades of the 1990s, but which is far less onerous. The two laws "evolved in completely different ways," Sandler said. In particular, an LDA filing shows you very little about what the lobbyists actually did for their clients, while FARA filings require disclosures of specific duties and expenses.
The European Centre for a Modern Ukraine offers a particularly clear case study in this method. The Center is a nongovernmental organization in Brussels that, its website says, is "a unique 'Modern Ukraine' organisation based in Brussels and operating internationally as an advocate for enhancing EU-Ukraine relations."
The group has a strong tie to the Ukraine's government: It was founded by Leonid Khazara, a former senior member of parliament from Ukrainian president Viktor Yanukovych's Party of Regions. The Centre is established as a nongovernmental organization in Brussels. It lists no staff on its website save for two employees on the Contact page, and a spokesperson didn't return requests for comment.
But for that skeleton staff, the ECFMU was represented by two lobbying firms, the Podesta Group and Mercury/Clark & Weinstock, during a period in which a flurry of pro-Yanukovych stories appeared in the American conservative blogosphere. The EFCMU's managing director, Ina Kirsch, tweeted out two of the stories, from Breitbart News. The bloggers declined to identify the source of the stories' pitches, and said they hadn't been compensated for writing them.
A spokeswoman for Mercury/Clark & Weinstock told The Daily Beast last year that the group was "in compliance with all European and Belgian disclosure laws," when it was in the news because Romney advisor Vin Weber was employed as one of its lobbyists. That same spokeswoman would not tell BuzzFeed what specific services Mercury/Clark & Weinstock provided for the Centre.
Another striking example of this style of spending on behalf of foreign governments comes from the Central Asian state of Uzbekistan, which in the most recent State Department human rights report was cited for "significant human rights problems" including torture and abuse of prisoners.
Gulnara Karimova, the daughter of Uzbekistan's dictator Islam Karimov, runs an organization called the Fund Forum or Forum of Culture and Arts of Uzbekistan Foundation, which, according to its website, is "a voluntary self-controlled nongovernmental association of citizens and public organizations pursuing the goal of supporting domestic science, culture, education and sports." Karimova has been accused of dealings with organized crime and illegally keeping a chokehold on Uzbekistan's mobile phone industry; her father's regime is notoriously brutal in suppressing dissent and once allegedly boiled a protester alive.
The Fund Forum is represented in New York by Ashraf Khodjaev, who is also the first secretary of the mission of Uzbekistan to the United Nations. Khodjaev didn't return a request for comment.
The Fund Forum seems to mainly exist to advance Karimova's interests — one of its recent events was an exhibit for her "Guli" fashion line — but it is also, according to a glowing Huffington Post blog post from January, "Central Asia's largest and leading cultural foundation."
"Most of the projects of the Fund Forum has a social character," wrote freelance marketer Alex Simons. "They combine all the layers of the population, to establish closer links between all participants in the social and cultural processes, and develop cooperation based on common goals and interests, and also demonstrate the potential and the dynamics of the interaction of its creative and innovative opportunities for the social sector in Uzbekistan."
Simons writes that a "friend" went to Style.uz Art Week, a fashion week organized by the Forum.
Reached by phone, Simons said he had never been paid to write the post, but that "a friend of mine had been in event PR and asked me to do a blog post." He couldn't remember his friend's client and said she was "freelance."
"I think I might actually take it down, though," Simons said. He also asked that BuzzFeed not mention the post.
Harper's writer Ken Silverstein reported in 2009 that Karimova organized a junket to Tashkent for American bloggers. The junket resulted in posts like this, about the Style.uz fashion week. Just recently, one of the bloggers who went on the previous junket visited Uzbekistan again.
"Fund Forum is tough to define," said Sarah Kendzior, a scholar on Central Asian issues who has written about the forum. "It's a philanthropic organization that allegedly does a few genuinely good things, it's allegedly a front for some of Gulnara's shady business dealings, and most of all, it's ground zero for Gulnara PR, a way that she can promote herself as a 'philanthropist' and gain a following among Uzbekistan's youth."
Karimova's Fund Forum, despite its obvious connection to the government, isn't listed in the FARA registry or anywhere in LDA filings.
If a U.S.-based group has foreign nationals on its board, those individuals must register under FARA. One example is the board of directors of Azerbaijan America Alliance, which includes two Azeri nationals, including Anar Mammadov, the son of Azerbaijan's transportation minister, who is one of the richest oligarchs in that country. (The younger Mammadov is the star of a strange, possibly apocryphal report in an Azeri website that says he ordered a restaurant in Baku to kill a bear for him and spent the night feasting on the bear, paying $1.2 million for the privilege.)
A spokesman at the Alliance didn't return a request for comment. They were represented throughout 2012 by Democratic firm Fabiani and Lehane, which earned about $40,000 through the deal. That contract is listed in LDA filings, while the two Azeri board members can be found in the foreign agent filings.
A related Azerbijani PR effort was touched by international scandal when a British blogger, Claire Rewcastle Brown, printed documents suggesting that the country deployed a firm, Fact Based Communications, that was at the center of U.K. media inquiries over covert Malaysian propaganda documentaries that aired as news on the BBC and other major international networks.
Nonprofits, of course, aren't the only foreign entities that find a way around FARA. Foreign corporations from countries without a clear line between commerce and state power fly through a similar loophole. The Chinese tech giant Huawei Technologies, for example, isn't listed anywhere in FARA but is spending millions on multiple lobbying contracts filed under the LDA. It's the same company that U.S. officials have accused of spying and that is mentioned in news reports about the suspicious death of Shane Todd, an American who had been working in Singapore with the Institute of Microelectronics and reportedly quit because he was worried that dealings with Huawei would harm U.S. national security.
Meanwhile, more groups are springing up all the time: Friends of Hungary, for example, is slated to be set up in the United States soon as a 501c3 nonprofit and run by a former government minister. The government of Hungary is budgeting $15 million for the group, which will be directed by the prime minister's office.
"Obviously what the law is trying to do is understand how foreign governments are trying to influence us, but U.S. companies make it so it's not a foreign entity," said the Sunlight Foundation's Allison. "A foreign country could have very different issues than us, like with human rights, but companies end up becoming proxies for someone else's foreign policy interests. It's not clear that it's the interest of the average American that they're pushing."