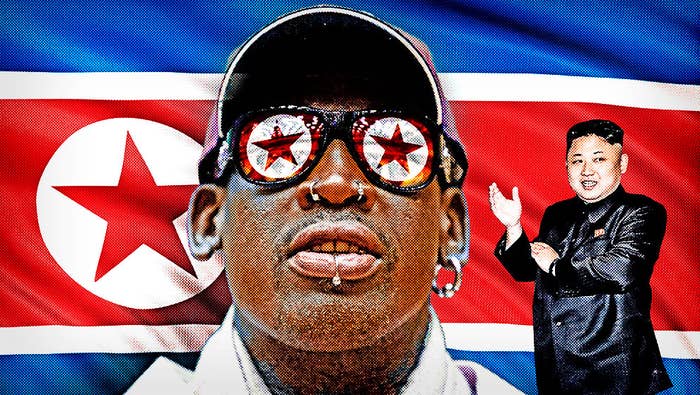 WASHINGTON — John Doldo IV is a senior at American University in Washington, D.C., with a passionate interest in international affairs; he visited Libya during its revolution and has been to Pyongyang multiple times. In February 2013, he watched from afar as Dennis Rodman went to North Korea with the Harlem Globetrotters for a documentary by Vice, the hipster media company.
"Seeing the supreme leader of the DPRK meeting with an American in a friendly atmosphere was a positive change," Doldo said during an interview in a student center at his school. "We were excited to see that."
The "we" to whom Doldo was referring comprises Joseph Terwilliger, a professor of neuroscience at Columbia University with a degree in tuba, and Michael P. Spavor, a Canadian consultant based in China who is well connected in North Korea, according to several people familiar with him. Together, the three men have been the driving force facilitating Rodman's trips to North Korea. They planned the logistical details of his last three trips, arranged visas, and facilitated Rodman's meetings with the country's dictatorial leader, Kim Jong Un — a man Rodman affectionately refers to as "the Marshal." The three became involved out of a wish, Doldo said, to help Rodman's vision of "basketball diplomacy" and increase the chances of a rapprochement between North Korea and the West.
Doldo met Terwilliger during travels to North Korea with the Pyongyang Project, a Canadian "social enterprise" that runs some tours in North Korea for which Spavor is listed as a director on his LinkedIn profile. Doldo first traveled there in 2011 and then twice in 2012, studying the Pyongyang dialect of the Korean language along with Terwilliger. The next year, Rodman made his notorious visit with Vice.
"Dr. Terwilliger contacted me after we saw Mr. Rodman in the DPRK and said 'we should meet this guy,'" Doldo said. To that end, Terwilliger entered and won an auction in the spring of 2013 where the prize was to play horse with Rodman. He and Doldo met Rodman in New York later that spring. They shot hoops and talked about North Korea. Terwilliger already had plans to spend the summer teaching genetics at a university in Pyongyang.
"As we were finishing, his agent Darren Prince said 'we'll be in touch,'" Doldo said. "Shortly thereafter Dr. Terwilliger got an email from Darren Prince saying basically that Mr. Rodman wants to go back to the DPRK and doesn't want to go with Vice."
Rodman didn't want to work with Vice anymore, Doldo said, because the North Koreans found the coverage of their country too critical.
"The DPRK government does not like them because they have in the past produced several documentaries that portrayed their country in a negative light and a unfair light," he said. And what's more, Rodman didn't want the media attention, Doldo said, but wished for a "private visit" with Kim Jong Un — which is what he ended up getting in September 2013.
[A Vice spokesman said that the company never planned to do more than one trip to North Korea with Rodman.]
Over the summer, Spavor, the Canadian, began arranging visas from his base in China. Rodman wrote to the North Korean government announcing his return and went back in September, having promised to make a visit in August, accompanied by his bodyguard plus Terwilliger and Spavor.
Organizing the visits is "not as simple as it looks," Doldo said. "We've got Mr. Rodman's people, we've got the sponsors, Paddy Power, we've got our people, and suppliers in different countries and different continents, so I helped with that as well." Paddy Power, the Irish betting giant, sponsored Rodman's December trip that he took to train North Korean basketball players, but it pulled out before the latest trip in January, citing Kim Jong Un's murder of his uncle.
The September trip, Doldo said, was more of "a small kind of vacation for Mr. Rodman." As Rodman prepared to travel back to the country in December to train the North Korean team, Terwilliger, Spavor, and Doldo once again sprung into action. Doldo recalled working the phones in the middle of the night, calling Chinese companies to order basketball gear.
According to Doldo, Terwilliger helped grease the wheel by working with North Korea's representatives in New York, whom he declined to name beyond saying that the organizers had gone "through the normal channels that anyone would go through to get a Korean visa." He said Terwilliger's contact was not Han Song Ryol, the North Korean diplomat at the U.N. and custodian of the "New York channel" by which the U.S. exchanges messages with Pyongyang.
"There are various individuals in the Korean government with whom we deal," Doldo said. When Rodman goes to North Korea, he is officially hosted by the country's Olympic committee.
Doldo and others involved in the trips have said that the North Korean government isn't paying for them. Both Doldo and Jules Feiler, a publicist for Rodman, were vague on the topic of whether or not Paddy Power paid for the January trip and exhibition game.
"I'm sure it does seem strange but for obvious reasons the person who sponsored this at some point decided they didn't want their name on it," said Feiler.
"We withdrew all of our involvement with the project before Christmas, however honoured our contractual obligations," Rory Scott, a spokesman for Paddy Power, said in an email.
He declined to say whether the former NBA players had been paid, saying: "I'm afraid we never discuss our commercial arrangements."
Doldo said that the only thing the North Koreans might have paid for was Rodman's hotel room.
"As far as I'm aware the most the DPRK government might have done in terms of sponsoring or funding this would have been for hotels," he said. "I don't know for certain whether Mr. Rodman is paying his own hotel bill." Doldo later said that he had confirmed that the North Koreans had not paid for the hotel.
"I don't have any answer for you" on the topic of the hotel room, Feiler said on Thursday. "We're trying to get to the bottom of it and I don't have an answer for you right now."
Both Terwilliger and Spavor spoke to Canadian magazine Maclean's for a lighthearted article on their North Korean adventures last year. According to the story, Spavor has been traveling to North Korea since 2005 and "developing key contacts in the regime along the way. Spavor speaks the North Korean dialect—a more formal variant of the southern—so fluently that he fools people on the phone, and he ran a school specializing in DPRK Korean in Yanji, the city in a largely Korean corner of northeast China where he now lives." Terwilliger, for his part, "had become fascinated by the DPRK as a kid listening to shortwave radio from Pyongyang; he'd been on North Korea's propaganda mailing list for years and found the material he received 'interesting.'"
"For the past seven years, I have amassed a considerable amount of experience, and made many contacts and friends working within the DPRK," Spavor writes on his personal website. "In addition to working in many organisational leadership and management positions, my past roles have involved close cooperation with various governments, UN organisations, humanitarian and development NGOs, academics, investors, tourists, professional athletes, celebrities, and world leaders."
"In the media, Marshall Kim Jung Un is portrayed as serious," Spavor told Maclean's. "But we were able to see a more charismatic, friendly side to him. He has a good sense of humour."
Spavor did not respond to repeated requests for an interview. Terwilliger said he was under a "media embargo as Rodman has the right to first interviews."
"All I can say regarding your questions is that I paid my own way on all trips and was not reimbursed for travel costs, nor was I compensated in any way by anyone," Terwilliger said. "Paddy Power paid the players consistent with their preexisting contracts, as far as I know, and Rodman received no compensation whatsoever, as far as I know. Sorry I cannot answer any other questions, but we are prohibited from discussing details of the trips before Rodman gives his exclusive interviews in a few weeks."
According to people involved in a tour group that traveled to Pyongyang to watch the exhibition game between the North Korean team and the former NBA players, the experience was bizarre, though at times thrilling.
Koryo Group, a company that organizes guided tours to North Korea on a monthly basis, brought a group of 20 to the country during the time that the players and Rodman were in Pyongyang. The price, according to more than one person who attended the tour, was about $10,000. Accoding to Koryo Group organizer Simon Cockerell, who said the trip cost 6500 euros, the extremely high price "reflects the exclusive nature of the tour (single rooms, higher quality restaurants, etc. and all inclusive nature of the tour throughout) but also the charitable aspect of it." Cockerell said that some of the proceeds from this trip are going to a charity for the deaf called Together, a German initiative that he said was involved in building a school for deaf children in Pyongyang. Another tour group run by a group called Uri Tours was also in Pyongyang at the time, though they did not attend the game.
The tourists stayed at the same hotel in Pyongyang as Rodman and his teammates, and had drinks with them at night, mostly with the other players but one night with Rodman himself.
"On the last night we hung out and talked with Rodman," said Sean Agnew, a music promoter from Philadelphia. "It was definitely pretty weird and unusual."
"He didn't talk about the game much other than saying it was history making," said one American tourist who spoke on condition of anonymity because he was not willing to speak publicly about the trip. "But he kept asking personal questions to the group of guys at the table, asking about women we've slept with, etc." The tourist said Rodman didn't mention Kenneth Bae, an American citizen currently being held in a North Korean labor camp, but "did talk up 'the Marshal' Kim Jong-un though, saying he's a good guy and that what the media says about him is not true."
Rodman "seems to have a completely different conception of [North Korea] than pretty much all other Americans," the tourist said.
The group got to attend the game itself, traveling there as part of a diplomatic caravan arranged by countries that have relations with North Korea . They were told that they were not allowed to take pictures or bring their phones into the game.
"There were 15,000 people in monochrome outfits, and everyone's sitting there quietly," said John Milton, an American investment banker based in Budapest who went on the trip.
"Every seat is completely full but it's pin-drop quiet," said Agnew. "Then Kim Jong Un came in and the place erupts, goes crazy. It probably lasted around 15 minutes or so. Loudest applause I've ever heard in my life."
Rodman took the microphone and started singing "Happy Birthday" to the North Korean leader.
"It was creepy," said the American tourist who asked not to be named. "I've been saying that the only time I felt nervous in the DPRK was when Rodman had the microphone and was speaking to the stadium."
"I think he was intoxicated, to be honest," said Milton.
Rodman played for one quarter and spent the rest of the game sitting with Kim Jong Un, smoking cigars while Kim smoked cigarettes.
Of Spavor, Agnew said: "He was the ringleader for sure. During the game he actually spoke to Kim Jong Un."
At night, the tourists spent time with the players accompanying Rodman, though not with Rodman and them at the same time. According to Agnew, Rodman traveled in a separate car while the rest of the players traveled in a bus.
"I actually never saw Rodman hanging out with the players," the tourist said. "The players didn't seem too unhappy when we were drinking, although some of them expressed that they were ready to go home even before the game."
Rodman brought along with him several former NBA stars, including Cliff Robinson, Kenny Anderson, Doug Christie, Vin Baker, Charles Smith, and Eric "Sleepy" Floyd.
"There was animosity between a few of the guys," said Milton. "A lot of people might have been upset that Dennis was being outspoken," he said, particularly after a now infamous CNN interview in which Rodman appeared to blame Bae for his own imprisonment in North Korea.
Rodman's publicist later blamed the outburst on the attitudes of the players, telling BuzzFeed, "A lot of these comments and the mood there with some of the players really contributed to his lashing out at [CNN anchor Chris] Cuomo."
Several of the players have publicly said they regret traveling to North Korea with Rodman, including Smith, a former Knicks player, who told the Associated Press, "Some of the statements and things that Dennis has said has tainted our efforts. Dennis is a great guy, but how he articulates what goes on — he gets emotional and he says things that he'll apologize for later." Through a representative, Smith declined requests for an interview.
Floyd told ESPN last week that he was "misled" about the trip.
"I wasn't given all the information regarding the events that were going to take place," Floyd said. "In no way shape or form did I know that I would be crossing paths with the leader of North Korea, and definitely not attending a birthday celebration or ceremony or anything like that." Floyd said "none of this was stated" on the itinerary given to players.
"After the first 10 hours I was in North Korea and I realized what the agenda was, I was trying to arrange a flight out the very next day," Floyd said.
Floyd declined requests to do an interview with BuzzFeed and did not respond when asked how much he and others were paid to be there.
Hanging over all of Rodman's trips to see his "friend" Kim Jong Un has been the issue of Bae, an American tour guide and missionary who has been imprisoned in North Korea for more than a year and charged with "hostile acts" against the government.
Rodman tweeted over the summer about the issue, calling for Kim Jong-un to "do him a solid" and release Bae. But since then, Rodman has retreated and even cast aspersions on Bae in the CNN interview, which "outraged" Bae's family. Asked by CNN about Bae, Rodman launched into a rant, saying, "The one thing about politics, Kenneth Bae did one thing. If you understand — if you understand what Kenneth Bae did," and asking Chris Cuomo, "Do you understand what he did? In this country?"
"Mr. Rodman did not state that Mr. Bae had deserved to be in prison in the DPRK, that's not what he said," Doldo said. "He simply said that Mr. Bae had done something. In other words the DPRK did not arrest him without any apparent reason. That interviewer was saying no charges had been released, and that's not correct."
Doldo cited "Operation Jericho," a missionary operation in which North Korean state media accused Bae of participating.
"I would refer you to the report in the Korean Central News Agency that announced that Mr. Bae was convicted of engaging in subversive activities, especially his Operation Jericho, which allegedly entailed setting up bases in China and encouraging DPRK citizens to act against their government," Doldo said. He added that he hoped the North Korean government releases Bae in the interest of improving relations with the United States.
Rodman later apologized for the CNN interview, saying that he had been drinking. But he has shown no signs of helping Bae despite his status as the only Westerner with any personal access to Kim Jong Un.
Rodman's agent Darren Prince did not respond to requests for comment. Feiler said Rodman was not yet available for interviews.
North Korea has shown no sign it intends to release Bae anytime soon, even rescinding an invitation for a State Department envoy who planned to visit Pyongyang late this summer and negotiate Bae's release.
"I think if people want results you shouldn't ask a retired NBA star who happens to know Marshal Kim Jong Un to make this request again," Doldo said. "You should appeal to President Obama to pick up the phone and speak with Marshal Kim Jong Un about this and other issues."
Doldo said that he and his partners were not involved in the project for any political reason beyond a real belief in Rodman's concept of "basketball diplomacy."
"We are no Marxists," he said. "Dr. Terwilliger is a lifelong Republican with libertarian leanings. We are involved with this simply because we want to help Mr. Rodman realize his dream of using sport to develop mutual understanding between the U.S.A. and the DPRK, at the very least on a people-to-people level."