House Intelligence Chair: Iraq Crisis "Not An Intelligence Failure"
"This is a result of indecision, which is a policy failure."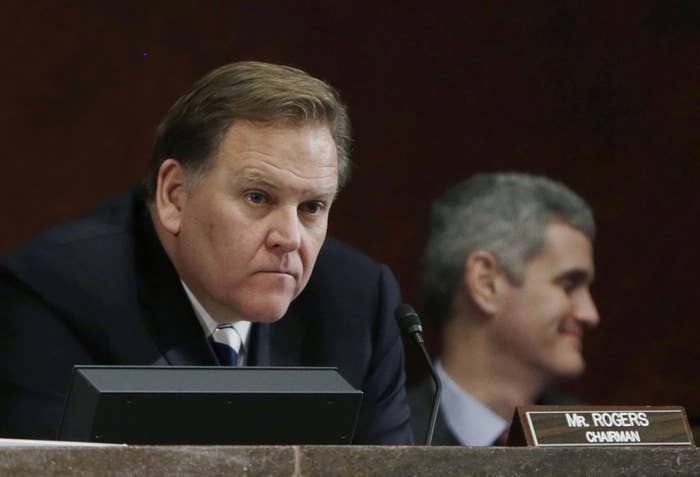 WASHINGTON — The Obama administration had specific intelligence about the terror group ISIS' activities and movements in Iraq and failed to act on it, House Intelligence Committee Chairman Mike Rogers said Wednesday.
ISIS' take over of much of the country "is a result of indecision, which is a policy failure," Rogers said at a breakfast with reporters sponsored by the Christian Science Monitor. "This is not an intelligence failure, it is a policy failure."
"We watched them pool up, we watched the debate between Al-Nusra and ISIL, we watched the concern between Al-Qaeda leadership, Zawahiri, about trying to get them back in the fold, we watched training camps get built and developed, we watched them get weapons, we watched them get finances, we watched western passport holders show up at these camps, we watched them all," Rogers said.
"We heard their stated intentions," Rogers said. "The reason they're called the Islamic state of Iraq and the Levant is because they want the Levant."
Rogers, who is leaving Congress after this term to become a talk radio host, said the blame for not acting on the intelligence lay with the administration, not with the intelligence community.
"Those are all policy failures in my mind that has led to this," Rogers said. "You can't blame the intelligence community, you can't blame Congress.This is a foreign policy failure of a magnitude that will risk the security of the United States of America."
"About two years ago I and others were ramping up this notion that we had to do something in eastern Syria," Rogers said. "I came to those conclusions based on the intelligence that was afforded to the committee, as a consumer of intelligence."
"It was very clear that years ago ISIL, ISIS was pooling up in a dangerous way, building training camps, recruiting, drawing in jihadists from around the world. We saw all of that happening. Nothing happened to disrupt them."
"So some notion that we didn't see this coming means you weren't paying attention to the intelligence that was afforded to us," Rogers said.
"They clearly stated their intentions, we knew what their intentions were," Rogers said, though he conceded that "Did we know they were going into Iraq? I'm not sure."
Rogers also blamed the crisis in Iraq on the Obama administration's decision to pull out of Iraq completely, and blamed the Obama administration for, he alleged, failing to stop the movement of weapons and money from Arab League countries to extremist groups in Syria.
"This is a product of indecision in a very difficult neighborhood," Rogers said.
"We know for a fact that some of the supplies that some of those Arab League countries were supplying were getting in the hands of extremists" in eastern Syria, he said.