House Intelligence Chair: Brennan's Kiev Visit Could Improve Coordination With Ukraine
"The Ukrainians need more help," Mike Rogers said. The White House and State Department confirmed the CIA director's trip on Monday.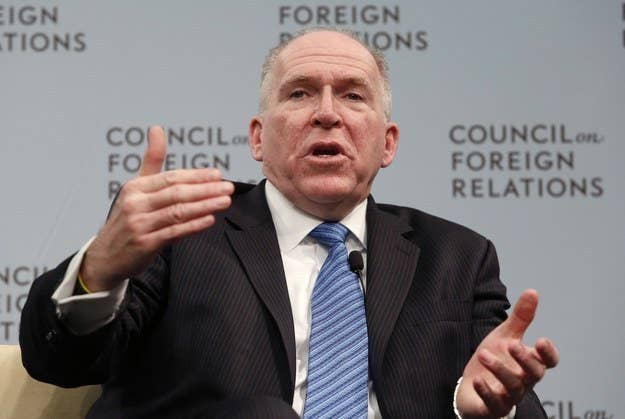 WASHINGTON — The chairman of the House Intelligence Committee said on Monday that CIA director John Brennan's visit to Kiev over the weekend could help U.S. improve its intelligence sharing efforts with Ukraine.
"Hopefully Mr. Brennan's trip will lead to more intelligence sharing on Russian activities threatening Ukraine," House Intelligence chairman Mike Rogers said in a statement to BuzzFeed. The U.S. has neglected to share key intelligence with the Ukrainians during the political crisis that has resulted in the Russian annexation of Crimea. The Daily Beast reported last week that senior U.S. military officers had been told not to give details to their Ukrainian counterparts about Russian troop movements along the border with Ukraine.
Rogers also called for more non-lethal aid to the Ukrainians.
"My recent visit with Ukrainian leaders and intelligence officials made clear that the Ukrainians need more help," Rogers said. "Just as in Crimea, Russia has sent teams of intelligence agents and packs of thugs to provinces in Eastern Ukraine to provoke conflict."
"The Russian military may very well use these incidents as the predicate for invading Ukraine to 'protect Russian speakers,' just as it did in Crimea," Rogers said. "The United States should supplement the sanctions imposed on Russia by providing additional non-lethal support that will help the Ukrainians mount a more robust defense against the Russians. We can and should provide support, short of boots on the ground, that helps the Ukrainians defend their country against Russian aggression."
Thomas Shannon, an adviser to Secretary of State John Kerry and a senior diplomat, said on Monday that arming Ukrainian forces could be an option. National Security Council spokesperson Caitlin Hayden downplayed Shannon's comments on Monday, saying, "There's no change in our position and I wouldn't read anything into the timing of his comments. With regard to any potential military assistance to Ukraine, we don't have any announcements to make today. Again, our main focus continues to be on supporting economic and diplomatic efforts to de-escalate the situation. And as the President said, we do not see a military solution to crisis."
The State Department and the White House on Monday confirmed Brennan's visit to Kiev, which took place over the weekend. Former Ukrainian president Viktor Yanukovych, who fled the country in February, claimed that Brennan was responsible for the new Ukrainian leaders' decision to send security forces to the restive east — allegations that officials denied on Monday. The administration's unusual confirmation of Brennan's travel could provide a boost for Russia's narrative about the Ukraine conflict.
"We know that the CIA does not normally comment on the director's travel," State Department spokesperson Jen Psaki said at Monday's press briefing. "Given the extraordinary circumstances in this case and the false claims being leveled by the Russians at the CIA, however, we can confirm the director was in Kiev this weekend as part of a trip to Europe."
Psaki said that the purpose of the trip was "fostering a mutually beneficial security cooperation" and that "there were some claims that Director Brennan encouraged Ukrainian authorities to conduct tactical operations inside Ukraine. Those are completely false."
Carlo Munoz contributed reporting.