Holbrooke Allies Look Hopefully To John Kerry
The new Secretary of State could make his mark on Afghanistan and Pakistan. "Kindred spirits," says the diplomat's widow.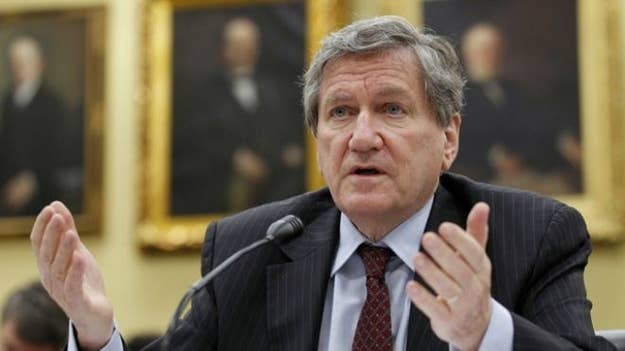 Senator John Kerry will arrive in Foggy Bottom later this winter with a particular challenge: Carving out an agenda of his own, something to own apart from the simple administration of the State Department, and something beyond merely implementing Barack Obama's will.
`
People close to Kerry's late friend and rival for pre-eminence in American foreign policy, Richard Holbrooke, have a suggestion: The mantle of Afghan peacemaking that Holbrooke let slip when he died suddenly on the job in December of 2010. Though the two men are different in personality, both are fundamentally deal-makers, and AfPak, as it's called, is one of the great deals of the era. Holbrooke's dream was a negotiated peace that drew in India, Pakistan, the Taliban, and Hamid Karzai's Afghan government, tamped down militancy, and brought stability. Kerry, many of the people closest to Holbrooke say, could deliver it.
Holbrooke and Kerry were "kindred spirits," Holbrooke's widow, the writer Kati Marton, told BuzzFeed. The diplomat "did his utmost to get Senator Kerry involved in the Mission Impossible that was his job in the Obama administration, and he and Kerry worked very closely, very collaboratively and spent a great deal of time on the telephone when Richard was in the region in Pakistan and Afghanistan," she said.
Holbrooke, whose great diplomatic triumph was the negotiated peace deal in Bosnia in 1995, struggled inside the Obama Administration. A close ally of Secretary of State Hillary Clinton, he lacked the confidence of key White House officials, who viewed him as a departure from Obama's "no drama" style, and unable to connect with Afghan president Hamid Karzai.
Marton suggested that Holbrooke saw Kerry as a close ally during his sometimes tense relationship with the administration during his tenure. The two men had known each other for decades, and Holbrooke was said to be on Kerry's shortlist for Secretary of State if the latter had won the presidency in 2004. There's also, another top former U.S. official pointed out, a symmetry in their careers that makes AfPak an obvious destination: Kerry and Holbrooke were both shaped by the Vietnam years, which Holbrooke eventually came to compare to the war in Afghanistan. Kerry came to politics urging American withdrawal from that war, and there's a logic to his capping his political career by leading the American withdrawal from another one.
Kerry, whose relationship with President Obama is perceived as much warmer than Holbrooke's, is "certainly very familiar with Richard's thinking," Marton said.
Former Holbrooke aides — some of whom were, like their former boss, disenchanted with the White House's Afghan surge — also praised the Kerry pick in recent interviews.
Kerry has a "deep understanding of Afghanistan and Pakistan from the Senate Foreign Relations Committee and his travels in the region," said Vali Nasr, an Iranian-American scholar of the Muslim world who served on Holbrooke's team at the State Department.
Holbrooke, a special envoy, was replaced by a career diplomat, Marc Grossman, but the portfolio of regional peacemaking has languished. Indeed Kerry — who has an unusually strong relationship with Karzai — has at times been the regional troubleshooter.
Now Grossman is reportedly stepping down. And a former senior U.N. official in Afghanistan and Holbrooke friend, Peter Galbraith, said he expects the Af-Pak office will "disappear" during the tenure of the next Secretary of State.
Kerry will, of course, be the Secretary himself — the job Holbrooke always aspired to — not an envoy or a specialist. And the staid Kerry is, in personality, the opposite of the bombastic Holbrooke.
"In the case of John Kerry you have someone of enormous experience and accomplishment but who is by nature less likely to be rambunctious," said Holbrooke's longtime editor, Peter Osnos. "He doesn't have that kinetic quality that Holbrooke had, which worked well but could get in his way." Osnos said that Kerry would nonetheless be a good fit for Af-Pak work: " "Kerry knows an awful lot about that part of the world - he's been there many times, sent there on missions by Obama," he said.
Personality aside, other Holbrooke allies emphasized that Kerry will be walking into a much different situation in Afghanistan and Pakistan than Holbrooke had to contend with.
"It's four years into the administration when Holbrooke was named, two years since Holbrooke died," said Nasr. "We had a very different agenda of surging, and now the focus is the end."
The White House also, in the wake of Holbrooke's death, fully took control over the policy from the State Department, Nasr said. But as the war has dragged on, the Obama administration has signaled less interest in making the region its top priority.
But most Secretaries of State are remembered either by the global issues of the day or by an area to which they've brought a particular expertise, and still-troubled Afghanistan and Pakistan could be a fruitful specialty for Kerry, should he choose to cotton on to it.
Holbrooke "never quite got as far as he wanted to in Af-Pak," Osnos said. "But he put together a hell of a good team. He was still very much immersed in seeing what he could do what he died."
"Holbrooke understood that Congress is important to America's Pakistan policy," Nasr said. "He worked very closely with Kerry. There were many dinners at Café Milano discussing Afghanistan and Pakistan policy." Nasr mentioned that the Kerry-Lugar bill on Pakistan was "the pillar on which Holbrooke built his policy" in that region.
And Marton, Holbrooke's widow, said she believed her late husband would have liked the idea of Kerry finishing what he'd begun.
The two men are "obviously stylistically different, but on a deeper level much alike," Marton said. "I think that [Holbrooke] would feel very, very comfortable with John picking up that ball and carrying it."