Santorum Will Try To Kill Romney With RomneyCare
The candidate has been talking about Obamacare more and more these days, and advisers hint he'll rely on health care on the trail more from here on out.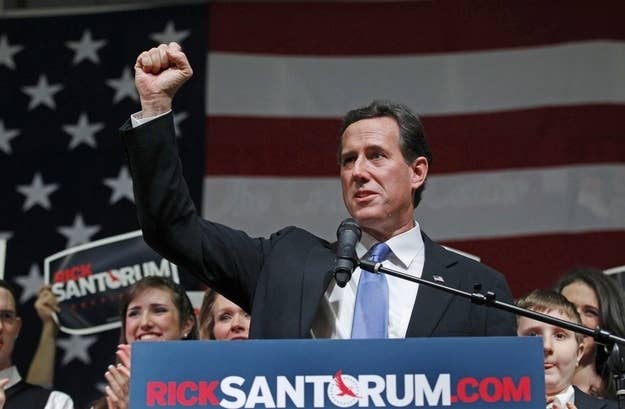 STEUBENVILLE, Ohio — Rick Santorum hopes to revive his assault on Mitt Romney with an intensifying on the links between Romney's health care plan and President Obama's, two top aides said Tuesday.
"I don't think there's been enough conversation as it relates to the model of RomneyCare and how it's very close to ObamaCare, and I think he's got a lot to answer for," said Santorum campaign manager Mike Biundo.
"It was very clear tonight we were pointing out that Mitt Romney started ObamaCare," Santorum's top media advisor, John Brabender told reporters, as Ohio results rolled in. "He started it with Romneycare."
"More importantly we saw this week that Mitt Romney personally lobbied for Romneycare to become Obamacare," an apparent reference to a 2009 op-ed in which Romney offered his plan as a model for Obama. "The unfortunate thing is he got his wish."
The escalating talk of health care reflects an attempt to refocus a campaign that has struggled for a clear message. On the stump lately, Santorum has sought to build a simple positive message around a return to manufacturing jobs and a negative one around the health care plan universally labeled "ObamaCare" on the GOP campaign trail. Indeed, Santorum has said more than once in the past week that he wouldn't be running for President if it hadn't been for ObamaCare.
During tonight's Super Tuesday speech, Santorum hit the issue hard: "It's one thing to mandate a top-down government-run healthcare program that you impose on the people of your state. It's another thing to recommend and encourage the President of the United States to imposte the same thing on the American people. And it's another thing yet to go out and tell the American public that you didn't do it."
Does the message resonate with voters? The Santorum side is betting on it.
"The issues that people resonate to are not necessarily the issues the reporters always want to write about," Brabender said.