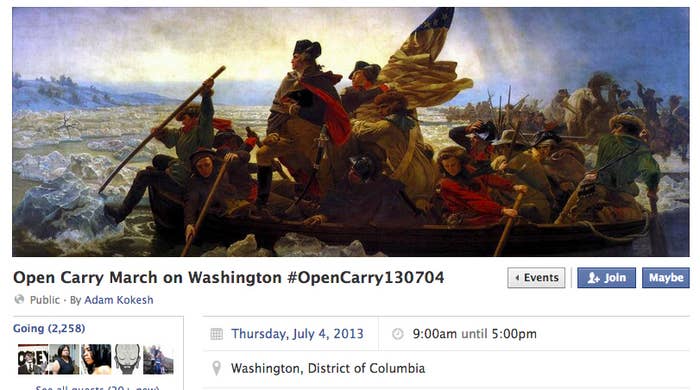 WASHINGTON — The libertarian activist and radio host planning a thousands-strong armed march on Washington this summer says the event will be perfectly safe and that the participants won't resist violently if stopped by police.
The District of Columbia has some of the strictest gun laws in the nation. Although individuals can now own guns within the city limits, it remains difficult to obtain a permit. Loaded weapons being transported across state lines into the city by unlicensed out-of-state residents would likely be treated as a highly provocative and illegal act by police.
"If they do, then we'll either peacefully submit to arrest in order to make a court case out of it or we'll turn back," said Adam Kokesh, a libertarian activist and former candidate for Congress in New Mexico, in an interview with BuzzFeed on Monday. "We're not going to resist government by force in any way."
"It's all going to be very well choreographed," Kokesh said.
The march is planned for July 4 and will circle through D.C.: "we will muster at the National Cemetery & at noon we will step off to march across the Memorial Bridge, down Independence Avenue, around the Capitol, the Supreme Court, & the White House, then peacefully return to Virginia across the Memorial Bridge," Kokesh wrote on the Facebook page for the event.
Kokesh, a prominent Ron Paul supporter and 9/11 truther who made headlines during the 2012 campaign for publicly musing about assassinating Mitt Romney, said he couldn't say how many people the march will include. "I couldn't say right now because it's so viral," he said. On the Facebook page, he wrote that the march would go ahead with 1,000 marchers; Kokesh said it has passed that point and the march is definitely a go.
Kokesh, who owns "about a dozen" guns, said there will be strict rules for how participants can carry their guns. Those with long guns must keep them slung across their back.
"It'll be an AR-15 across my back, and that's gonna be a strictly enforced protocol in order to be part of what we're doing," Kokesh said.
He said other pro-gun bigwigs might show up as well.
"I did an interview for the Alex Jones show today, and he said that he was hoping to be there but didn't make the commitment," Kokesh said.
Though Kokesh feels "that I'm going to be a lot safer at this event than I would be on the streets of Chicago," he can't fully guarantee that no one in the group will do anything dangerous.
"No, but that's never true, and that's one of the realities in our daily lives," he said. "We largely do trust the people around us to not kill us. Human life is really fragile."
The march's Facebook page promises "coordination with D.C. law enforcement prior to the event," and invites "law enforcement officers to stand with us armed however they feel is appropriate."
Despite the event's clear political bent, Kokesh says he hasn't been paying attention to the fate of gun control measures in Congress.
"I'm not really a congressional handicapper," he said. "I haven't been following Congress too close."