Group With Ties To Ousted Ukrainian President Wants To Keep Lobbying In The U.S.
Viktor Yanukovych may be gone, but the European Centre for a Modern Ukraine remains.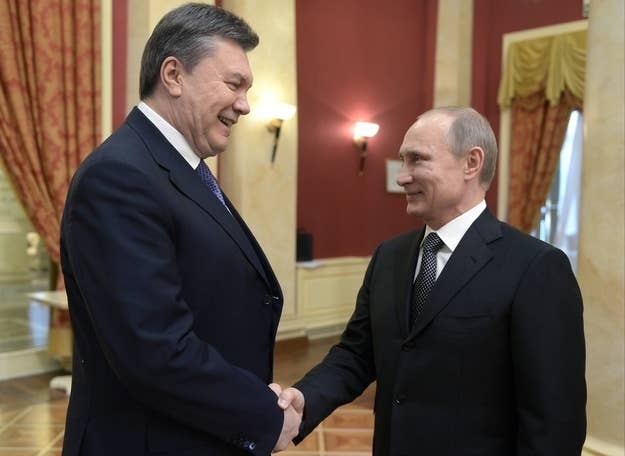 WASHINGTON — A group with ties to ousted Ukrainian president Viktor Yanukovych hopes to keep a lobbying presence in Washington, its managing director said on Monday.
Ina Kirsch, the director of the European Centre for a Modern Ukraine, told BuzzFeed in a Facebook message that the group plans to continue its work in a post-Yanukovych world. The Centre, a small non-profit based in Brussels, was founded by Leonid Kohzara, a first deputy in Yanukovych's party, the pro-Russian Party of Regions, who was ousted as foreign minister in the current upheaval. Yanukovych has fled Kiev and an interim president has been appointed.
"We are working as usual on the European Integration," Kirsch said. "As I told you we are there to help an all inclusive dialogue...European integration of Ukraine is our priority and this requires a constant dialogue."
"I hope the U.S. teams will further support us in this work," Kirsch said.
As of the last quarter of 2013, the Centre still had two lobbying contracts in the U.S.: one with Mercury Public Affairs and one with the Podesta Group. According to documents filed with Congress under the Lobbying Disclosure Act, the Podesta Group made $120,000 off the contract in the last quarter of 2013 while Mercury made $70,000 during that time period.
It was at that time that Yanukovych decided to reject a deal that would mean closer ties with the EU and turn closer to Russia, prompting months of anti-government protests.
Kirsch declined to say who funds the Centre beyond saying: "Private companies are sponsoring the activities of the Centre, project based."
Kirsch said that the group had "elected a new board after the parliamentary elections in 2012, since governmental officials are forbidden by law to participate in foreign organization without prior agreement of the government or President."
"We have sponsoring contracts which clearly state that I have no right to disclose the names [of the board members]," Kirsch said. "With regard to Ukrainian politics you can imagine why. No PEPs [politically exposed persons]."
Asked if the group had current ties to the Party of Regions, Kirsch said "As to other parties in European and Ukrainian Parliament. Yes and there are former MPs."
Kirsch said that the group's ultimate goal was to promote an EU-like judiciary in Ukraine. In an attempt to ease the crisis that struck Ukraine last week, parliament has considered a return to the country's 2004 constitution, which limited presidential powers, among other things. Kirsch called for a "constitution 2004 plus," meaning one based on the 2004 constitution but with some changes, including reduced powers for the general prosecutor's office, an often politicized position in the post-Soviet space.
Vin Weber, a former congressman and Mitt Romney adviser who is the lead lobbyist for Mercury's contract with the European Centre for a Modern Ukraine, did not respond to a request for an interview. Nor did two of the lobbyists involved with the Podesta Group contract.
The Centre has no staff, Kirsch said, only a few "volunteers," some of whom are Ukrainian and some of whom are not.
In 2012, the group was involved in a campaign in which conservative American writers were given pro-Yanukovych talking points about the 2012 parliamentary elections which kept the Party of Regions in power and repeated them in outlets like RedState and Breitbart. One writer said they had been offered $500 per post.
The fact that the group is not officially a Ukrainian government entity allows it to avoid classification as a foreign principal, meaning its lobbyists can file under the Lobbying Disclosure Act instead of the much stricter Foreign Agent Registration Act.