Graham Hints Very Strongly At Presidential Bid In South Carolina
"Get ready," Graham says.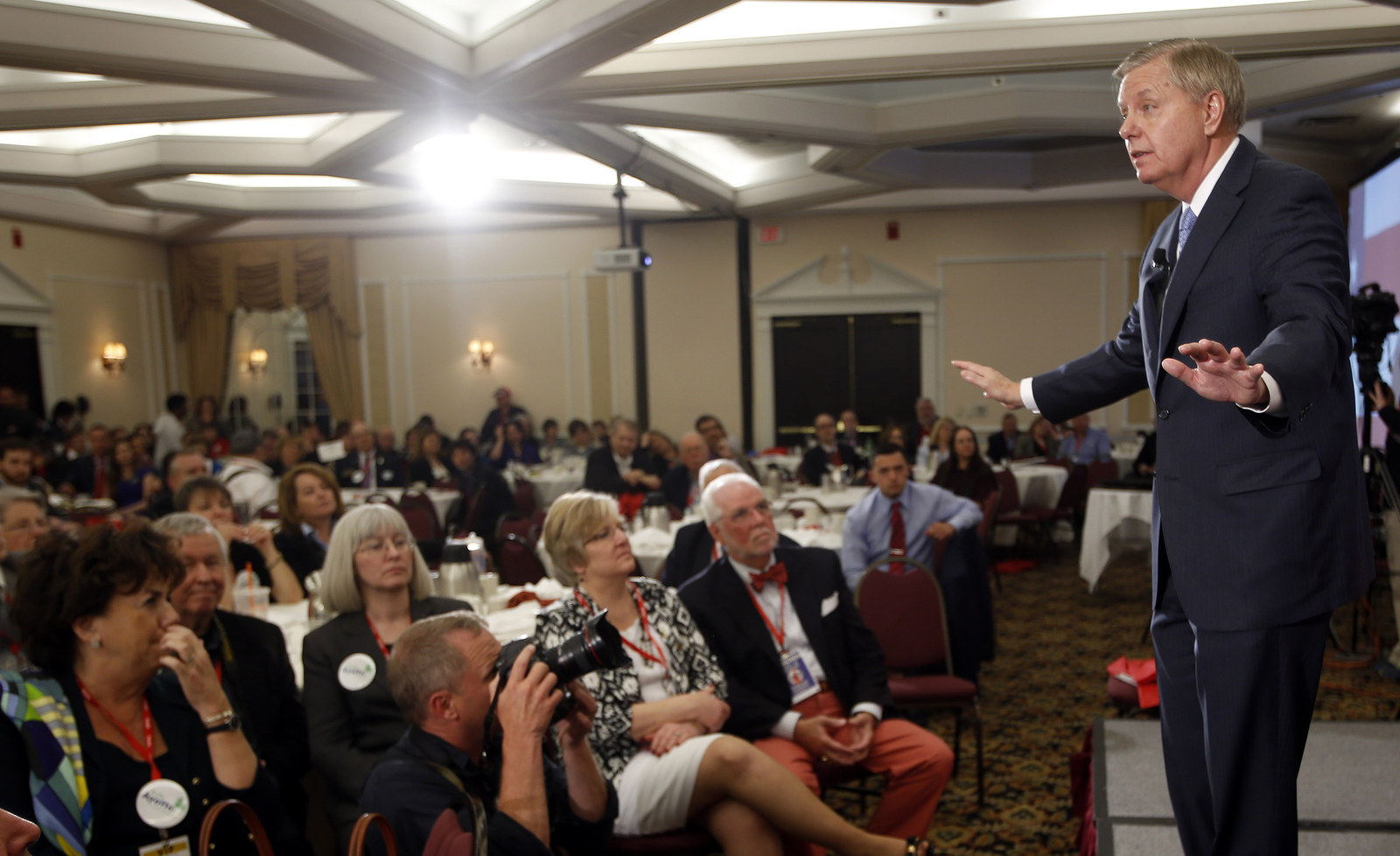 COLUMBIA, South Carolina — South Carolina Senator Lindsey Graham appeared to stop just short of announcing a presidential run at an event in Columbia on Friday attended by local Republicans.
Speaking at the South Carolina Republican Party's annual Silver Elephant dinner, Graham hinted strongly that he might go ahead with the presidential bid he's been semi-publicly flirting with for months.
"As to where we go and what I do and what happens in the coming weeks and months, get ready," Graham said at the end of his address to the several hundred people, including most of the main political dignitaries in the state, gathered at the dinner. "Get ready for a debate that's been long overdue in the party," he said, a veiled knock on Rand Paul, with whom Graham vehemently disagrees on foreign policy and national security. Graham's aides have signaled that his anti-Rand Paul stance would be the focus of a potential campaign.
"Get ready for a voice that understands you can't save America without somebody willing to sacrifice and die for America," Graham said. "To our enemies, get ready, because there's a new way of doing business coming. For our friends, get ready for the America you used to know."
"To Iowa and new Hampshire, hello," Graham said. "To South Carolina, you have my heart, thank you very much."
Graham has been coyly floating a presidential run, and even started a PAC dedicated to "testing the waters" for the race called Security Through Strength. Attendees at the Silver Elephant dinner could pick up a fact sheet titled "What You May Have Missed About Senator Graham's 'Testing The Waters' Effort" listing clips praising Graham from national publications and early primary state outlets at the registration desk along with a program of Friday's event. Graham has been traveling to the early primary states, and he held a fundraiser for his PAC in March that was attended by Republican casino magnate and mega-donor Sheldon Adelson, along with several leading hawkish foreign policy-focused Republicans.
But Graham's run, if it happens, could be more aimed at showcasing his foreign policy philosophy and strengthening its position in the party than at really becoming the nominee.