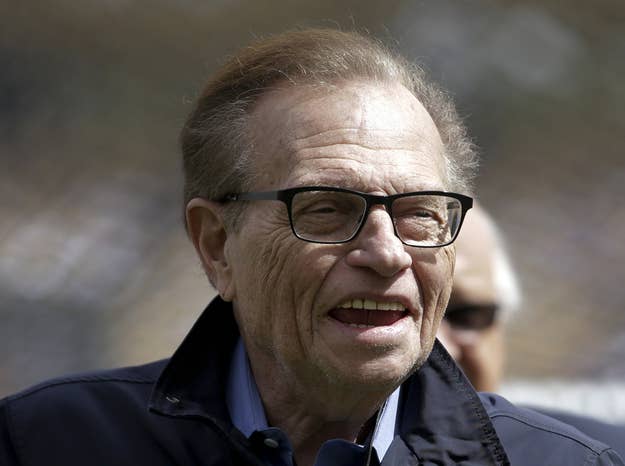 A board comprised mainly of Westerners including Larry King that advised the pro-Russian Prime Minister of Georgia's television station has been dissolved, according to a lobbyist who was involved.
"The board was dissolved last year," said Marc Ginsberg, former U.S. ambassador to Morocco and former senior vice president of global pubic relations and lobbying firm APCO Worldwide, which had TV9, the TV station owned by the family of Georgian Prime Minister Bidzina Ivanishvili, as a client. Ginsberg did not explain why TV9's board had been done away with.
In September, TV9 announced the formation of an advisory board that included Council of Foreign Relations President Emeritus Leslie Gelb, former U.S. Congressman Lee Hamilton, Reporters Without Borders founder Robert Ménard, and former CNN host Larry King, who is joining the Kremlin-controlled Russia Today television station. The move came during the run-up to the hotly contested presidential elections in Georgia, which installed the billionaire Ivanishvili as Prime Minister, replacing the pro-American government led by President Mikhail Saakashvili. Saakashvili loyalists have been arrested and prosecuted during Ivanishvili's term, actions that have drawn criticism from the U.S. State Department.
On Wednesday, a spokeswoman for Gelb said that he had left the board of TV9.
"Les resigned several months ago after a number of reporters resigned or were fired. That's all the commentary we'll be able to offer you," the spokeswoman, Meredith Morrison, said.
King did not respond to repeated requests for comment. Through a spokesperson, Hamilton declined to comment.
A senior Georgian official in the Saakashvili administration cast doubt on Gelb's version of events, saying that TV9 had had a minor staff shakeup.
"I don't know why this should have mattered for Les Gelb," the official said. "Yes, indeed at the end of November 2012 Kakha Bekauri resigned from the position of Director General of TV9 citing the planned reorganization of the TV station as a reason. He apparently had some disagreement with Gia Khukhasvili, [Ivanishvili]'s chief adviser, who thought TV9 was not good enough in promoting [Ivanishvili] and the new government."
The official said that the wife of a MP from the ruling Georgian Dream pary, Liuba Eliashvili, had become the new director of the station after a recommendation by Ivanishvili's chief adviser and had reorganized the channel by firing some journalists and shaking up the programming.
"So, in fact, what happened with TV9 was just a rotation of people inside the big team," the official said.