Gay Rights Group Denies Wrongdoing In Tax Return Leak
Republican lawmakers look into the case of the National Organization for Marriage tax documents that the Human Rights Campaign obtained. HRC maintains that the forms were lawfully obtained.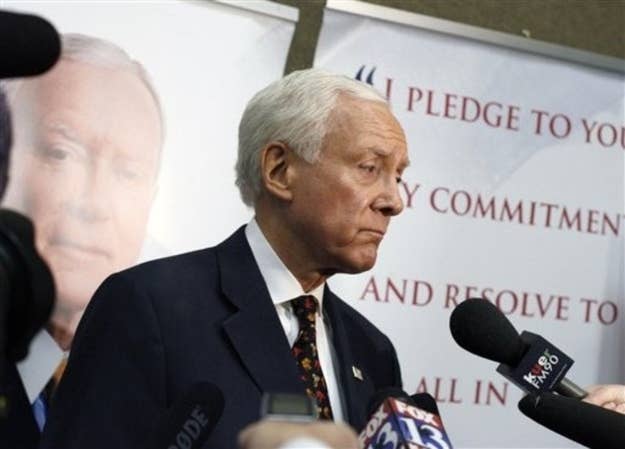 A spokesman for the gay rights group Human Rights Campaign didn't respond to the question of whether or not authorities had contacted the group after reports that Sen. Orrin Hatch had called for an IRS investigation into the leaked National Organization for Marriage tax documents that HRC obtained earlier this spring.
"NOM's charges of illegal conduct by HRC are absolutely false," HRC's vice president of communications Fred Sainz told BuzzFeed. "Last month, HRC lawfully obtained and disseminated truthful information about NOM's racial-wedge strategy and secret donors. Noticeably absent from NOM's allegations is any awareness of First Amendment freedoms. Embarrassed that its true agenda is out in the open, NOM has launched a crusade to intimidate and suppress those who are revealing its anti-LGBT mission. HRC has no intention of helping NOM to suppress the truth."
The documents, published in March by the Huffington Post showed a $10,000 donation from Mitt Romney's political action committee in 2008 to NOM. The Human Rights Campaign had shared the documents with the Huffington Post.
The Daily Caller reported today that Utah senator Orrin Hatch wrote a letter to the IRS commissioner asking for an investigation into the documents leak:
"Evidence suggests that the IRS may have been the source of the unauthorized disclosure of donor information," Hatch wrote in the letter, calling the leak "a matter that I take with the utmost seriousness, and I expect that you will treat this inquiry with the attention that it deserves."
HRC distributed the documents, but it's not clear how they obtained them.
NOM has been calling for an investigation for weeks.
"It is shocking that a political ally of President Obama's would come to possess and then publicly release a confidential tax return that came directly from the Internal Revenue Service," said NOM president Brian Brown in an April statement. "We demand to know who is responsible for this criminal act and what the Administration is going to do to get to the bottom of it."