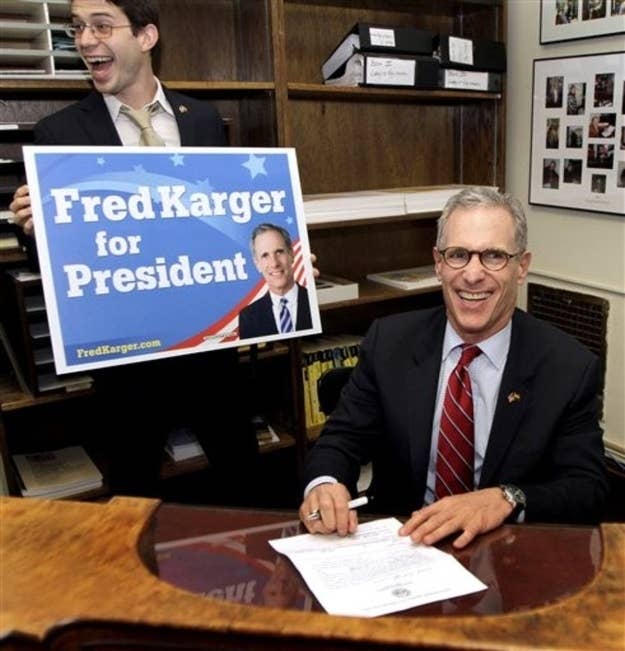 Washington D.C. -- Gay Republican candidate Fred Karger's complaint against the American Conservative Union, which hosts the Conservative Political Action Conference, is likely to go into mediation in the next two weeks, Karger told BuzzFeed today.
Karger and his attorney met with the D.C. Human Rights Commission this morning to give his testimony of being denied a booth and a speaking slot at CPAC last year and this year (even though he applied for a booth early this year).
The Commission is reviewing his testimony and the next step, if the commission decides to take it, will be mediation, Karger said. Representatives of the ACU are legally required to come to the mediation session. If the parties don't come to an agreement during that session, the complaint will go to trial.
"The Republican Party all over the place has let me speak," Karger said. "I've been treated 80 percent of the time as a full-fledged Republican candidate."
"But they're clearly discriminating against me here because I'm gay."
Karger noted that Herman Cain and Michele Bachmann, neither of whom are current presidential candidates, were both given speaking slots at the conference.
Karger thinks that the ACU is keeping him and gay groups like GOProud out of CPAC for two reasons. One is financial, as big organizations like the Family Research Council and the Heritage Foundation have boycotted CPAC in the past over the issue of including gay groups among its sponsors, taking their large purses with them.
The other, Karger says, is that "they're just happier without me speaking. They're happier without GOProud's representation."
Karger says he hopes that his complaint will force the ACU to change their policy and that he'll be able to settle with them in mediation.
A spokeswoman for the ACU told BuzzFeed that "we haven't been notified of anything."