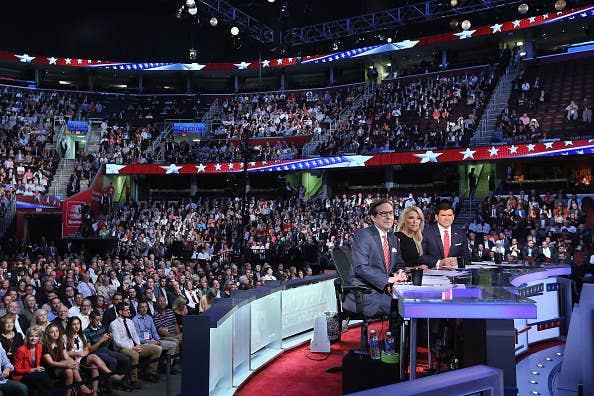 CLEVELAND — If there's one thing that's driven the summer of Trump more than any other, it's cable news.
And Fox News has contributed to that. The network has covered The Donald constantly, and some of its personalities have compared him to Navy SEALs and defended his inflammatory comments about immigrants. But Fox took obvious steps to reverse that course during the first Republican primary debate on Thursday. Three of the network's biggest names — Bret Baier, Megyn Kelly, and Chris Wallace — set the agenda early and hard, going after Trump on his dalliance with a third-party run, his sexist comments about women, and his assertion that Mexico is purposefully sending rapists over the border. There were no excuses. It seems, finally, that the jig is up.
Seconds after the debate began, the moderators carried out a simple litmus test: They asked the candidates to raise their hands if they would NOT take a pledge to support whoever the Republican nominee ends up being and refrain from running a third-party campaign.
"Is there anyone on stage, and can I see hands, who is unwilling tonight to pledge your support to the eventual nominee of the Republican Party and pledge to not run an independent campaign against that person?" Baier asked. Trump raised his hand.
"Mr. Trump to be clear, you're standing on a Republican primary debate stage," Baier shot back. For any viewers who might not get the message, Baier elaborated: "Experts say an independent run would almost certainly hand the race over to Democrats and likely another Clinton. You can't say tonight that you can make that pledge?"
Shortly thereafter, Kelly launched another broadside.
"Mr. Trump, one of the things people love about you is you speak your mind and you don't use a politician's filter," she began. "However, that is not without its downsides, in particular, when it comes to women. You've called women you don't like 'fat pigs, dogs, slobs, and disgusting animals.'"
Trump interjected: "Only Rosie O'Donnell!"
Kelly wasn't cowed. "For the record, it was well beyond Rosie O'Donnell. Your Twitter account has several disparaging comments about women's looks. You once told a contestant on Celebrity Apprentice it would be a pretty picture to see her on her knees. Does that sound to you like the temperament of a man we should elect as president, and how will you answer the charge from Hillary Clinton, who was likely to be the Democratic nominee, that you are part of the war on women?"
The sharp change in tone marks a drastic shift for Fox, which has intentionally boosted Trump's bid for weeks. New York magazine's Gabriel Sherman reported last month that Fox News Chief Roger Ailes "is pushing Fox to defend Trump's most outlandish comments," even though Rupert Murdoch had asked him to tone it down. Sherman reported that several high-profile Fox News personalities have been helping Trump both onscreen and behind the scenes.
Fox News isn't the only outlet that has succumbed to Trump-mania. The entire media has fallen under the spell, as Trump started his seemingly unstoppable climb in the polls and it became impossible to ignore him. Trump has polled in the double-digits for weeks — atop the field — and seen far and away the most press coverage. But Fox News is a power broker in Republican presidential politics, and the choice to boost Trump was intentional. So, clearly, was the choice to go after him tonight.
According to the New York Times, Ailes had words of advice for the moderators during a conference call on Wednesday, telling them: "Fifty years ago, the broadcast networks owned politics and the presidential debates, and now our one cable channel that we built less than 20 years ago is where everyone turns to watch these events. Go out there and be confident and be yourselves. I know everyone will do a great job, and I'm proud of all of you."
It's unclear what kind of orders Ailes gave may have given his moderators, and it's unclear why. Maybe he sees the ratings bonanza cooling down. Or maybe the threat — that Trump could single-handedly sink the Republicans' chances at the White House — has become too real, and Trump isn't showing signs of slowing down.
Either way, the moderators' tough, professional handling of Trump during this debate shows that Fox News might be switching gears.