Former State Department Spokeswoman Downplays Role In Benghazi Talking Points
"I had no conversations with Susan Rice herself," Nuland says.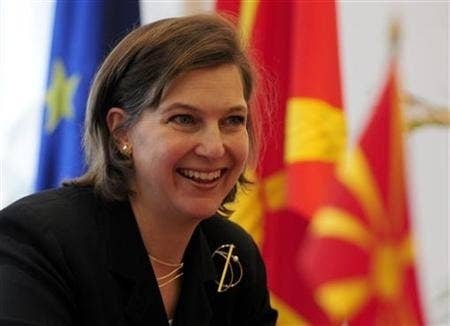 WASHINGTON — Former State Department spokeswoman Victoria Nuland said on Thursday she had no hand in coming up with the talking points that United Nations Ambassador Susan Rice used after the Benghazi attack, and downplayed her role in refining the talking points sent out to Congress.
Nuland is nominated for the position of assistant secretary of state for European and Eurasian affairs, a top diplomatic post that requires Senate confirmation and a hearing in the Foreign Relations committee. Some of the same Republican senators who focused on Benghazi over the last 10 months asked Nuland multiple times about the timeline of events on the night of the Benghazi attack and of the circumstances surrounding an email chain leaked to the press that showed Nuland's efforts to tone down CIA talking points that referred to the event as a terrorist attack.
Idaho Republican Sen. Jim Risch asked Nuland to specify the precise date that the administration decided to start calling Benghazi a terrorist attack, and to explain whether she had a hand in coming up with Susan Rice's assertions that the attack was related to an anti-Muslim YouTube video.
"I had no conversations with Susan Rice herself," Nuland said. "We had interagency discussions that her staff participated in."
"I frankly never saw the talking points that were prepared for her in final form," Nuland said.
Responding to questioning from Sen. Ron Johnson, R-Wis., Nuland stressed that she was in a communications job and wasn't in charge of the policy content of the talking points that the administration was giving to the House Intelligence Committee.
"I was not in a policy role in this job. I was in a communications role," Nuland said. "I simply said that I thought the policy people needed to look at them."
"These were for members of the House to use, not for an administration official to use," Nuland said. "It struck me as strange that we were given talking points to members of the House that were going considerably further than what we in the administration were saying at that point."
Pressed to name other officials at the State Department who had consulted on the talking points, Nuland named Jake Sullivan, then-deputy chief of Staff for Policy, whom she called "My regular reporting channel with regard to issues I was not able to solve at my level."
Nuland said she was concerned that the talking points would be misleading for the media.
"I felt that as media points, not as information to Congress, my concern was they were inappropriately crafted as points for the media and they would be misleading," Nuland said.
Nuland was also pressed on whether she had had contact with former Secretary of State Hillary Clinton on the night of the attacks. She said that she had worked on a written statement with Clinton at one point during the night.
Sen. Rand Paul, R-Ky., asked Nuland about whether she knew the purpose of the CIA annex in Benghazi.
"Senator, I would be delighted to talk to you about the relationship between the State Department and the CIA in another setting," Nuland said. "I don't believe I've had a briefing on what the functions were" of the annex.
Paul finished his questioning by making a general critique of the Obama administration's culture of secrecy, in which, he said, "That's basically what the opinion is now, that it's fine to lie to Congress."
"That's the problem with running a secret government, running secret wars," Paul said. "We don't get any oversight."
Nuland is expected to be confirmed easily, though Paul has called her nomination "appalling" and has implied he might put a hold on it.