Former Settler Leader's Plan For Peace Has Israelis And Palestinians Talking
But critics say: "His plan is to put makeup on the occupation."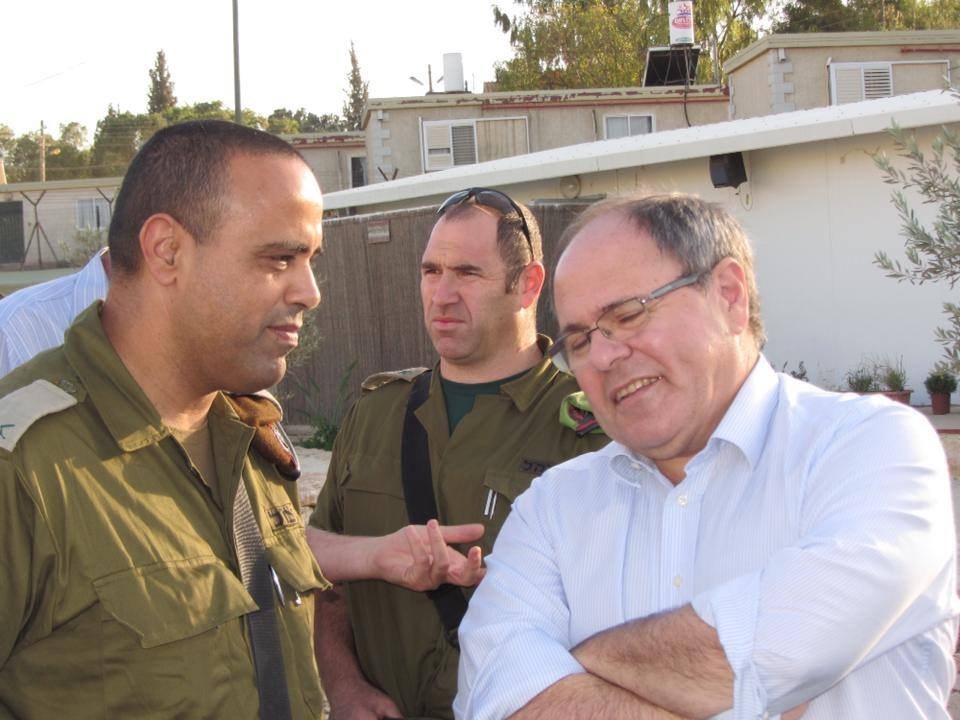 HERZLIYA, Israel — A plan by the former leader of Israel's largest settlers' movement group that suggests forgoing a peace process and focusing on immediately removing borders has both sides of the conflict talking about its potential.
Dani Dayan, the former leader of the Yesha Council, an organization representing hundreds of thousands of Israeli settlers, has introduced a "peaceful non-reconciliation" proposal in the wake of failed U.S.-led peace talks. He wants to ignore the peace process entirely and to loosen restrictions on Palestinians and improve their daily lives without waiting for a negotiated solution. Dayan, an advocate against the idea of a two-state solution Palestinians and Israelis, is pressing the Israeli government to remove the separation barrier — a looming symbol of Israel's military occupation of the West Bank — that separates Israeli and Palestinian communities. Israelis and Palestinians should be allowed to live wherever they want, he argues, and travel into one another's territories.
The plan is already attracting support from the right in Israel and is being cautiously looked at by Palestinian officials.
In an interview on Tuesday, Dayan said he had received a call of support from a former head of the Shin Bet, Israel's internal security service, and that he had discussed the plan with U.S. officials, who "were very positive about it." According to Haaretz, Dayan presented the plan to advisers to President Obama and Secretary of State John Kerry.
Many of Israel's right-wing leadership, including Danny Danon, the deputy defense minister, have also thrown their weight behind the plan.
"In general I think that we should try to find ways to make the lives of the Palestinians easier," Danon said. "That's something I support."
The plan has also been well-received by former Israeli defense officials. Moshe Arens, a former defense minister, has publicly backed the plan.
"I agree with this plan without any reservations. The thing that needs to be done now, most immediately, is to improve the lives of the Palestinian population of the West Bank. That is what this plan proposes," said Arens. "The [separation barrier] must be torn down. The wall was built in a moment of panic, it's a tremendous waste of money, it is ugly, it is a scar in the land of Israel."
It is even starting a conversation on the Palestinian side.
The Palestinian Al Shams radio station, which airs daily from Jerusalem, welcomed Dayan's plan as an "improvement for the daily lives of Palestinians."
One senior Palestinian legislator said the government was still reviewing the plan.
"Considering the source, we are obviously wary. We are trying to understand what the motivations of the settlement movement are, as for years they have worked toward little us outside of stealing our land. But we must admit that Dayan is the only Israeli person who is speaking about improving rights for Palestinians as part of his immediate plan," said the official, who spoke on condition of anonymity as the Palestinian government was still weighing its official response.
But one group that has not embraced Dayan's plan is the Israeli government itself, which is "suspicious about this," Dayan said.
"They were very cautious about endorsing" the plan, he said, saying that the trauma of the second intifada still weighs heavily on the government.
And the Israeli left has come out against it.
"Our problem with Dayan's plan is over two things. One is that Dayan is not supporting a two-state solution. He is trying to lift the checkpoints and borders so that the borders are unclear and it all becomes one state. He wants a massive expansion of the settlements everywhere. The second thing is that he is still not willing that in this one state, Palestinian have equal rights. The will have better rights but not equal," said Yariv Oppenheimer, the general director of the group Peace Now.
He argued that while Dayan's plan moves to improve the lives of Palestinians, it does not offer them an opportunity to vote in Israeli elections or hold the same rights as Israeli citizens.
"The state he imagines could never be democratic " said Oppenheimer. "His plan is to put makeup on the occupation. To make a more comfortable occupation for Palestinians."
Former Union for Reform Judaism President Eric Yoffie also denounced the plan, saying that "Dayan's real goal is simply the status quo — Israeli occupation and a modest measure of Palestinian autonomy" and earning a riposte from Dayan on Twitter ("Incredibly, @EricYoffie claims a) a Separation Wall is good. b) Israel should use it as a political tool contrary to pledge to Supreme Court").
Dayan argues that his solution is the only practical one given the moribund condition of negotiations toward a final status agreement, which he predicts will not arrive until a generation from now.
"We have to live as normally as possible under these abnormal conditions that we don't have peace," Dayan said.
Dayan's plan would make Palestinians freer to move about by dismantling the security wall Israel erected as a safeguard against terrorist attacks, and would encourage them to join the Israeli workforce. "The PR price that Israel paid just two weeks ago for this picture of the pope touching this ugly wall — why? It's not needed," Dayan said.
"Why does a software engineer from Ramallah have to go to find employment in Dubai if there is employment in Tel Aviv," Dayan asked.
The plan would also eliminate military control over the civil administration that manages Israeli-Palestinian issues, and include Palestinian magistrates on courts that judge disputes between Israelis and Palestinians.
"They cannot deny that the 16-year-old Palestinian that throws a rock surely gets a different punishment than the Israeli," Dayan said.
Dayan's plan does not address anything about Gaza, which is on purpose.
"Gaza is [to] my eyes a de-facto independent Palestinian state," Dayan wrote later on Tuesday in an email. "Unfortunately given the choice to become a Middle Eastern Singapore or a Middle Eastern Somalia, it preferred the latter. Israel has no choice left but to deal with it militarily."
Though Dayan has floated version of his plan in the past — including as part of a question to Hillary Clinton at the Saban conference two years ago — this is his first time releasing a formal, detailed breakdown of his ideas. He was spurred to do it by the freshly dead peace negotiations, he said, which he views as a "terrible mistake" on the part of Secretary of State John Kerry.
This article has been changed at Dayan's request to clarify that Dayan does not think a two-state solution will ever happen and that he does not support a one-state solution, but instead a third option.
Sheera Frenkel is a cybersecurity correspondent for BuzzFeed News based in San Francisco. She has reported from Israel, Egypt, Jordan and across the Middle East. Her secure PGP fingerprint is 4A53 A35C 06BE 5339 E9B6 D54E 73A6 0F6A E252 A50F

Contact Sheera Frenkel at sheera.frenkel@buzzfeed.com.