Former Paul Staffer Explains Why He Recorded McConnell Aide
"Nobody put a gun to his head and made him say the things he was saying," Fusaro says.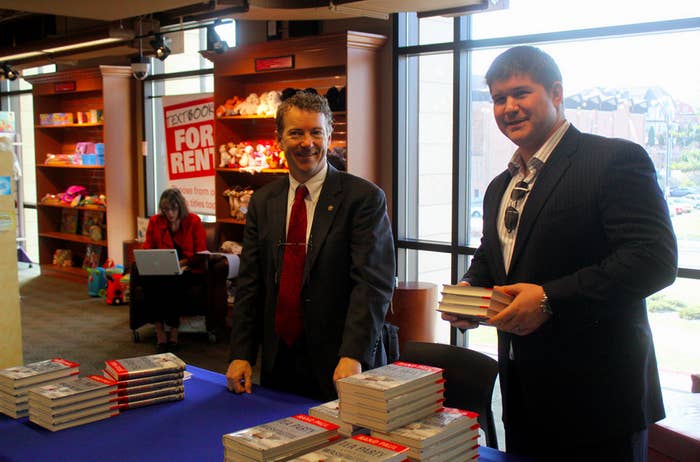 WASHINGTON — The former Ron Paul aide who secretly recorded a conversation with Mitch McConnell campaign manager and former colleague Jesse Benton told BuzzFeed on Thursday that he recorded the phone call to protect himself and that he released it because Benton didn't meet a six-month deadline to take care of an alleged bribery incident.
Asked why he had recorded a conversation that took place in January in which Benton says he is "holding his nose" until Rand Paul's 2016 presidential bid, Dennis Fusaro, who now works at the Reform Theological Seminary, said "to protect myself when [Benton] would say I was lying."
Fusaro called Benton to ask about an alleged bribe given to Iowa state senator Ken Sorensen by a former Paul campaign staffer in return for his endorsement. Fusaro had previously recorded a conversation with Sorensen in which Sorensen described taking the money.
"I wanted to make him delete the 30,000 dollar contribution to Ken Sorensen," Fusaro said. "They didn't want to deal with it."
In the taped phone conversation, Benton said he didn't know anything about an alleged check given to Sorensen.
Fusaro said he had known Benton, who was Paul's campaign manager in 2012 and is married to his granddaughter, since the 2008 campaign, when Benton was the Ron Paul campaign's press secretary and Fusaro worked as national field director. He said he learned of the alleged Sorensen bribe in late 2011.
He waited to release the recording for six months after it was secretly taken.
"I wanted to give him time to deal with it plus I'm busy, I have a life to live," Fusaro said. "I have a real job."
Fusaro has not stayed in contact with former Ron Paul colleagues, he said.
"I'm not very much in contact with any of those folks," Fusaro said. "No, not because of this incident."
The McConnell campaign has released a statement attributed to Benton:
It is truly sick that someone would record a private phone conversation I had out of kindness and use it to try to hurt me. I believe in Senator McConnell and am 100 percent committed to his re-election. Being selected to lead his campaign is one of the great honors of my life and I look forward to victory in November of 2014.
Asked to respond to Benton's statement, Fusaro said "My point is that Jesse is attempting to characterize the incident in a way to his political advantage and that's to be expected because Jesse is a political animal."
"Jesse's using Mitch McConnell for his own political ends and if Mitch McConnell is OK with that, then that's his problem," Fusaro said.
"The conversation on the phone is what it is," he said. "Nobody put a gun to his head and made him say the things he was saying."
Benton did not immediately respond to a request for comment from BuzzFeed.
With reporting by Jacob Fischler.