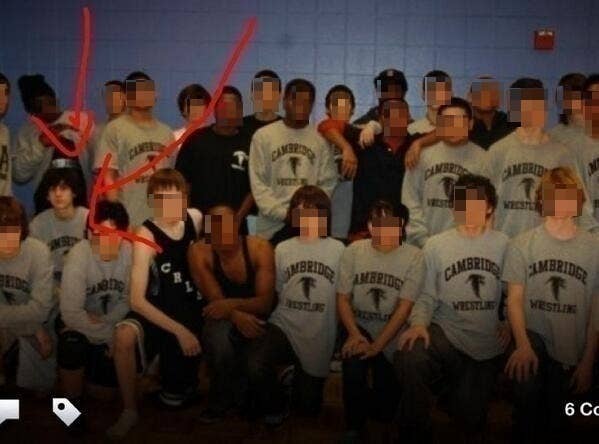 Classmates of the younger Boston Marathon bomber were horrified Friday to wake up to the news that their mild-mannered schoolmate had been identified as the culprit behind one of the largest-scale terrorist attacks on American soil in recent history.
Dzokhar Tsarnaev, 19, is, as of this writing, still at large; his older brother Tamerlan was killed in a shoot-out with police on Thursday night in Watertown, Massachusetts, after the brothers killed an officer on the MIT campus.
People who attended the Cambridge Rindge and Latin School with Dzokhar, whom they called Jahar because Dzokhar was too difficult to pronounce, say they never would have expected such a thing.
"I saw the pictures last night and thought it looked kind of like him," said Rebecca Mazur, who was in Tsarnaev's class at school and is now studying at Harvard. "But I felt mean even thinking that the person in the photos looked like him."
"It's such a huge shock," Mazur said. "He was such a sweet, sort of quiet guy."
But Tsarnaev wasn't a loner.
"I think he seemed to keep to himself in that he was kind of reserved, but his demeanor was always friendly, and he would show up at the big social gatherings," Mazur said. "He was a familiar part of the community, he didn't isolate himself."
"I went on Facebook and so far have been reading Facebook status after Facebook status of people who are feeling shocked and betrayed," Mazur said.
"I didn't know Jahar extremely well, but he was literally among the sweetest, most laid-back guys I've ever known," said another student at Harvard who went to Cambridge Rindge and Latin and spoke on the condition of anonymity. "Always friendly and welcoming, I always felt comfortable hanging out with him."
Tsarnaev seemed even-keeled up until recently, the student said.
"In fact, as recently as November, I played pick-up basketball with him and he seemed like he was doing great at UMASS Dartmouth," the student said. "I don't know what changed since then, but evidently it was something pretty big."
"We were friends," said Sam Greenberg, a Harvard junior who also went to Rindge. "We would say hi to each other and occasionally chat. We mostly interacted because he was on the wrestling team, and so we would just hang out after school. And I was on the track team."
Tsarnaev worked shifts at Harvard's Blodgett Pool, said one person who knew him.
"I can confirm that he was a Harvard lifeguard, especially now that I'm seeing close-up pictures of him," said Ryan Galuski, head lifeguard at the pool. "He seemed very friendly, nothing that would indicate he was a weirdo or anything. He started working with us two summers ago, right after he graduated from high school."
"This most recent summer, he was only there for a few weeks until [he] was let go because he wasn't showing up for shifts," Galuski said.
Tsarnaev received a $2,500 scholarship to attend college during his senior year at Rindge, a school with a prestigious reputation in the Boston area, and was listed as an "all-star" wrestler in 2011.
He and his family lived in Cambridge since 2002 or 2003, when authorities think they emigrated to the United States. Dzokhar was born in Kyrgyzstan and his brother Tamerlan was born in Russia, but the family are ethnic Chechens.
Dzokhar, who ran over his own brother in a rush to escape police on Thursday night and whose flight has caused the entire city of Boston and surrounding towns to be locked down, was remembered fondly on Friday by radio host Robin Young in a series of tweets.
"Heart is broken," Young tweeted. "Just confirmed, I know dzhokhar tsarnave [sic], one of best freinds of my beloved nephew, who says he never in his life saw this."
"He came to the prom party we had. beautiful boy," Young continued. "Remember djohar well, beautiful boy in tux at prom party and elsewhere."
Young also tweeted a photo of Tsarnaev with her nephew on graduation day:
Tsarnaev also went to prom: