Forget The Media Mockery: Convention Crowd Loved Eastwood
"He's unique," says one delegate. "I don't think he was off the rails at all," says another.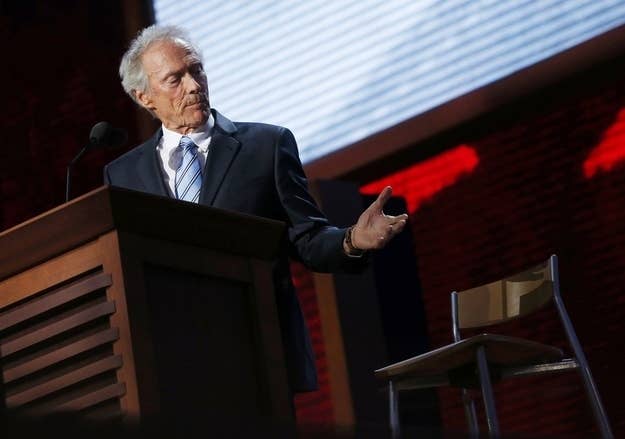 TAMPA, Fla. — Though Clint Eastwood's odd, rambling speech at the Republican National Convention has become the fodder of jokes on Twitter and on television, it was a huge hit inside the convention hall. Delegates loved it.
"Oh, I didn't think he was off-message at all," said Vita Swarers, a Texas delegate. "I thought it was great. He's unique."
"I think that's his personality," Swarers said.
Eastwood spent most of his 12 minutes on air talking to an empty chair, which represented President Obama. This was instantly turned into a meme called "Eastwooding".
"I didn't think he was off the rails at all," said Ben York, an alternate delegate from North Carolina. "I mean, he's not really a politician."
"I think he did a good job," York said. "I think he communicated that we need new leadership in this country.
Lee Reynolds, a guest of the Alabama delegation, thought Eastwood "was humorous when he needed to be humorous, and serious when he needed to be serious."
"But he also added I suppose a hint of legitimacy from the Hollywood crowd, somebody of his stature coming out and saying what he said," Reynolds said.
"It's hard to say one hundred percent focused all the time when you have zero prepared notes," Reynolds said. "But I thought he said exactly what needed to be said, and what the country needed to hear."
Reynolds' father Paul, the national committeeman from Alabama, said Eastwood "resonated well."
"I think his presence spoke louder than his words," Reynolds the elder said. "The fact that he was here, and the fact that he was identifying the fact that, hey, somebody has to do something."
Only one delegate BuzzFeed spoke with felt iffy about Eastwood's performance.
"I don't know if it was the best part of the convention," said George Yang, a California delegate.