Firm Founded By David Axelrod Worked In Nigerian Election As Recently As December
AKPD Message and Media worked for the challenger to Goodluck Jonathan after saying that the relationship had ended in March.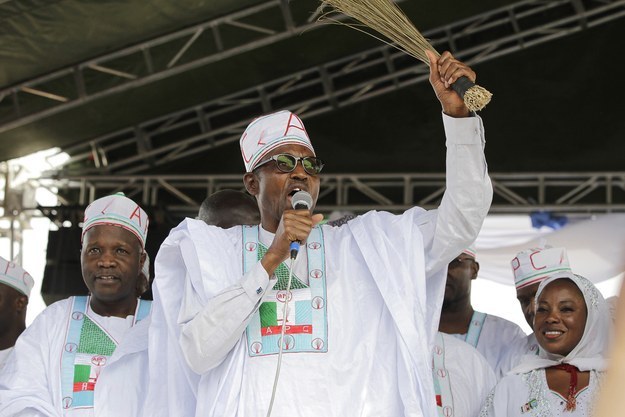 WASHINGTON — The political consulting firm founded by former Obama message guru David Axelrod was working for the challenger to the Nigerian president as recently as this winter, a spokesman for the firm confirmed on Friday.
AKPD Message and Media said in August that it had stopped working with All Progressives Congress (APC) — the party of former military dictator Muhammadu Buhari who is challenging current president Goodluck Jonathan in elections next week — in March. AKPD partner Isaac Baker confirmed to BuzzFeed News on Friday that the firm worked for APC again for a period beginning in December 2014.
"In December of 2014, APC hired AKPD for a three-week engagement to help the party in organizing announcement events," Baker said in an email. "That was our only involvement with the party since we completed work in March. That project is now complete and we have no ongoing relationship with them."
Baker had told the Washington Times in August that AKPD had worked for APC from December 2013 to March 2014, and that "We were no longer working with the APC when the Boko Haram kidnapping of the young girls took place." Several U.S. firms became involved in Nigerian politics over the last year, as Boko Haram's violence captured the world's attention and Nigeria prepared for a presidential vote. But AKPD stood out because of its connections to President Obama; Axelrod, who founded the firm, left in 2009 to work as a senior adviser in the Obama White House after serving as chief strategist to his 2008 presidential campaign. David Plouffe, another early member of AKPD, was the campaign manager.
In this election, Nigerians will choose between Jonathan, whose efforts to control the Boko Haram threat have been widely viewed as a failure, and Buhari, an army general who took power in a coup for a short period in the 1980s. As a military dictator, Buhari was accused of presiding over human-rights abuses and suppression of political activity and free speech. But he has tried to change his image, running for president three times since 2003, and recent polling shows him closing in on Jonathan.
The elections, which had been scheduled for February 14, have been postponed to March 28, a move that has drawn criticism both domestically and abroad. Jonathan's party had been calling for the delay for weeks for security reasons due to Boko Haram, but many are interpreting the move as a signal that Jonathan fears he will lose the election.
Emails between top APC officials obtained by BuzzFeed News reference AKPD as recently as last month.
"I also think the AKPD surveys also clearly showed that the South West is the battle ground for this election," vice presidential candidate Yemi Osinbajo wrote in an email to Kayode Fayemi, the former governor of Ekiti state, and others on Jan. 11.
Nasir Ahmad El-Rufai, a top APC leader and candidate for governorship of Kaduna state, referenced AKPD on Jan. 21 in an email.
"I think Kayode should obtain and share the October 2014 AKPD poll result with the team," he wrote.
And a Sept. 23 email between Olubunmi Adetunmbi, a senator, and Fayemi shows Adetunmbi referencing an AKPD meeting with the governor of Rivers State in September.
"Gov Amaechi will meet with the AKPD team tomorrow to discuss the facilitation of the event but no dates fixed yet," Adetunmbi wrote.
Baker said that AKPD hadn't done any work with APC between March and December of last year.
"AKPD ended its work for APC last year exactly as reported in March," Baker said. "AKPD had no involvement in the polls referenced in the emails."
Baker said that there had been no meetings during that period, either.
"No one from AKPD or hired by AKPD met with them during that time," he said. "We didn't do any work for them between March and December."