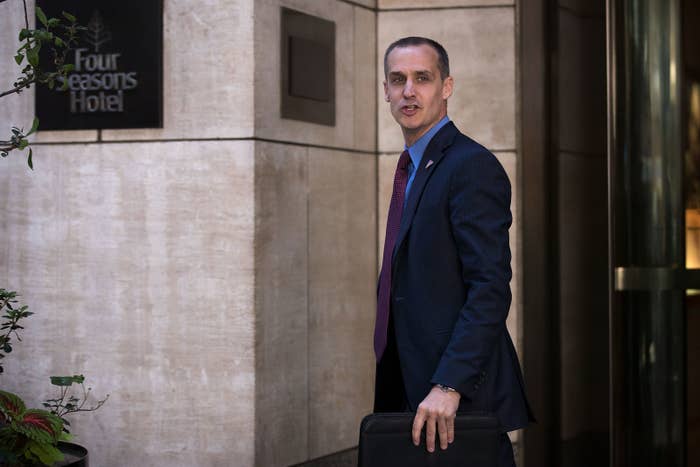 WASHINGTON — Donald Trump's firing of his divisive campaign manager Corey Lewandowski on Monday is being interpreted in some quarters as a sign his campaign is finally making a long-suggested, never delivered general election pivot.

But so far, donors don't seem to be holding their breath that this will be the case, instead waiting to see changes from Trump himself.
Trump fired Lewandowski — an aggressive operative who became a focal point of controversy earlier this year after manhandling former Breitbart reporter Michelle Fields — after a protracted internal struggle with campaign chairman Paul Manafort, who was brought onto the campaign initially to lead delegate efforts during the primary. Manafort reportedly encouraged Trump to fire Lewandowski, as did Trump's children.
Unlike most campaign managers, Lewandowski did not focus on actual organizing or fundraising, instead expounding a "let Trump be Trump" strategy that translated into an emphasis on large rallies and television appearances at the expense of normal campaign operations. Manafort, an old-school operative who has decades of experience in politics, has been working behind-the-scenes to professionalize the operation.
But Lewandowski's ouster hasn't solved the issue that's the biggest stumbling block to some donors: Trump himself.
"Most of us who are waiting for Trump to shift to a more inclusive and substantive campaign feel the lead must come from Trump himself," said Fred Malek, a top Republican fundraiser. "He needs to curb his instincts to some extent and be more disciplined in his speaking and his positions. If Corey is replaced with someone who Trump will accept guidance from, it'll help; but the real change needs to be from the candidate himself."
"People who pay attention to this stuff know that it's not the staff that's the problem," said a GOP strategist who deals with top donors. "It's him, so I don't think there's a sense that hiring another person is going to change that. It may have some minimal impact for donors if they brought in someone they know well or respected — a buttoned-down person."
Another issue that remains is confusion over which super PAC is the main one supporting Trump's bid, though Lewandowski's firing may clarify the issue.
"Maybe it will at least resolve the war over the super PACs which donors have been caught in the middle of," said another Republican operative who deals with donors. "But you've got to think they have a long way to go before anybody is reassured about anything. "
Great America PAC, run by Ronald Reagan's campaign manager Ed Rollins, is seen as implicitly favored by Lewandowski, while Manafort apparently favors a new PAC being launched by Trump friend Tom Barrack.
So far, Great America PAC has struggled to raise large amounts of money. Barrack said earlier this month that he had already raised $32 million for his super PAC.
Dale Dykema, a California-based donor who was touted by Great America PAC as a top supporter, said he has given some to the super PAC but is waiting to see a change in tone from the candidate before giving any more.
"Trump has to make the pivot himself first," Dykema said. "I'm prepared to give more than I have. From the get go, he was number 18 on the list of 17 candidates for me. As time went on, I was encouraged to give anything until he became the nominee. But I want to see what he does before I give anymore — if the tone of the campaign changes and whether the change in the top leadership changes anything. Donald Trump bring so many surprises to the table."
"Trump may calm down now that Manafort is in charge, but I want to see it first," Dykema said.
A staffer for Great America PAC, however, said the group was moving "full steam ahead."
"Honestly, it doesn't affect us much," the staffer told BuzzFeed News regarding Lewandowski being fired. "The campaign has taken a hands off approach with outside groups, and we already built a strong advisory board, built the biggest Trump data file out there and cemented solid relationships with the donor community."
"No one in GOP politics has more credibility than Ed Rollins," the staffer said. "With Ed in place, donors can know their money will be wisely spent with 100 percent confidence."
Roger Stone, who parted ways with the campaign last year but has acted as an unofficial Trump adviser and surrogate since, said, "I have every confidence in Paul Manafort 's ability to help Donald Trump to victory" and "A campaign with factions will always lose." Stone, a Manafort ally, has publicly tried to quash Great America PAC, calling it a scam.
Asked if Lewandowski's departure would reassure donors, Stone said, "I think they want a steady focused offensive campaign."
While still with the campaign, Lewandowski hired some of the senior staff still with the campaign after his departure, including chief operating officer for finance Eli Miller. It's unclear if Manafort and his allies will now try to push those hired by Lewandowski as well.
And anti-Trump forces are already dismissing the possibility that Lewandowski's exit could result in real improvements in the campaign's fundraising and organizational capabilities.
"Trump is not raising money because he's offensive, claims to self fund and isn't hiring staff or running ads so donors are correctly keeping their distance," said Rory Cooper, the Never Trump PAC strategist. "This changes nothing as Manafort has been running the show for some time, including during his polling collapse." (Indeed, Lewandowski told the AP on Monday that Manafort had effectively been in charge since April.)
"I think the old adage, 'Fool me 97,000 times, shame, shame, shame on me' applies here," said Tim Miller, former Jeb Bush spokesman and Our Principles PAC adviser. "Any donor who is fooled into thinking Trump will change now is doing so against all evidence, and I would be surprised if anyone who has been successful enough to donate significant money to the campaign would be that."