Family Of Imprisoned American "Outraged" By Rodman Comments In North Korea
Kenneth Bae is serving a 15-year sentence in a North Korean labor camp. Updated with comments from Jen Psaki.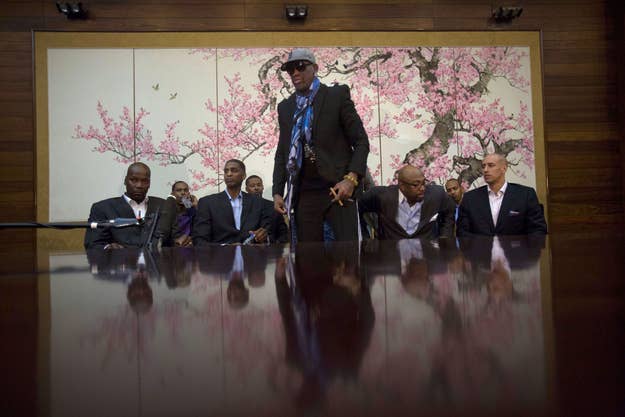 Updated 4:12 p.m.
WASHINGTON — The family of Kenneth Bae, the American who has been imprisoned in North Korea for over a year, is "outraged" by former NBA player Dennis Rodman's comments on CNN implying that Bae deserved his sentence in a North Korean labor camp.
"Dennis Rodman and his friends are in the DPRK (North Korea) now, practicing 'basketball diplomacy,' as he has phrased it, playing games apparently to celebrate the birthday of the supreme leader, Kim Jong-un," reads a statement released early Wednesday morning by Bae's sister Terri Chung.
"It is clear to me, however, that there is nothing diplomatic about his trip," Chung said in the statement. "My family and I are outraged by Rodman's recent comments. He is playing games with my brother's life. There is no diplomacy, only games, and at my brother's expense."
Chung criticized Rodman for his meltdown on CNN this week, when he appeared remotely from Pyongyang and reacted angrily when asked if he would use his access to dictator Kim Jong-un to help Bae:
During an interview on CNN, Rodman was protective of his "friend for life," DPRK's supreme leader Kim Jong-un. Yet Rodman became enraged when asked about my brother, the American tour operator Kenneth Bae, who is sick and has been imprisoned in the DPRK for 14 months.

Dennis Rodman could do a lot of good by advocating for Kenneth to Kim Jong Un, but instead he has decided to hurl outrageous accusations at my brother, insinuating that Kenneth has done something sinister. He is clearly uninformed about Kenneth's case, and he is certainly not in any position to pass judgment on Kenneth Bae, who has never any hostile intentions against the DPRK.

I implore our leaders, including President Obama and Secretary Kerry, to take urgent action to secure Kenneth's freedom now. I ask everyone hearing or reading this to petition your legislator or the Obama Administration on Kenneth's behalf.

We ask the DPRK to please have mercy and grant Kenneth Amnesty. My brother has been detained longer than any American in recent history, and this needs to end now. Please let Kenneth come home to his family.
Rodman is in North Korea with several other former NBA players for an exhibition game against North Korean players. He has developed a closer relationship with Kim than any other Westerner, referring to the totalitarian leader as his "friend" in interviews.
When asked about Bae by CNN, Rodman angrily replied: "The one thing about politics, Kenneth Bae did one thing. If you understand — if you understand what Kenneth Bae did," Rodman said, adding, "Do you understand what he did? In this country?"
Bae was sentenced in April to 15 years of hard labor after being convicted of "hostile acts" against the Korean government for leading missionary trips into the country.
State Department spokesperson Jen Psaki said on Wednesday that the U.S. would be open to communicating with Rodman about his travels in North Korea.
"We would be willing to hear what he has to say," Psaki told reporters in the daily press briefing, noting that there were no current plans to hold a meeting with Rodman.
Psaki said the State Department has not said more publicly about Rodman's statements on Bae because "I'm sure if we thought taking a more public view would be helpful we would do that. Right now we're focused on what we think is most productive to secure Kenneth Bae's release."