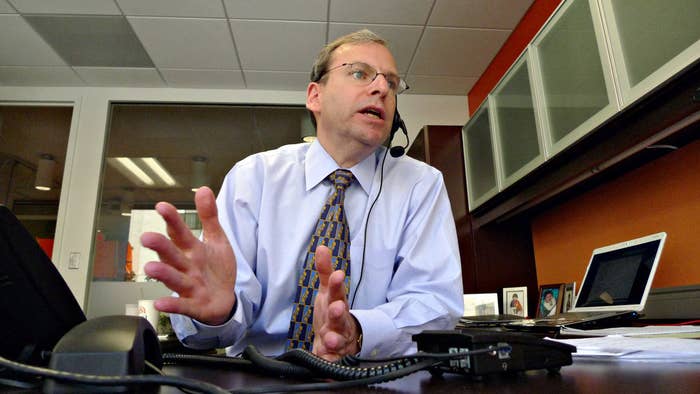 WASHINGTON — A conference of the liberal pro-Israel advocacy group J Street focused on the crisis in U.S.-Israel relations and the Israeli-Palestinian peace process this week, but a strong undercurrent remained: even here, concern over the direction of the Obama administration's negotiation of a nuclear deal with Iran was on display.
"There are legitimate questions about whether the deal that's coalescing is a deal that should be made," Rabbi Rick Jacobs, the head of the Union for Reform Judaism, told BuzzFeed News. He warned that there was "a lot of naiveté about the security risks that Israel faces" among pro-Israel progressives.
J Street, far more liberal than the main lobby AIPAC and seen as marginal by other pro-Israel groups, is also seen as a key ally of the administration on Middle East policy. Executive Director Jeremy Ben-Ami's 2009 remark that the group's goal is to be a "blocking back" for Obama in Congress is often cited in Washington in discussions of J Street. Some attendees warned that partisan concerns — including the messy fight over Prime Minister Benjamin Netanyahu's decision to address Congress on the invitation of Speaker John Boehner — masked more pressing concerns about Iran.
"The substance of his arguments are serious and should not be discounted," Jacobs said. "Some people on the progressive side were so upset about the forum that they missed actually the substance — the substance of a nuclear Iran, and the breakout time," he said, adding that Iran is not a "trustworthy" country.
"I think if you have a showdown between the prime minister and the president, not about whether to speak or not speak to Congress but whether a deal with Iran is one that is good for the U.S., Israel, and the region, that's a substantive argument and that argument has not yet been had effectively and deeply," Jacobs said. "And it's about to happen, but with the amount of distrust and the partisan ways people look at it, I'm worried we're not going to to have the debate that we need to have. Or that it'll be just who lines up with Obama and who lines up with Bibi."
The conference this year comes at an especially fraught time in the U.S.-Israel relationship, coming just after the Israeli election and days away from a deadline in the Iran negotiations. Netanyahu's campaign promise that a Palestinian state would never come about during his time as prime minister and his warning to his base that Arabs were voting in large numbers on election day have reinforced his negative image among the typical J Street supporter, who tend to be more aligned with the Israeli left and steeped in the peace movement.
But while the liberals at J Street are all-in on Obama's tough stance on Netanyahu — the president has threatened to stop shielding Israel from hostile U.N. resolutions — even they don't hold as much enthusiasm for the Iran policy. During White House chief of staff Denis McDonough's speech to the conference on Monday, his remarks criticizing Netanyahu and and affirming the United States' commitment to the Israeli-Palestinian peace process drew huge, enthusiastic applause from the crowd, while the section of his speech about the Iran negotiations drew polite, measured applause. And attendees have been more eager to talk about what they see as the Republicans' or Netanyahu's interference in the diplomacy process than about the substance of the deal itself. Even those who say progressives are generally on board with the potential deal admit that activists are much more invested in the Israeli-Palestinian conflict.
"You are probably right that progressive American Jewish activists feel more strongly and are more enthusiastic about the Israeli-Palestinian conflict than they are about Iran," said Ori Nir, the spokesman for Americans for Peace Now, the sister group to leading Israeli peace movement group Peace Now. "It's not because they don't support Obama on Iran, I think. They do. But I suppose they are more passionate about efforts to resolve the Israeli-Palestinian conflict."
"You'd find a lot less sympathy [for the Iran negotiations] at the AIPAC conference," said Mike Amitay, a senior policy analyst for the George Soros-funded Open Society Foundations. J Street's conference was held at the Washington Convention Center, the same venue as the AIPAC conference last month, but according to J Street's numbers it drew 3,000 people, compared to AIPAC's estimated 16,000.
"I think there may be some anxiety here because people may not be familiar with the technical aspects of the deal and may be under the mistaken impression that Iran is closer to getting a bomb than it actually is," Amitay said. "And when they talk about the year of breakout, that's still scary to some people although it's not entirely accurate."
"I don't know whether it's a good deal or not," said Roy Saltman, a retired computer scientist from Maryland. "All I know is I support the right of the president of the United States to make agreements with foreign countries. And I'm very distressed at the Republican attempts to interfere with that."
Asked if it would validate Republican skepticism on the deal if the potential deal turns out not to prevent Iran from its pursuit of nuclear weapons, Saltman said, "It might very well. A deal needs to be made which guarantees through inspections that the Iranians are not pursuing the development of atomic bombs."
The six world powers and Iran that are negotiating over its nuclear program are re-convening in Lausanne, Switzerland this week ahead of a March 31 deadline in the talks. Some elements of the potential deal have been leaked; diplomats have told reporters that the deal would extend the time Iran would need to produce enough enriched uranium for a bomb to a year, and that it would make Iran cut the amount of machines it uses to enrich uranium by 40 percent. According to the AP, a draft nuclear agreement being circulated would set the number of permitted centrifuges to 6,000 and also structure the deal so that requirements would be eased after 10 years.
Michael G. Angstreich, an American retired agriculture advisor who lives in Oslo, said, "I am supportive of President Obama's efforts and John Kerry's efforts. It's got to be a good one though. It's got to be a good, verifiable agreement."
The Israeli opposition, which J Street is more naturally aligned with, is also skeptical of the deal that is taking shape. In an interview with BuzzFeed News at the AIPAC policy conference last month, Erel Margalit, a Labor politician who would have become the economic minister if the Zionist Union had won and been able to form a government, said that his party had just as many reservations about the potential deal as Netanyahu.
"Labour is adamantly against having Iran as a threshold nuclear state," Margalit said. "It's against the number of centrifuges that's being leaked. It's against the time that it would take them to get to a bomb, which is less than one year. And it is against the 10 year window because nobody wants Iran as a nuclear state 12 years from now either. But saying all that to the U.S. administration in confidence in consultation is key to the ability of Israel to not make this a partisan political issue, to leave this as an issue of national security and strategic importance to Israel."
J Street supports the negotiations and acknowledges that "Israel is justified in insisting on an agreement that really and verifiably takes Iran significantly back from the capacity to breakout to nuclear weapons," according to its website's policy statement on the issue. It has lobbied for Iran sanctions in the past, but has lobbied against efforts to impose additional sanctions during the negotiations. J Street's executive director Jeremy Ben-Ami acknowledged that there's a diversity of opinion on the subject within his organization, but argued that most of the Jewish community generally supports the idea of a negotiated solution to the Iranian nuclear issue.
"I'm sure there's a range of opinions," said Ben-Ami. "But when we did a poll on election day, the general outline of a deal that says limited enrichment capacity, serious intrusive inspections and gradually ratcheted-down sanctions gets 84 percent support in the broader Jewish community. So you have to figure the 16 percent that doesn't support it are probably not here."
"This organization as you've heard throughout the conference is very open with the understanding that there's a range of views within the 100,000-plus, 180,000 people that are affiliated with the organization. There's going to be a range of views on all issues," he said.
"Some people may have some concerns with some elements of the deal, other people will think it's a great deal. So let's see what the deal is and we'll figure out our organizational position on it," Ben-Ami said.