EU Says It Has Nothing To Do With New Press Restrictions At Iran Talks In Geneva
Reporters aren't buying it.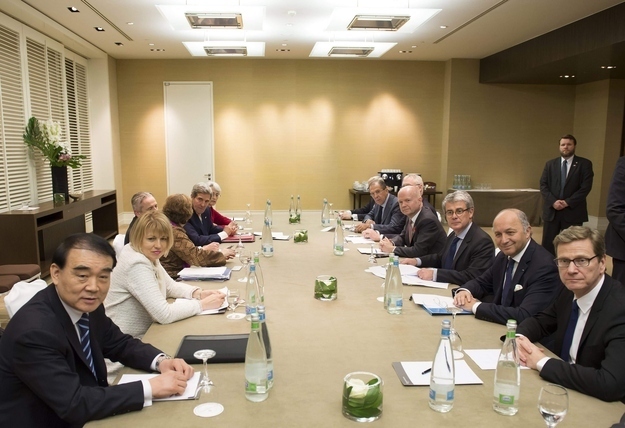 GENEVA — Swiss police have banned press from the Geneva hotel where Iran nuclear talks are taking place this week, indicating that the negotiating parties are leaving very little to chance — and to possible leaks — this time around.
"The media is not allowed to access the hotel lobby," press were told in a release emailed by the Swiss foreign ministry late Tuesday. "Members of the media staying at the Intercontinental may naturally work in their rooms. The bar and restaurant are accessible without electronic devices, though exclusively for hotel clients."
The decision has been met with derision and outrage from the press corps in Geneva, who used the hotel lobby as a meeting place and work room for the latest round of talks earlier this month and who have interpreted the move as a decision by the European Union's foreign policy chief Cathy Ashton meant to clamp down on access.
"No electronic devices allowed in Intercon bar/restaurant for #IranTalks? No press in lobby? There is a word for this but it ain't democracy," AP State Department correspondent Matthew Lee tweeted. "Maybe #Swiss reputation for neutrality is undeserved. Caving to press- hostile Cathy Ashton on access to #IranTalks hotel is sad."
"Geneva's Intercon Hotel bans media from lobby during #IranTalks, generously allows paying journalist guests to 'work in their rooms," snarked the New York Times' Mark Landler.
Ashton spokesman Michael Mann said that the EU had not been behind the decision to ban press from the lobby.
"This decision was taken by the Swiss police," he said. "Nothing to do with us."
"I am trying to find a workable solution," Mann said.
Some reporters were told last time by EU officials that a ban on press in the lobby would be enforced for this round, making Mann's denial suspicious in the eyes of the media here.
Even journalists who have paid for rooms at the hotel are being kicked out on Friday, they've been told.
The State Department has assured reporters that there is some flexibility and that they may be able to bring some people into the lobby on a case-by-case basis.
The scene for this round of talks promises to be radically different from what Hooman Majd described in the New Yorker from the previous round of talks, when "The hotel's opulent lobby was transformed into a reporters' den, with laptops, iPads, and iPhones strewn about the floors, their cords fighting for empty sockets, and coffee tables stacked with nine-dollar cups of espresso and the remnants of forty-dollar burgers."
This week, the press is confined to a large media room at Geneva's conference center, a 15 minute walk away, or, if it chooses, a heated tent outside the hotel.