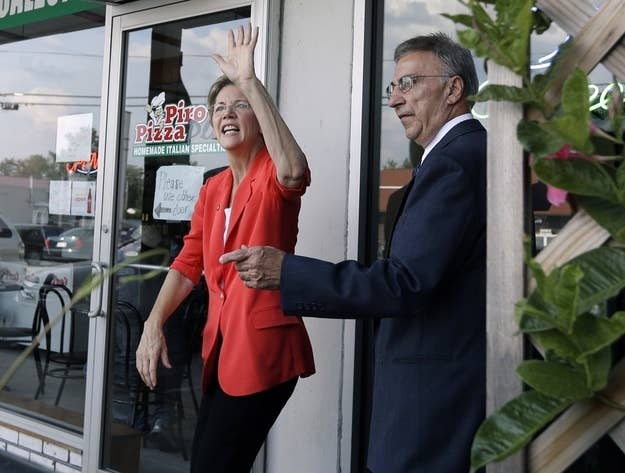 CHARLOTTE, N.C. — Massachusetts Senate candidate Elizabeth Warren criticized the Republican National Convention after a speech to her state's delegation on Tuesday — especially for Clint Eastwood's unexpected speech, which featured an empty chair.
Warren's eyes widened when BuzzFeed asked about Eastwood.
"Like much of America, I was speechless!" she said.
"What surprised me about the Republican Convention was how little they wanted to talk about their own plans for the future," Warren said. "And I think the reason they didn't want to talk about it is those are plans a lot of Americans woud not support."
"That's what really surprised me about that convention," Warren said. "They say they want to take over the White House, they say they want to be the dominant party in politics, then talk about your agenda. Why don't they want to talk about the things they talked about in the primary? Put it out there, let the American peple see it. Let them judge."
Warren is scheduled to deliver the keynote address at the Democratic convention.
She would only say that "I'll be talking about working families. That's mostly what I'll be talking about."
The speech Warren gave to the Massachusetts delegation at the downtown Omni Hotel was about ten minutes long and didn't mention her opponent, incumbent Senator Scott Brown, at all.
Warren offered some standard stump-speech fare, focusing on income inequality and taxes. She also spoke of her admiration for late Senator Ted Kennedy, telling the audience that her first meeting with the senator was supposed to be 15 minutes and stretched to an hour and 45 minutes.
"This is the first time the Massachusetts delegation has not been led by Ted Kennedy, and how much we miss him," Warren said.
"Ted Kennedy changed my life," Warren said. "He changed how I understood what it is that a public servant does. And I think of him in this race every single day. And I come to this convention and I think of him every single hour."