Elizabeth Warren Steps Into The Kennedy Role
The progressive champion takes office 50 years after Teddy Kennedy was elected. "A repudiation of Citizens United and unfettered greed, a repudiation to people who think it's alright to undo the regulations on Wall Street," says Kerry.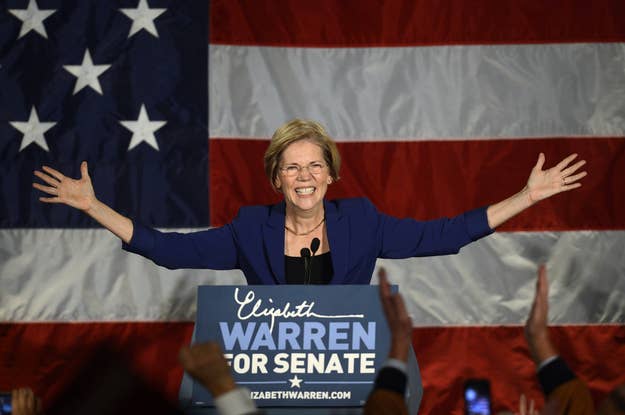 BOSTON — Elizabeth Warren stepped into her Senate seat and into a big new role in the Democratic Party Tuesday night, inheriting the seat held by Teddy Kennedy and his place as the champion of the party's unapologetic left.
Warren ground out a win in Massachusetts to become the first female senator from the Commonwealth and defeat Scott Brown — the incumbent Republican senator who seemed unbeatable a year ago. In an emotional election night party, Democrats greeted their new standard-bearer, and Warren and her allies tried to cement her new status as the spiritual heir to the youngest Kennedy brother.
"I won't just be your senator," Warren told the elated crowd at the Fairmont Copley Plaza Hotel. "I will be your champion."
The Democrats weren't sure it would happen, and few dared imagine the party's sweeping Tuesday night wins in a half-dozen key Senate races. John Walsh, the head of the Massachusetts Democratic Party, told BuzzFeed before the results came in that he was tired ("We did a lot of work"), and was careful not to predict a victory. "I'm feeling good in the sense that a lot of people voted," Walsh said.
And the race took a while to be called, even as a cascade of other Democrats won their Senate races — McCaskill, Donnelly in Indiana, and others. A false Twitter rumor spread that NBC had called the race for Warren, but the crowd at Boston's Fairmont Copley Plaza Hotel was unaware, and tense. The ballroom was entirely packed, and people remained anxiously glued to the big screens showing returns CNN and MSNBC for much of the night.
Finally, the scales tipped Warren's way for good. Scott Brown appeared at another Boston hotel for his concession speech, in which he graciously congratulated Warren and struck a hopeful note. "I'm going to go on a nice run tomorrow morning. You guys can chase me if you can keep up with me, alright?" he said.
Warren began the campaign laboring under the conventional wisdom that she was too professorial and elite to win, and finished the campaign as a beloved figure among working-class Democrats, with an especially strong labor coalition. And she's risen to a level of unusual prominence in her party, especially for a first time candidate.
Leading figures of the liberal Democratic past came out to support Warren on Election Night, including Michael Dukakis, who told the audience that Warren's was "a very special Senate seat," because it once belonged to Ted Kennedy.
"We need someone in that seat who reflects the values of Ted Kennedy," Dukakis said.
John Kerry, Massachusetts' other Senator (and thought to be a leading candidate for Secretary of State), called for empathy with Brown.
"I've lost a race before," Kerry said. "It's not fun." The call for calm was needed; mentions of Brown were repeatedly booed with this crowd, and one supporter, a Warren volunteer named Kevin Murphy, confided darkly to BuzzFeed that he was worried about violence against Democrats if Warren won.
"I just hope on Wednesday people remember that we're all Americans," he said.
But Kerry also made sure that the importance of Warren's win in terms of a liberal resurgence was not lost. The wave of Democratic victories, he said, was "a repudiation of Citizens United and unfettered greed, a repudiation to people who think it's alright to undo the regulations on Wall Street, a repudiation to people who think the wealthiest people in the country shouldn't contribute more."
Finally, Warren came on to "Ain't No Stoppin' Us Now" and deafening applause from the audience, some of whom were hugging each other and crying. She walked to the podium alone, not flanked by family or staff, paused for a second, and jumped up and down with excitement.
Warren hit many of the same themes she's been focusing on her whole campaign: women's rights, Wall Street, income inequality. She riffed on the "you didn't build that" meme, of which she is the progenitor: "I didn't build that, you built that," she told her supporters.
She thanked her staff, family, and supporters. And in a way, she thanked Kennedy: she finished her acceptance speech by reminding the audience that 50 years ago today, he was elected for the first time to the U.S. Senate.