Elizabeth Warren Runs As The Left's Answer To Paul Ryan
The liberal champion of the left picks a fight on the stump. "There's now no escaping the basic vision of the Republican Party."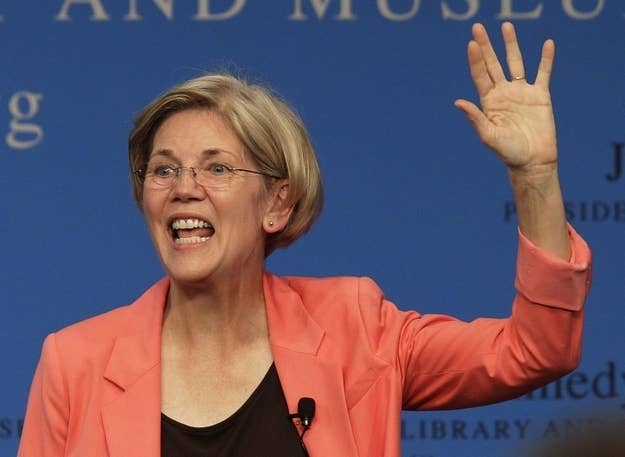 BOSTON, Mass. — Elizabeth Warren has been honing her consumer-based liberal message for years. On the stump in Massachusetts this week, she finally found her perfect foil.
It's not her opponent Scott Brown, an affable campaigner and eclectic legislator, who doesn't match Warren's ideological commitment or policy chops.
The person Warren needed was Rep. Paul Ryan, and now she has him.
Already, the Warren campaign has launched an effort to tie Brown to the Ryan budget plan, beloved by conservatives and loathed by liberals. And Warren herself, on the stump, mentions Ryan at nearly every turn.
"I feel like things have really taken a pick now with Mitt Romney naming Paul Ryan as his running mate," Warren told voters on Tuesday at the Harp & Bard, a lunch spot in working-class Dorchester. "There's now no escaping the basic vision of the Republican party and that is every possible break for those at the top, tax subsidies, tax breaks, loopholes."
"I never thought I was going to run for public office, but when there's a vision like that and it's put forward as the serious vision for the Republican Party, then it's time for all of us to get involved in this race," Warren said.
Earlier, in a gaggle with reporters, Warren mentioned Ryan multiple times. She zoned in on him on Medicare ("When Paul Ryan says that he's going to make cuts to how much money we spend on Medicare, you have to keep in mind that won't change the number of people who have heart attacks, the number of people who have strokes") and taxes ("Scott Brown and Mitt Romney and Paul Ryan want to protect huge tax breaks for people at the top and huge corporations, and that costs lots and lots and lots of money").
Warren avoided invoking Ryan's name when a TV reporter asked if she would work with a Vice President Ryan. "I would work with anyone who was working to try to help America's working families," she said.
With Ryan's stratospheric rise, liberal Democrats have at times lamented the fact that he has no Democratic equivalent on Capitol Hill. Ideologues are politically marginalized; political leaders are better known for horse-trading than policy vision. Warren's expansive ideas for government are the antithesis of Ryan's, but the two are (or appear to be) intellectual equals, and both project an aura of expertise that has launched them to prominent positions in their party. Each of them come from rarefied environments: Ryan emerged from conservative think tanks and Capitol Hill staffing positions, while Warren's background is in academia, then a position in the Obama administration heading the Consumer Financial Protection Bureau. Warren was appointed to a panel in 2008 by Sen. Harry Reid to oversee TARP implementation, among other things; despite his small-government inclinations, Ryan voted for TARP during the Bush administration.
Warren has become as much the intellectual leader of the left as as Ryan is of the right. She dreamed up and shaped President Obama's Consumer Financial Protection Board; he has molded Republican fiscal policy.
And both have made the political decision to dive headlong into the divisive policy fights that national figures typically avoid. Both are gambling that policy expertise can be a successful strategy in a political environment obsessed with image and political gamesmanship.
And while Ryan has a reputation for warmth, and Warren for prickliness, (House candidate Sean Bielat, running to replace Barney Frank, told BuzzFeed Tuesday evening that "she just doesn't seem likable to me"), but Massachusetts liberals like her just fine.
As Warren circled the room shaking hands, Joyce Harvey, a Dorchester retiree who used to work for MassHealth, explained what she likes so much about Warren.
"She's committed, she's passionate, she's caring, she's intelligent," Harvey said. "She seems honest."
Harvey praised Warren for "trying to help the average person — I wont say poor people, but all of us who aren't millionaires."
Warren, wearing a pink blazer and sandals, went from table to table, greeting people and holding a baby that wore a "Babies for Elizabeth" onesie.
One man thanked her profusely when she got to his table, his words echoing the kind of praise conservatives shower on Paul Ryan.
"Thank you for putting into words what we've all been thinking and putting into action what we've all been feeling so deeply for the last couple years," he said.