Egypt Investigating Journalism Advocate Who Defended Comedian
The investigation into "Egypt's Jon Stewart" widens.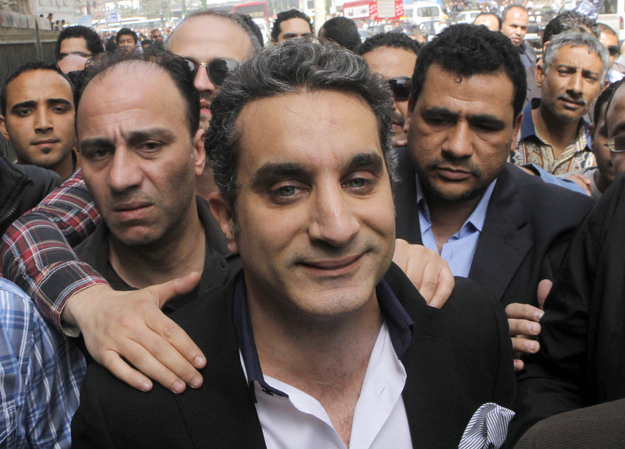 WASHINGTON — A consultant for the Committee to Protect Journalists, a watchdog group, is being investigated by the Egyptian government after she defended comedian Bassem Youssef, the Committee announced on Tuesday.
"The Committee to Protect Journalists is alarmed by news reports that its Middle East consultant, Shaimaa Abulkhair, would be investigated by national security prosecutors in Egypt for comments she made about the widely criticized criminal case against satirist Bassem Youssef," the group wrote in a press release.
In a phone interview with a television station, Abulkhair criticized the investigation into Youssef, who has been referred to the Egyptian equivalent of American comedian and commentator Jon Stewart. Prosecutors have filed criminal charges against him for insulting Egyptian President Mohamed Morsi. Abulkhair has reportedly not been officially notified that she's being investigated.
"Our consultant is, thankfully, okay," CPJ's Advocacy and Communications Director Gypsy Guillen Kaiser told BuzzFeed in an email. "We are in continuous contact with her and closely monitoring the situation."
The inquiry into Youssef has drawn international criticism including from the U.S. State Department.
"We are concerned that the public prosecutor appears to have questioned and then released on bail Bassem Youssef on charges of insulting Islam and President Morsi," State Department spokeswoman Victoria Nuland said on Tuesday. "This, coupled with recent arrest warrants issued for other political activists, is evidence of a disturbing trend of growing restrictions on the freedom of expression."
The Facebook page of the Egyptian presidency released a statement on Tuesday about the Youssef situation:
The Presidency reaffirms that Egypt after the revolution has become a state of law with independent Judiciary. Hence, the Prosecution's summoning of any Egyptian citizen regardless of his title or fame is the decision of the Prosecutor General, who operates independently from the presidency.

The current legal system allows for individual complaints to be brought to the Prosecutor General. All the current well-publicized claims were initiated by citizens rather than the Presidency. The Presidency has not filed any complaint against stand-up comedian Basem Yousef.

The Presidency reiterates the importance of freedom of expression and fully respects press freedom. All citizens are free to express themselves without the restrictions that prevailed in the era of the previous regime.

The first legislation passed under President Mohamed Morsy was concerned with the prevention of pre-trial detention of journalists. This demonstrates the determination of the President to encourage press and media to operate in a free environment.

We urge citizens to exercise their legal right to freedom of speech while respecting the rule of law.
h/t Armin Rosen