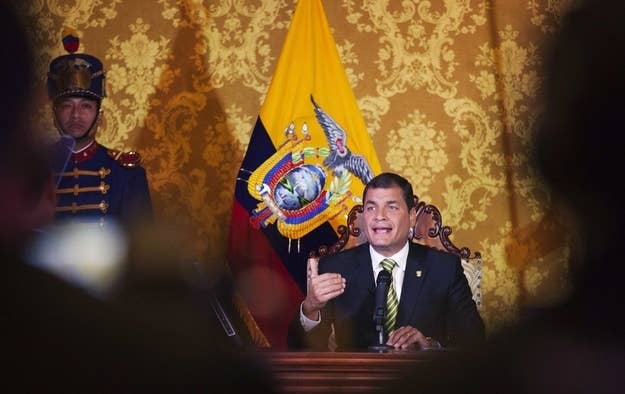 WASHINGTON — The head of Ecuador's intelligence agency has asked the legislature to draft a bill that would outlaw the publication of classified documents, amid growing concerns over a government clampdown on the media.
Pablo Romero, the director of Ecuador's intelligence agency SENAIN, asked the Justice Committee of Ecuador's National Assembly on Aug. 8 to draft legislation that would "criminalize the disclosure of confidential information of the State" and require would-be publishers to seek government approval before publication. Romero gave as an example the hypothetical publication of special agents' salaries.
The bill would outlaw the publication of classified documents even if they had previously been published abroad. The move comes less than two months after BuzzFeed published internal Ecuadorian intelligence documents that illustrated the country's plans to buy Israeli spy equipment to beef up its domestic signals intelligence operations. Ecuador's President Rafael Correa condemned the story and challenged the media to prove the existence of domestic surveillance in Ecuador. Top Ecuadorian officials defended the surveillance in a press conference. Correa's government even brought a copyright complaint against BuzzFeed through a Spanish law firm, which resulted in Scribd and other uploading services pulling the documents from the internet.
The proposed law would come during a time marked by concerns over Correa's consolidation of power. Human Rights Watch has called on Ecuador to revoke a decree that gives the government the power to dissolve nongovernmental organizations, and the Committee to Protect Journalists has condemned the media law passed over the summer, saying, "This legislation puts into law a key goal of the Correa presidency: muzzling all critics of his administration."
An Ecuadorian government spokesperson did not immediately respond to an inquiry about whether or not BuzzFeed's publication of secret documents had a role in prompting the law.
The proposed legislation has concerned opposition activists and reporters in Ecuador, many of whom have left journalism due to increasing government restrictions, including a recently passed media censorship law that makes repeated criticism of public officials — referred to in Ecuador as "media lynching" — illegal.
"We don't know what's going to happen, but the president has a grip on the congress so it's likely going to become law," said one activist who wished to remain anonymous. The source accused the Ecuadorian government of "glaring hypocrisy" for sheltering WikiLeaks founder Julian Assange at its embassy in London and offering a travel document at one point to NSA whistle-blower Edward Snowden while barring the kind of activity that made the two seek shelter from Ecuador in the first place. Assange has been at the embassy for over a year.
"It's important that information get out there about the secrets of government," the source said.