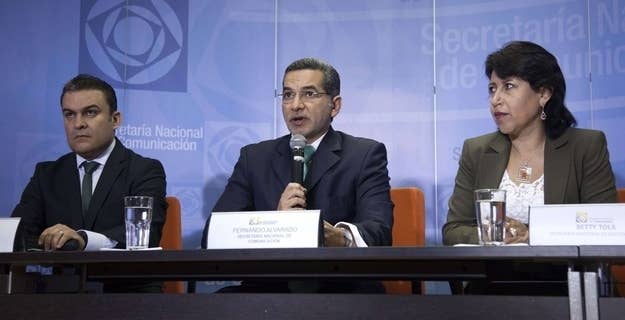 WASHINGTON — A top Ecuadorian official defended his country's right to engage in domestic surveillance but denied that it spies on its political opponents at a press conference in the capital Quito Thursday morning, according to a report in the government-owned newspaper El Telegrafo.
"We have already expressed our need to equip ourselves with security hardware, as covered by Art. 20 of the United Nations convention, the Ecuadorian penal code, and the human rights declaration," Interior Minister Jose Serrano Salgado told reporters, saying the technology has been used to solve "100 percent of kidnapping cases."
"In Ecuador we do not listen to phone calls for political purposes, only to fight criminals," he said.
Serrano was responding to BuzzFeed's report Tuesday on documents showing that Ecuador's intelligence agency was seeking to purchase surveillance equipment abroad. Serrano described the documents as "a rough montage without a signature of responsibility" and did not comment on whether the transaction they discussed had been completed.
"We invite the national or international press to demonstrate one single case of groundless wiretapping," Serrano said. "You have 24 hours to do so, or you will be determined to be liars. In Ecuador, we are able to guarantee that no one has been wiretapped for political purposes."
BuzzFeed's report on Tuesday included secret documents that appear to show SENAIN, the intelligence agency, setting up a deal to buy surveillance equipment from Israeli firms through an American company that acted as a broker. The country is where Edward Snowden is seeking asylum after being charged with espionage by the United States for revealing its own domestic spying programs.
Cléver Jiménez, a member of Ecuador's legislature who was sued in 2011 for libeling President Rafael Correa and was recently sentenced to 18 months in prison for the same offense, released a statement on Thursday criticizing the government for its involvement with Snowden and WikiLeaks in light of its own surveillance practices, calling them an "attack on civilian security and the human rights of Ecuadoreans."
Jiménez called the situation with Snowden and Julian Assange, who has been living at the Ecuadorian Embassy in London for over a year, a "smokescreen to distract the world and the country from the serious corruption of the government."
Jiménez criticized Correa's government for the documents published by BuzzFeed, finding the letter related to a possible drone deal to be most alarming.
"An alarming detail is that this last purchase is for the creation of drones, unmanned aerial vehicles, which are used for surveillance programs," Jiménez said.