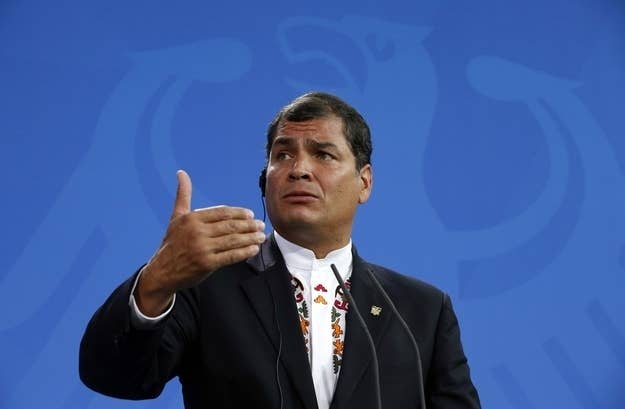 WASHINGTON — The government of Ecuador is in the midst of a campaign to reinvent itself as a haven for Internet freedom — even as it continues to crack down on its embattled press.
President Rafael Correa's government is funding a new research project aimed at moving away from traditional copyright laws, and the country hosted an Internet freedom forum last week in Quito attended by luminaries of the global transparency community associated with WikiLeaks and other groups.
The FLOK Society, based out of a public university in Quito, is a research project launched this fall aimed towards creating a "shared knowledge economy" in Ecuador and moving away from an oil-dependent one, according to staffer Bethany Horne, who called it "a friendly way to say something that is actually very controversial."
The controversial part: the project is looking for ways to free Ecuador's internet from the global intellectual property regime and encourage "copyleft" licensing, a movement pioneered by American free software activist Richard Stallman. It's the first time a government has invested so heavily in ideas that have grown out of the global left's radical transparency arm, though the process is still in the planning stages.
"The law hasn't been written yet, but it's a philosophical shift," Horne said. "One that is still in process."
The project is being during a year where Ecuador's government under President Rafael Correa has increasingly cracked down on press freedoms and free speech at home, while at the same time offering a haven for Julian Assange at its embassy in London and at one point offering asylum to Edward Snowden before rescinding the offer. And the effort to de-emphasize copyright ownership stands in contrast to the Correa government's aggressive use of copyright complaints to try and remove content it doesn't like from the Internet, as has happened to BuzzFeed and others.
The FLOK Society gets funding from the Ecuadorian government and grew out of speeches Correa had made calling for a "social knowledge economy," according to Michel Bauwens, a founder of the P2P Foundation hired to work on the FLOK project for Ecuador. According to an interview given by Daniel Vazquez, a Spanish "hacktivist" and one of FLOK's directors, the idea also springs from Ecuador's five-year "Plan of Good Living" introduced in 2009.
The project also took inspiration from WikiLeaks founder Julian Assange's asylum in the Ecuadorian Embassy in London, as Vazquez goes on to describe:
When the government responded positively, those individuals contacted The National Institute of Higher Education (IAEN by its Spanish initials), which is in charge of the collaborative academic investigation that will inform the transition I just described. Carlos Prieto, the director of IAEN, shared with them the Secretary of Science, Technology and Higher Education's vision for changing Ecuador's productive matrix and his strong belief that Ecuador needs to become a "paradise of knowledge."
"Currently, cognitive production (sometimes called 'intellectual property,' a term we'd
reject) is a part of the capitalist system, in every country in the world, to different degrees," said Bethany Horne, a Canadian former journalist for Ecuadorian newspaper El Telegrafo who now works for the FLOK Society. "Patent and copyright legislation puts walls up around knowledge that are artificial."
"We believe that maximalist IP and patents slow down technological innovation," said Bauwens. Bauwens said that the group was not putting out proposals that would ban Internet patents and intellectual property altogether.
To that end, the group is planning to spend the next few months researching how to, for example, make available open courseware instead of expensive privately-produced textbooks for the country's schools and an "open design community" for machines for small farmers, according to Bauwens, and then will hold a conference in April with the president and members of the National Assembly in attendance to "workshop" the research, Horne said. Funding is coming from the university, the Ministry of Knowledge, and the Secretariat of Higher Education, Science, Technology and Innovation, Bauwens said.
The FLOK Society helped put together a conference in Quito last week on Internet freedom that featured WikiLeaks insider Jacob Appelbaum, who gave a speech and thanked Ecuador for housing Assange: "If it was not for Ecuador giving him political asylum, he would probably have a bullet in the back of his head." Other speakers included Karen Sandler of the GNOME Foundation, Bauwens, and Ola Bini of ThoughtWorks.
Horne credits the conference with successfully combating a proposed law that would have allowed police to keep track of metadata similar to how the U.S. National Security Agency does, as revealed by Snowden earlier this year. The draft law was struck from Ecuador's penal code after the conference.
Ecuador's ties to transparency groups like WikiLeaks and its apparent efforts to promote Internet freedom issues are at odds with the way it treats its own country's media and its president's political opponents. Its legislature passed a restrictive communications law in June that has been condemned by the Committee to Protect Journalists as "widespread repression of the media." Among other consequences, the law forbids "media lynching," defined broadly as reporting that has a negative effect on a person's reputation or credibility without sufficient evidence.
Last month, CPJ honored an Ecuadorian journalist for her work in the face of the "government's ongoing assault on free expression.
The country also engages in its own NSA-style domestic surveillance, having sought to buy spy equipment from Israeli firms last year according to leaked intelligence documents obtained by BuzzFeed. Documents also showed that Ecuador keeps tabs on the Internet activity of political opponents and critics of Correa. Ecuador's Internet is rated as "partly free" by Freedom House.
Ecuadorian officials defended the country's right to surveillance in a press conference in June.
Horne acknowledged that there is tension between the Correa government's posture towards the media and its welcoming of Internet freedom initiatives. She called out the Correa government's use of copyright law to target critics:
"How does that mesh with five days ago, Correa going on national TV and saying that copyright laws are about power, about first world countries having power over developing nations that need access to knowledge, and saying that Ecuador wants to be a place where those barriers are dropped?" Horne said. "I don't know the answer to that. I mean, personally I hope that what we do can move things in a positive direction, give government a broader perspective on the value of liberated knowledge, and hopefully gain some firm commitments so that copyright legislation isn't ever used as a weapon to silence dissent, let alone a weapon to halt the spread of knowledge (which it is in U.S.A.)."
Appelbaum refused to say whether he sees a contradiction in Ecuador's recent behavior and said he would not answer any questions because "you clearly haven't done your homework."
"You clearly do not understand FLOK and copyleft issues — which is clearly rooted in copyright, I might add," Appelbaum said. "Do you think that Ecuador's support of Julian is an action of supporting a free press?"