Donald Trump's Quietly Good Night
Trump was polished and emerged almost unscathed — but also hasn't been the main event in several days, which may prove risky for New Hampshire primary day.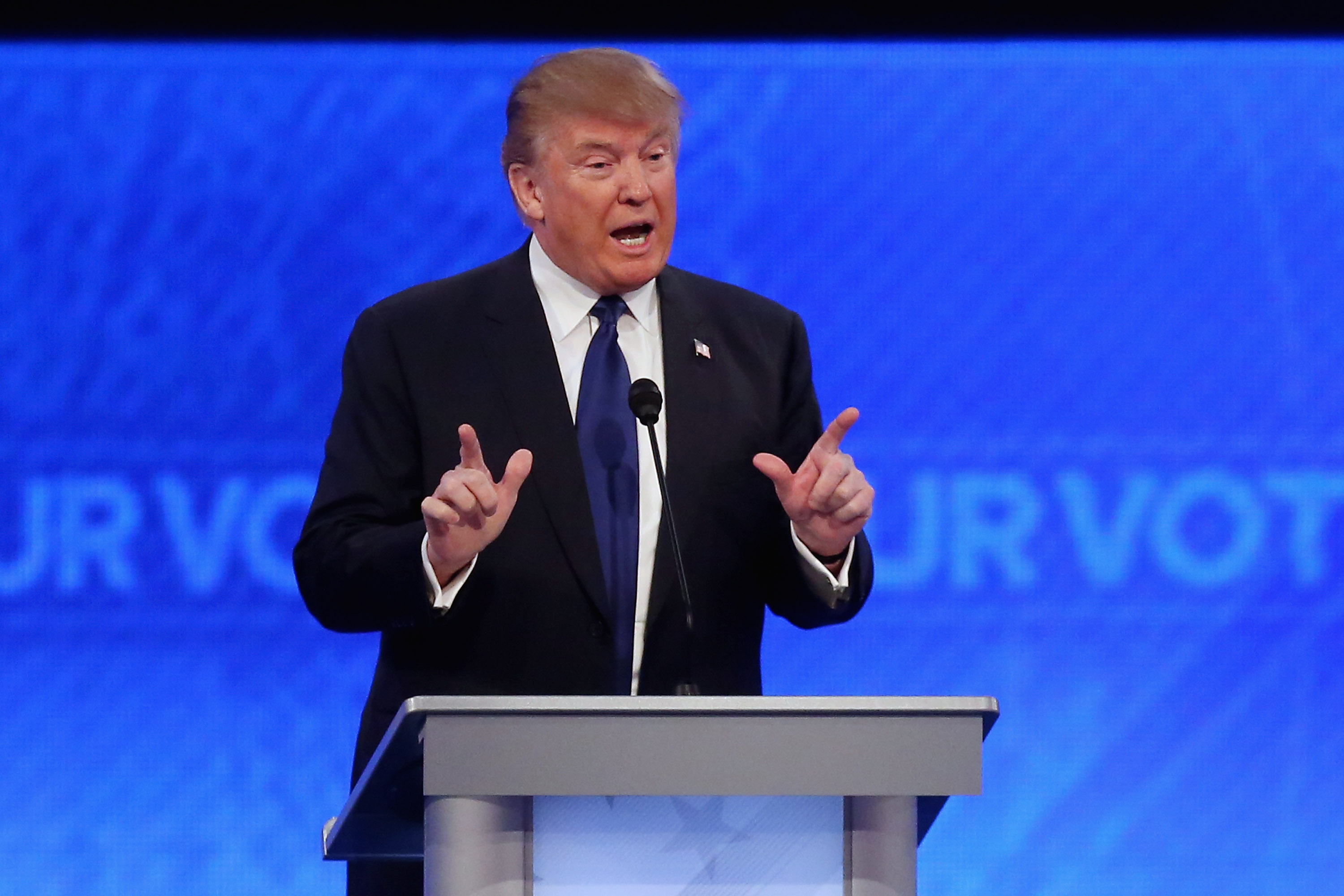 MANCHESTER, New Hampshire — There's one version of Donald Trump that still has the capacity to surprise, and that's the version everyone saw on Saturday night.
Trump gave a debate performance that was measured (for him), informed (for him), and all-around just relatively...normal, and the kind of showing expected of a frontrunner. Indeed, Trump, who has campaigned as the ultimate anti-politician, sounded at several points in the debate much like the other politicians on stage, and mostly refrained from the kind of showstopping bombast that has characterized most of his other debate performances. Trump stayed mostly above the fray, despite usually being the cause of the fray.
Trump has been running a double-digit lead in New Hampshire since the fall, and this debate was the last before the primary that could deliver him his first big electoral win after he lost Iowa to Ted Cruz last week. But one unexpected feature of the week since the Iowa caucuses is that Trump, despite dominating the polls here, hasn't actually been central to the discussion. The media has been focusing on the battle among establishment candidates to come in first in their category, and Trump didn't campaign in New Hampshire on Friday, taking him out of the conversation for a day. This debate will be remembered mostly for Chris Christie's brutal onslaught against Marco Rubio, not for anything Donald Trump did.
Trump has clearly been working on his debating skills. He showed an ability to spin a question his way and hew to talking points; when moderator Mary Katharine Ham asked Trump "Are you closer to Bernie Sanders's vision for health care than Hillary Clinton's?" Trump responded "I don't think I am. I think I'm closer to common sense. We are going to repeal Obamacare" — staying on message and avoiding the trap Ham had set for him.
Later in the debate, Trump was asked what he would tell the mother of James Foley, the American journalist who was executed by ISIS last year, on the topic of whether families of hostages should be allowed to raise money for ransom payments. It was the kind of question that carries risk, in this case that he could appear insufficiently sympathetic to the Foley family by arguing against the ransoms.
But Trump showed a politician's sense for how to handle the question, beginning his answer by acknowledging the tragedy and expressing sympathy for the family.
"I know Diane Foley very well," Trump said. "Her husband and — these are tremendous people. I spoke for them, I raised a lot of money for the foundation. I fully understand, James, one of — that was really the first that we saw, really visually saw — it was so horrible."
He then pivoted to the actual policy issue.
"And I will tell you, though, with all of that being said, you can not negotiate this way with terrorists," he said. "If you do, you are going to have many, many more James Foleys."
"I think he's getting better at it," said Barry Bennett, Ben Carson's former campaign manager who is now an adviser to Trump, said of Trump's debate performances. "He looks more and more presidential every time, and tonight was a great example of that."
"It helps too that Chris Christie was throwing all the bombs," Bennett said. Trump "really wasn't attacked tonight by anybody," Bennett said.
This isn't to say there were no classic Trump moments. His losing his cool and telling Jeb Bush to "be quiet" comes to mind. But in that same exchange, Bush cornered him on eminent domain and did not relent, forcing Trump onto the defensive on an issue that is a potential pitfall in libertarian-leaning New Hampshire.
Surrogates for other campaigns sounded less surprised by Trump's performance than world-weary from having been kept on their toes by him so many times before.
"You never know what's going to pop up in these debates," said Jason Miller, senior communications adviser to Ted Cruz. (Cruz during the debate backed away from comments he made earlier about Trump not having the temperament to be president, saying, "I think that is an assessment the voters are going to make.") "As long as we have the opportunity to tell what Sen. Cruz is going to do, then we're happy."
Bush campaign manager Danny Diaz told reporters afterward that he didn't think it was the first time Bush had gotten the better of Trump in a debate exchange. Trump has frequently targeted Bush for mockery in debates. Asked if they expected a more aggressive Trump on Saturday, Diaz said, "I have stopped trying to make a guess about what this guy's gonna do or not do."