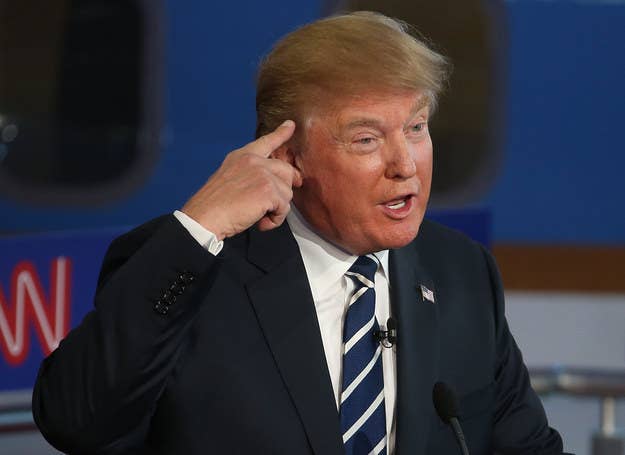 SIMI VALLEY, California — The second Republican presidential debate may have been one of the first times in this campaign that Donald Trump did not appear fully in control.
Trump's performance didn't exactly bolster the devil-may-care, brash persona that has attracted so many voters. Instead, Trump was a bit less loud than usual, peevish instead of commanding at times, and even — maybe? — a bit low-energy, his favorite attack against Jeb Bush.
Trump seemed even a bit sheepish when Carly Fiorina caused him to backtrack on his comment to Rolling Stone magazine about her face, saying, "I think she's got a beautiful face, and I think she's a beautiful woman." Fiorina did not smile.
There have been many times that Trump has said or done something outrageous enough to seem disqualifying and yet continued his vault to the top of the polls anyway. And it's unlikely that a few tense moments on the debate stage could slow him down when nothing else could.
But on Wednesday, Trump even seemed to fade a bit during the last portion of the debate. Moderators allowed the other candidates to talk for a long period (more than half an hour) — Trump didn't speak. The effect was much different from last month's Fox News debate, in which Trump was undeniably dominant in a shorter and tighter format.
The question of what to do about Trump has proved a tricky puzzle for his adversaries in the Republican Party, who have watched in horror as he climbs higher and higher in the polls despite doing things that would be a kiss of death for someone else, like disparaging John McCain's military record and making sexist comments about Fox News host Megyn Kelly.
Bush, one of the biggest targets of Trump's mockery, has struggled to find an effective recourse for Trump's attacks in recent weeks and was unable to force Trump to apologize to his wife onstage. Trump's "low-energy" line on Bush has proved remarkably effective, and he used a variation of it as a pointed put-down during the debate, mock-praising Bush for having "more energy tonight, I like that" at one point. But Bush made a couple spirited attempts to counter Trump during the debate, including an impassioned defense of his brother's legacy and a knowing remark that drew laughs and even resulted in a Trump–Bush low-five — "it's very high energy, Donald," about the Secret Service codename he would choose for himself.
"All I can say is I think once his exchange happened with Donald Trump tonight, Donald Trump largely left the stage," Danny Diaz, Bush's campaign manager, told reporters after the debate.
On Twitter, some observers seemed to agree that it was Trump, and not just Jeb, who was suffering from a bit of low-energy syndrome. "Low energy Donald Trump," tweeted former Mitt Romney aide Kevin Madden.
"Several of the candidates are making Trump look small," tweeted conservative writer and radio host Erick Erickson. "Won't hurt Trump's base, but will keep him from growing it."
"I think that at this point only Trump can hurt Trump with his existing base," Erickson said in an email to BuzzFeed News. "But there are still a lot of undecided voters and there are candidates who are clearly on shaky ground right now. Several outside consultants I've talked to have said that nothing they have field tested works to shake Trump's voters from Trump, but that it is more and more clear that Trump's ceiling can be reinforced so the vast number of undecideds do not go his way and the voters supporting other candidates are not tempted to go his way. Right now that's becoming a real strategy for a number of the candidates and also several outside groups that are about to go after Trump. They all think Trump will eventually do himself in with his base and, in the meantime, these candidates and groups can keep others from going to Trump."
In the spin room after the debate, staffers from rival campaigns said they had expected a bit more Trump on Wednesday.
"I think we were prepared for what it was like the first half of the debate, but then he stopped and started behaving," said Ben Carson's campaign manager Barry Bennett. "So the second half of the debate he was pretty tame. The first part there was a lot of the same old name calling and all that kind of stuff. But at the end he had tamed down. That was surprising."
Rand Paul's chief strategist Doug Stafford said he largely thought Trump's performance was more of the same, but "there was, I guess, a small period where we got a brief and happy respite from his blowing smoke at people."
"One of the things I think you saw tonight was that it was a bad night for Trump," said Ed Goeas, a senior adviser to Walker. "His story, his act is wearing a little thin with the voters and I think that came across very very strongly tonight as the night went on. Quite frankly, he went through some times that I think for the good of all of us he was somewhat quiet."