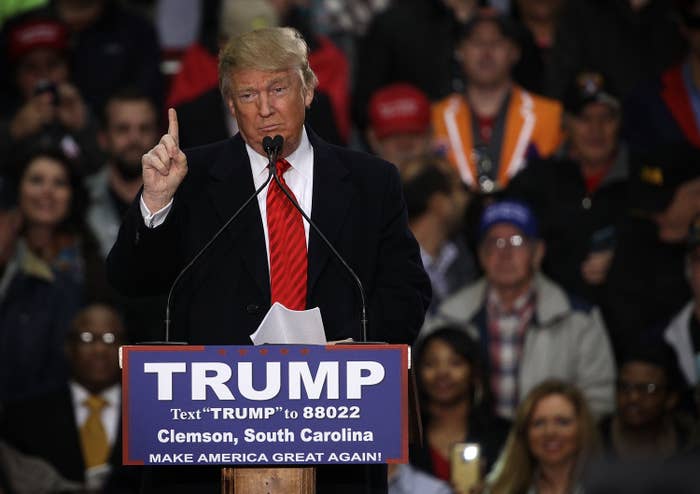 WASHINGTON — Donald Trump said the U.S. could have "very good relations" with Vladimir Putin and predicted the end of Europe in an interview with a French conservative magazine that is hitting newsstands this week.
The article in Valeurs actuelles ("current values") is billing itself as the first interview Trump has given to a European media outlet and the story appears on the cover of the magazine with the headline "Trump dit tout" ("Trump tells all").
In the interview with writer Andre Bercoff, published in French and conducted at Trump Tower a week before the Iowa caucuses, Trump commented on the future of Europe, saying he believes the consequences of immigration in Europe could be dire and that German chancellor Angela Merkel has made a "terrible mistake with the migrants."
"If they don't handle the situation competently and firmly, yes, it's the end of Europe," Trump told Bercoff, adding that Europe could face "real revolutions."
"I'm very good at predictions," Trump told the magazine. "I think you're going to have in Europe a period of upheaval."
Asked if he knows personally any French politicians, Trump responded that he did not, but that "I hope that will change soon."
On Putin, whom he has praised in the past, Trump said, "I think we could have very good relations with him. There's no reason why America can't get along with Russia on a certain number of issues, especially in the Middle East."
Valeurs actuelles is seen in France as bridging the gap between center-right politics as exemplified by Nicolas Sarkozy's Les Républicains (formerly UMP) party and the far-right nationalist Front National party headed by Marine Le Pen. "We are reinventing the right, which is not defined by Les Républicains nor by the Front National," the magazine's political editor told L'Obs last year. That same article described the magazine as having a "resolutely conservative line, structured around its identitarian obsessions." Trump's blend of populism and hard-line anti-immigrant rhetoric has been compared to European far-right movements.

Valeurs actuelles has been fined twice under France's speech laws, for inciting discrimination once against Roma with a cover on the "Roma overdose," and once against Muslims for an issue that had a cover showing Marianne, the symbol of the French republic, veiled.
A spokesperson for Trump's campaign didn't immediately return a request for comment.
Valeurs actuelles' cover: