Donald Trump Might Have Broken Newt And Christie's Hearts, But They're Staying True
Both appeared on Monday in Cleveland and spoke warmly of Trump. Asked what kind of role he would now want in a Trump administration, Gingrich said simply, "I'll have plenty of access."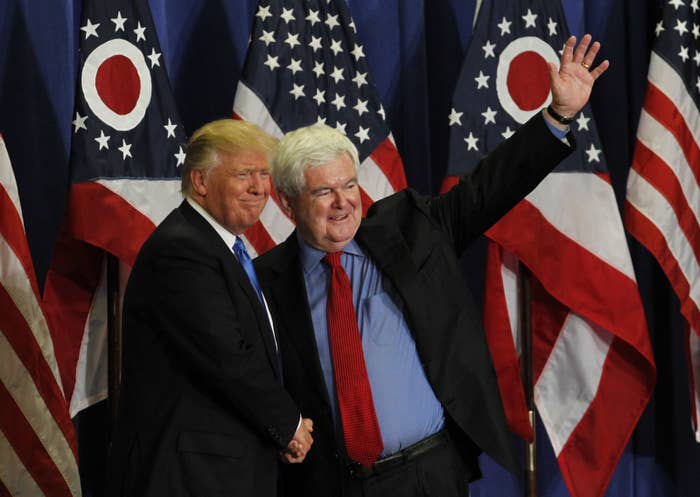 CLEVELAND — The runners-up that Donald Trump (very) publicly considered and rejected for the vice-presidential spot both spoke in Cleveland on Monday — and both are standing by their man.

Former Speaker of the House Newt Gingrich and New Jersey Governor Chris Christie lavished praise on Trump while addressing the New York delegation, in Gingrich's case; and the Michigan delegation, in Christie's. (Tennessee senator Bob Corker, who was also at one point on Trump's shortlist before removing himself, also spoke at the New York breakfast.)
Gingrich highlighted Trump's populist makeover of the Republican Party and claimed he is growing the party by a drastic margin, saying "the challenge for Republicans is to accept the idea that the Republican Party… will be 30 or 40% bigger than it is today and it will all be strangers." The party will be "people you're not used to, they'll talk in ways you're not used to, they'll behave in ways you're not used to," Gingrich said.
Gingrich slammed Republicans who are boycotting the convention because of Trump, telling reporters they are "spoilsports."
"Jeb Bush lost," Gingrich said. "So the family doesn't want to show up."
"I've never seen so many bad-newsers," Gingrich said. "I'm not impressed."
Gingrich sought a place on the ticket in an unusually public manner, going into detail on the process on his Facebook Live page and making the case for himself on the Sean Hannity show the night before Trump announced he had chosen Indiana governor Mike Pence. Gingrich has made himself a central figure in Trump's orbit and Trump was said to agonize over the choice between Pence, Gingrich, and Christie up until the last moments, reportedly even asking his staff if he could rescind the Pence choice the night before announcing it. To add insult to injury, Trump was reported to have not called Gingrich to inform him of his choice even after tweeting the Pence news.
But on Monday, Gingrich insisted he was fully on board with the Pence pick and had had a "long talk" with Trump beforehand.
"I had a very long talk with Donald before — two and a half hours — before he made the decision, and I agree entirely," Gingrich said. "I think given what he needs to get done that Mike Pence actually would do much more to unify the party than I would have."
"He and I had talked about it at length. i knew exactly what he was going to do," Gingrich said.
Asked what kind of role he would now want in a Trump administration, Gingrich said simply, "I'll have plenty of access."
It's a close call, but possibly the only person to have campaigned more aggressively for the VP slot than Gingrich is Christie. Christie was the first establishment Republican to throw his lot in with Trump, endorsing him in late February. His standing mutely behind Trump at a press conference, combined with reports that he has acted as a kind of "manservant" for Trump, have created a widely held impression that Christie was desperate for the job. And he is said to have been calling Trump to make the case for himself up until the last minute.
Christie might have been privately "livid" when Trump passed him over. But, as with Gingrich, he spent Monday morning applauding Trump's decision, calling Pence a "great guy" and praising Trump for selecting a governor.
"We also have an outstanding candidate for vice president," Christie told the Michigan delegation over breakfast at a Sheraton in Cuyahoga Falls. "Mike Pence's a great guy. And I am really relieved that Donald Trump picked a governor to be his running mate. He's someone who has governed, who knows how to govern. We don't need another big-mouth from Congress, quite frankly, who's never been responsible for anything, alright? Never been responsible for producing results."
"What Donald needed was a partner who has governed and been responsible for results and held responsible by his people. He also needed a good, decent, honest person to tell him the truth. And in Mike Pence he got all of those things."
(Later, as he was leaving the breakfast, he kept walking on, looking visibly annoyed, as reporters continued to ask him if he was disappointed about being passed up for vice president.)
Christie also got several questions from delegates about whether he would serve as Trump's attorney general and what he would do in that role, including whether he would prosecute Hillary Clinton.
"I'll just say that's very nice of you," he said in response to loud applause and a standing ovation when first asked about becoming attorney general. "That's very kind. We'll see what life brings, you know? Life for me has been a pretty big rollercoaster for the last 15 years. I'm just going to strap in hang on and see where it takes me next."
But the New Jersey governor refused to commit to prosecuting Clinton if he were to become attorney general, acknowledging that he was giving that response even though "it is very tempting to give into what I know would be an enormous applause line."
Christie also repeatedly called for Republicans to unite behind Trump, criticizing Clinton and President Obama. "Quite frankly, I'm disgusted by the president of the United States who doesn't stand foursquare behind law enforcement, and we need a president who can do that."
"I implore you to bring this message back to you friends... if you're not working for Donald Trump, you're working for Hillary Clinton," he said.
"I am tired of being dictated to by people in Washington, D.C. Our voters have spoken and this convention needs to reflect the will of those voters."
He went on to talk about his 14-year friendship with Trump, adding: "All these wild things that you hear the mainstream media tell you about Donald Trump? I can tell you from my personal experience are just not right."