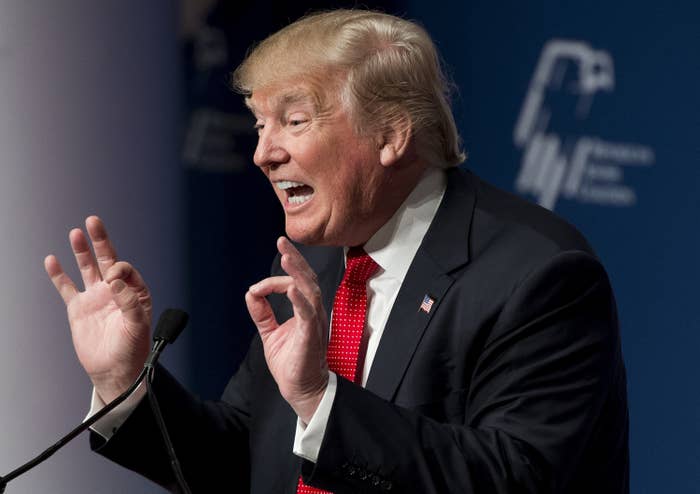 WASHINGTON — Donald Trump repeatedly invoked stereotypes about Jews and money during a speech to a Republican Jewish Coalition meeting on Thursday.
"You just like me because my daughter happens to be Jewish," Trump announced to open his speech, remarking that he can never reach her on Saturdays, the Jewish sabbath. (Trump's daughter, Ivanka, converted to Judaism to marry real estate developer Jared Kushner.)
At several points during his speech, Trump said that the audience must be full of negotiators and insisted that he wouldn't take their money.
"I'm a negotiator, like you folks," Trump said.
"Is there anyone in this room who doesn't negotiate deals?" Trump said later. "Probably more than any room I've ever spoken."
Trump also mentioned more than once that he knew the crowd must want to give him money, but that he doesn't want their money.
"I don't want any of your money," Trump said
"Stupidly, you want to give money," Trump said again later. "Trump doesn't want money."
"You're not going to support me because I don't want your money," Trump said.
And Trump closed with the same sentiment: "I would love your support but I don't want your money."

In fact, Trump has reportedly tried and failed to woo two of the most important Jewish donors, casino magnate and RJC funder Sheldon Adelson and hedge fund manager Paul Singer. Trump even sent Adelson a booklet of photos of himself winning an award at the Algemeiner Jewish 100 dinner in February.
The crowd of a few hundred laughed often at Trump's schtick, though at times it seemed more as if they were laughing at Trump himself, rather than his jokes. And they booed him when he declined to state unequivocal support for Jerusalem as the undivided capital of Israel. Other Republican candidates have pledged to move the U.S. Embassy from Tel Aviv to Jerusalem if elected, in support of this idea.
Trump was also very vague when RJC executive director Matt Brooks asked him about the Israeli-Palestinian conflict and the peace process, which he had spoken about to the AP earlier.
He had told the AP that Israel will need to "sacrifice" more in order to make a peace deal with the Palestinians. "A lot will have to do with Israel and whether or not Israel wants to make the deal — whether or not Israel's willing to sacrifice certain things," Trump told the AP. "They may not be, and I understand that, and I'm OK with that. But then you're just not going to have a deal." In the same interview, Trump declined to say whether he supports a two-state solution, which has been the U.S. government's policy goal for years.
At the RJC gathering, Trump didn't back down from his remarks to the AP, though did make an attempt at damage control, saying, "By the way, Israel has given a lot. The public relations for Israel hasn't been so great."
Trump got mixed reviews after his speech. Some thought Trump's jokes were fine.
"I think it's okay to joke with your audience," said Stewart Bolno of Philadelphia.
"And thank God he's one of the candidates, among others, that isn't overly concerned with this political correctness sensitivity bullshit which is ruining our country and inhibits freedom of speech," he said.
Others weren't amused.
"I was surprised," said Joseph "JB" Bensmihen, a Republican who is running for Congress in Florida's 22nd district said. "I really was. It's completely uncalled for."
"It's kind of like the same stereotypes he did about people with disabilities," Bensmihen, who has cerebral palsy, said. "It's a free shot for no reason."
"That's his thing, Trump is about shtick," he said. "But sometimes when he says certain things, you're like, huh?"