Donald Trump Has A New Target: Marco Rubio
In South Carolina, as the Florida senator sees pick-up in the polls, Trump went after Rubio again and again and again.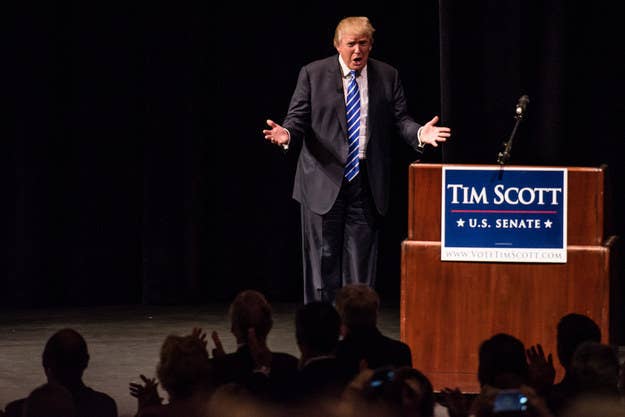 COLUMBIA, South Carolina — Donald Trump picked Wednesday's campaign swing through South Carolina to place a new candidate firmly in his crosshairs: Marco Rubio.
At two stops, the first in North Charleston and the second in Columbia, Trump lobbed insult after insult at Rubio, indicating that Rubio has become enough of a threat to merit the full Trump insult comic routine. Trump has cycled through periods of antagonizing others, most notably Rand Paul, Jeb Bush, and Carly Fiorina. Now that the last debate left Rubio rising, Trump appears eager to neutralize him.
At various points over the course of the day, Trump mocked Rubio as a "lightweight," sweaty, and financially unsuccessful.
"I get these lightweights like Marco Rubio, he gets up and says, 'Oh, Donald Trump didn't talk about foreign policy,'" Trump said at a townhall event with Sen. Tim Scott in Columbia on Wednesday evening. "Well, I don't want to tell too much."
"These guys sit in the Senate — even though he misses most of the votes, by the way — but he sits in the Senate and listens to this stuff all the time," Trump said. "I'm out working, producing jobs all over the place and building a great company."
Rubio "has got the number one worst attendance record, and they want him to be president, right?" Trump said earlier at his earlier event in North Charleston. That event was billed as a speech to the South Carolina African-American Chamber of Commerce's conference. "Rubio, I've never seen a young guy sweat that much. I've never seen — he's drinking water, water, water, I never saw anything like this with him and the water."
"Marco Rubio, as an example, he's got no money, zero," Trump continued. "I think that's fine, that's OK, maybe it's good politically to say you owe money because you overborrowed on your credit cards. He's got nothing. I mean, he's got nothing."
Trump also criticized Rubio for running against his friend and political mentor Jeb Bush, which he described as "disloyal," and described Rubio as "overly ambitious, too young, and I have better hair than he does."
Rubio has so far mostly avoided talking about Trump, save a couple comments about his vagueness on foreign policy.
Trump continues to be the frontrunner, though recent polling shows that he is possibly not shooting up in the polls at the same rate he once did. Regardless, the room at his speech in North Charleston was only about half full. Although the speech was tied to the South Carolina African-American Chamber of Commerce event, it was open to others, and most of the crowd appeared to be composed of white supporters.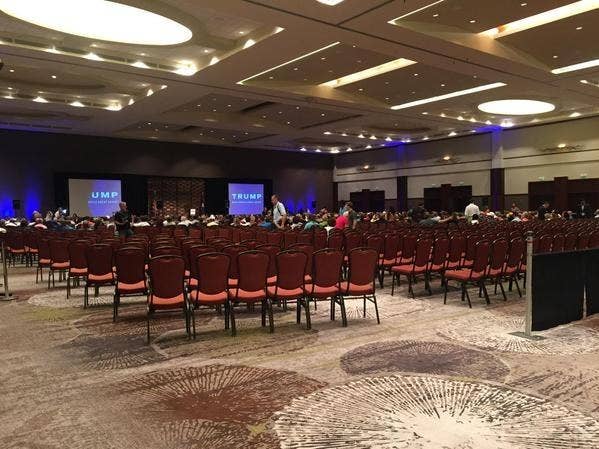 Some of the chamber of commerce attendees did come to watch out of curiosity.
"It was right after our workshop, and I said, 'Let's stay around and hear it,'" said Bobby T., 30, of Charleston, who works in construction and who didn't want to give his last name. "I'm a Bernie fan either way, so."
"He said some crazy number, 25%?" Bobby said, referring to a poll Trump cited which showed him getting 25% of the black vote in a hypothetical general election scenario. "I don't believe that. Where did he get that from? He got that from the comics section this morning."
"It's entertaining to me, I like it," he said of Trump. "I'll listen to him speak. Doesn't bother me."
"I'll listen to him, but I'm a Democrat and voting Democratic," said Shom Shamapande, 42, a former Democratic staffer who lives in D.C., before Trump spoke. "I figured I'd poke my head in here and watch."
Shamapande said he thought it was good for Republicans to be talking to black audiences, because, "There's certain parts of their messaging that definitely work in the black community. Particularly around business and job creation, that's a big deal."
As for Trump, "He has this awkwardness around black people already. 'Blacks love me!' All right, let's see. So I expect it to be a little bit awkward, if you ask me."
Republican Rep. Mark Sanford, South Carolina's former governor who is now in Congress, also attended the speech because he had spoken to the South Carolina African-American Chamber conference earlier.
"It's fascinating," Sanford said. "As someone who's been part of the political process for a while in South Carolina, to see the different faces that are not normally drawn to political events, I think it's fascinating — to see the mix of demographics, the different ages and backgrounds — it's fascinating as a political phenomenon."
Sanford said he wasn't there for any particular reason other than "spectating." He said he has no plans to endorse in the presidential race soon.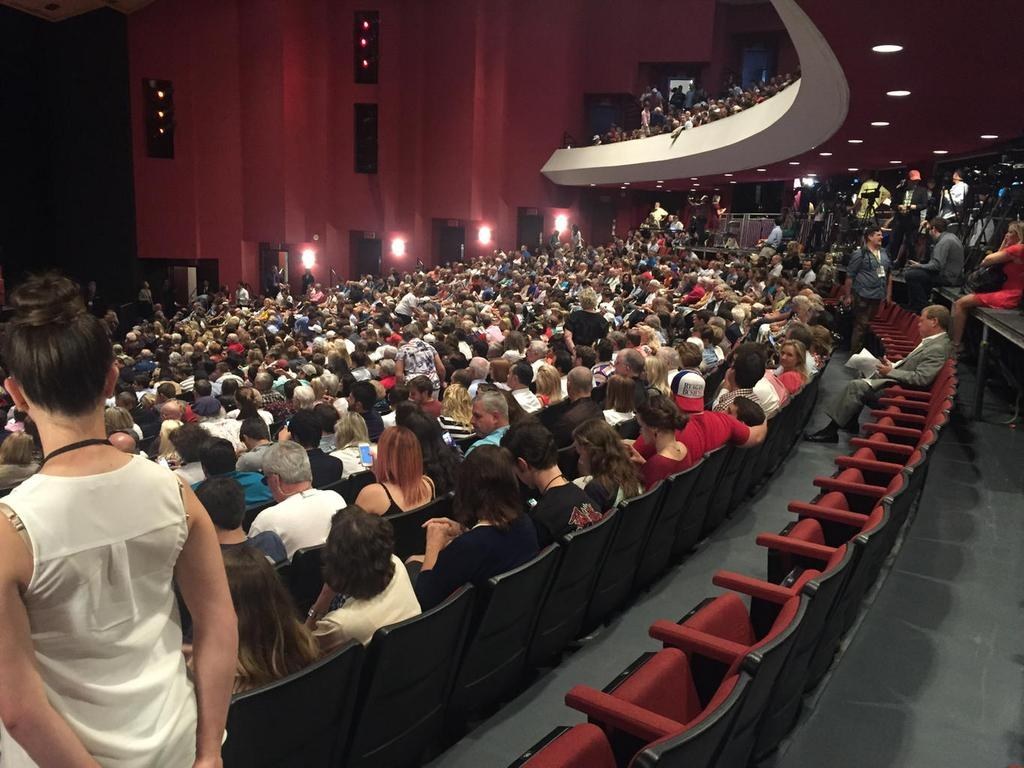 Though Trump's later event was much more crowded and arguably more enthusiastic, there were some skeptics there as well.
Pam Lamb, 62, of Charleston, said she tries to go to as many candidate events as possible in order to make an informed decision. She is not a fan of Trump.
"He doesn't give you any real plans," she said. "He's not really giving us any specifics."
In fact, Lamb contrasted Trump with Rubio, who she had seen at an event a couple weeks back: "At that point I had always thought that Rubio was cute as pie, but that he was young, that he should be sitting at the kids table. But in that setting you were really able to see how knowledgeable he is on foreign policy."
"We came up here today for the entertainment value and [Trump] certainly didn't disappoint on that," she said. "I can't imagine him at a state dinner. Can't you see him telling Putin he's fired?"
Asked if she would vote for Trump if he became the nominee, Lamb said, "I don't know. I really don't know. I'd say not, but in the special election a couple years ago I had to vote for Mark Sanford, and that just about killed me."