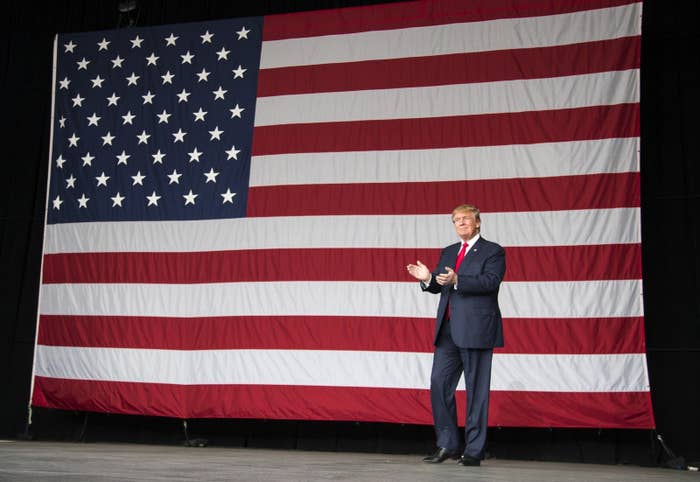 ST. AUGUSTINE, Florida — Donald Trump has begun openly questioning the veracity of polling and insisting that he is actually winning, even as most polls show him consistently behind nationally and in some key swing states.

Over the course of the day on Monday while campaigning in Florida, Trump has insisted several times that he is actually ahead.
"I believe we're actually winning," Trump told a farmers roundtable at a farm in Boynton Beach. "If you read the New York Times and if you read some of these phony papers — these are phony, disgusting, dishonest papers — but if you read the stuff, it's like what are we doing?"
"The truth is I think we're winning," Trump said.
"What they do is they show these phony polls where they look at Democrats, and it's heavily weighted with Democrats, and then they'll put on a poll where we're not winning, and everybody says, 'Oh, they're not winning,'" Trump said. "It's a heavily weighted poll with Democrats, like the ABC phony poll that just came out."
A recent ABC News poll showed Clinton with a 12-point lead (50–38) over Trump.
All told, Trump spent nearly three minutes of the farmers roundtable discussing the polls and how he thinks they're wrong, except for the ones that are favorable to him (he again repeated, "I actually think we're winning"). He has repeatedly cited the Investor's Business Daily poll showing him 2 points ahead while dismissing other polls.
Later, Trump began his remarks to a first responders roundtable in St. Augustine by again saying that he is in fact winning.
"First of all I think we're winning, I actually think we're winning, despite what you hear from these very dishonest people," Trump said, referring to the media.
Trump did at one point acknowledge on Monday that he is trailing Hillary Clinton, telling a Charlotte, North Carolina, radio show that "I think we're gonna have — whether it's Brexit or beyond Brexit, I think we're gonna have a Brexit situation. You know, that one was behind in the polls, and I guess I'm somewhat behind in the polls but not by much. I mean, in your state, I'm 1 point, 2 points, and even in three polls. One point, 2 points, and even."
These remarks from Trump were highlighted by his campaign manager Kellyanne Conway, who tweeted Politico's writeup of the radio hit and who herself has acknowledged that Trump is not currently winning, saying on Meet the Press on Sunday that "we are behind."
But Trump's flirtation with reality didn't last long.
At a boisterous rally in St. Augustine on Monday afternoon, Trump told the crowd, "In case you haven't heard, we're winning."
Trump directed his audience's attention to the WikiLeaks email dump, which he said shows "how John Podesta rigged the polls by oversampling Democrats."
"It's happening to me all the time," Trump said.
"You see these polls where they're polling Democrats," Trump said. "'How's Trump doing, oh he's down.' They're polling Democrats." Trump described this alleged phenomenon as an example of voter suppression.
The 2008 email in question concerned a recommendation to "oversample" regional groups in apparent internal polling. Pollsters oversample minority groups — for instance, young voters — when they want large enough samples to be representative for analysis.
Trump has again and again in recent weeks warned his supporters about a system that is rigged, and has repeatedly said that the election itself is being rigged. In Trump's telling, the polls are all part of the vast conspiracy to bring him down — and by extension, his supporters. Trump lumps in the media as part of this conspiracy and has intensified his rhetoric against the press recently, portraying them not only as his enemies but as the enemies of his supporters.
"The media isn't just against me, they're against all of you," Trump told the crowd in St. Augustine. "Like Hillary Clinton, they look down on the hard-working people of the country. The media is intolerant, condescending, and even contemptuous of the people who don't share their elitist values."
Trump's rhetoric has led to increased aggression against the press at his rallies, with supporters at nearly every rally now loudly booing the reporters in attendance, screaming "tell the truth!" and "CNN sucks!"