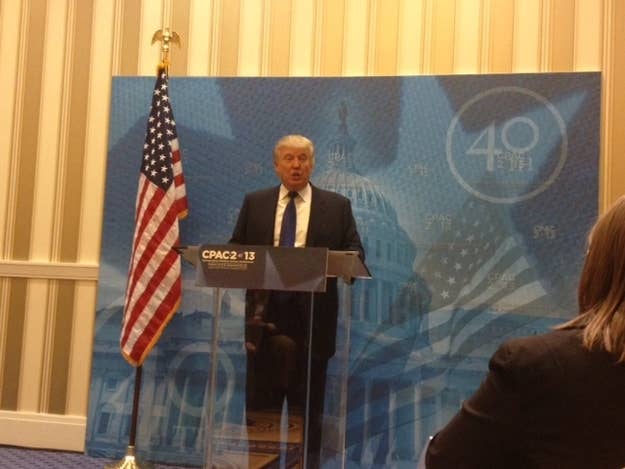 NATIONAL HARBOR, Md. — Donald Trump appeared at the Conservative Political Action Conference to a half-full ballroom that politely clapped and laughed along at his speech. But the ur-birther and Celebrity Apprentice host, whose invitation to speak at CPAC is viewed by some as a strange move in a year when a rising Republican star like Chris Christie ("a very good friend of mine," Trump said) didn't make the cut, got a much warmer reception in a post-speech press conference that his aides had made clear was "INVITE-ONLY."
Trump filled a small room off the main ballroom at the Gaylord National Hotel with mostly partisan press, including Breitbart News, the Washington Free Beacon, and a couple of Tea Party outlets. He took questions for about 30 minutes, holding forth on topics as diverse as Ashley Judd's potential candidacy for Senate, whether he approves of President Obama playing golf, and even the Anthony Weiner scandal and birth certificates, two stale conservative controversies that made the event feel like something from another political era.
Asked what he thinks of the president's golf hobby, Trump said, "I understand golf."
"I'm a fan of the president playing golf," Trump said. "I've made some of my biggest deals on the golf course."
Trump slammed Karl Rove for a Crossroads ad that he thought only helped Ashley Judd in Kentucky.
"I've never seen her look more beautiful," Trump said of the ad, describing Judd as a "hot candidate" in more ways than one.
Trump weighed in on the news that Sen. Rob Portman now supports gay marriage because his son is gay, saying cryptically, "His son just had something happen that Rob found out about. And I respect his position."
He spun his performance in the ballroom as a grand success, saying, "That was a friendly crowd. They liked almost everything I said." (Trump's speech on the ballroom stage included a call to take all the oil out of Iraq.)
The press conference received a warm reaction from the assembled reporters hanging on Trump's every word, most of whom were in fact conservative bloggers — the blurring of lines between activist bloggers and traditional reporters being one of the features of CPAC. They guffawed loudly when Trump referred to Weiner as a "sick pervert," and one reporter prefaced his question to Trump with, "You have a rare ability to break through the biased liberal media and spread your message to the masses." Trump even got a friendly question about whether presidential candidates should be required by law to produce their birth certificates.
After dozens of questions, Trump said he needed to leave soon.
"I have to get going to — I don't know where I'm going," he said. "One of my many jobs."